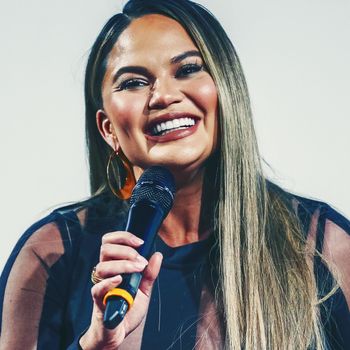 Chrissy Teigen.
Photo: Rich Polk/Getty Images for Viacom
Chrissy Teigen, the queen of pools, and Becca Cosmetics are launching a capsule collection, and it's going to be big. In addition to the body glitter/oil she teased yesterday, the capsule will include a three-in-one compact and several glosses.
The BECCAxCHRISSY glow glosses come in three shades: Beach Nectar, Malibu Soleil, and Beach Bum, ranging from a tan nude to a sunburned red. But the three-in-one compact is the pièce de résistance. It combines Becca's best-selling moonstone highlighter, a peachy highlighter, and a new bronzer in Aloha bronze, all pressed into a sunrise design in one compact. And of course, there's the Glow Body Oil.
The whole collection will drop on June 28 on Becca's website, Sephora, and Cult Beauty. Just in time to fake a glow for the Fourth of July.