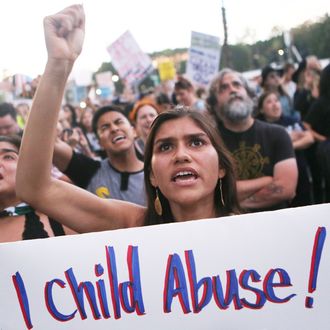 Outside a detention center in McAllen, Texas.
Photo: Mario Tama/Getty Images
On June 30, organizers throughout the country will host "Families Belong Together" protests in response to the Trump administration's zero-tolerance immigration policy.
Under the initial iteration of the policy, over 2,000 immigrant children were ripped away from their parents while attempting to cross the border, and placed in detention centers alone. On June 20, Trump signed an executive order ending the family-separation policy — but took no action to address the thousands of families that had already been torn apart. It's for this reason that organizers of the June 30 protests say that the demonstrations are still necessary to send a message to the Trump administration: Keep families together.
Below, here's what you need to know about the upcoming demonstrations.
628 Protests are Happening Worldwide
This year, there are more than 628 protests planned in every state, as well as in international locations, on June 30. Altogether, hundreds of thousands of people are expected to demonstrate across the country.
The national organizers behind the Families Belong Together events are the National Domestic Workers Alliance, the Leadership Conference on Civil Rights, the ACLU, the Women's March, and MoveOn.
The Main Protest is in D.C.
The main demonstration is scheduled to take place from 11 a.m. to 2 p.m. at Lafayette Square in Washington, D.C., where the ACLU expects 300,000 people to be in attendance.
"Donald Trump and his administration are cruelly separating children from their families," reads the MoveOn website dedicated to the event. "But we won't allow it to continue."
Attendees Are Being Asked to Wear White
Per the FAQ on Families Belong Together's website, "The lead partners of this action are calling upon participants to wear white — as a striking visual symbol that will also connect attendees in solidarity to each other and channel historic social justice movements unified by one color of clothing."
There are Demonstrations Before June 30
Before the mass demonstration on June 30, a handful of local and national organizations are hosting related rallies against the Trump administration's family-separation policy.
Where: The Freedom Plaza, Washington, D.C.
When: June 27, all day
The Center for Community Change is hosting a day of events to protest Trump's immigration policies.
Where: Tornillo, Texas
When: June 27, 12 p.m to 4 p.m.
United We Dream is calling for immediate direct action to abolish U.S. Customs and Border Protections, as well as U.S. Immigration and Customs Enforcement, in Tornillo, the city where one of the largest "tent cities" for immigrant children is located. RSVP to the Facebook event here.
Where: Lafayette Park, Washington, D.C.
When: June 28
More than 2,000 women, led by the Women's March and other partners, will partake in "a mass civil disobedience."
Where: Linear Park, 1501 E. 7th St, Brownsville, TX
When: June 28, 11 a.m. to 2 p.m.
The ACLU and other organizations will host a rally at Linear Park, which is directly in front of the Brownsville Federal Court in Texas, the epicenter of Trump's immigration crisis. RSVP to the Facebook event here.
There are more ways we can help families separated at the border. Please see here.