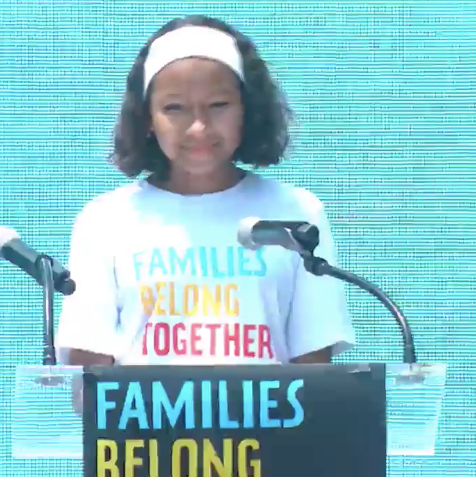 Leah at the Families Belong Together protest.
Photo: MoveOn/Facebook
During Saturday's Families Belong Together protest in Washington, D.C., a 12-year-old girl named Leah delivered a powerful and emotional speech. She spoke of her "constant" fear of being separated from her immigrant mother, who works as a nanny in Miami, and called the Trump administration's zero-tolerance policy "evil."
"I am here today because the government is separating and detaining refugee parents and children at the border who are looking for safety. Our government also continues to separate U.S. citizen children like me from their parents every day," Leah said during her speech as she held back sobs.
"This is evil. It needs to stop," she told the crowd of more than 30,000. "It makes me sad to know that children can't be with their parents. I don't understand why they are being so mean to us children. Don't they know how much we love our families? Don't they have a family, too? Why don't they care about us children?"
Leah continued, "… Why do they hurt us like this? It is unfair that they get to spend time with their families today while there are children in detention centers and in cages all alone who miss their parents."
The crowd cheered for her and chanted "Shame!" as Leah took a moment to compose herself.
Then, the 12-year-old girl said, "I live with the constant fear of losing my mom to deportation. My mom is strong, beautiful and brave. She is also a person who taught me how to speak up when I see things that aren't fair. ICE wants to take away my mom from me. I don't want to live with this fear. It's scary. I can't sleep, I can't study, I am stressed. I am afraid that they will take my mom away while she is at work, out driving or at home. I don't understand why this administration won't support mothers who just want a better life for their children."
After her speech, Leah shared a video on Twitter, thanking people for their support.
And understandably, her words drew emotional reactions from social media users.