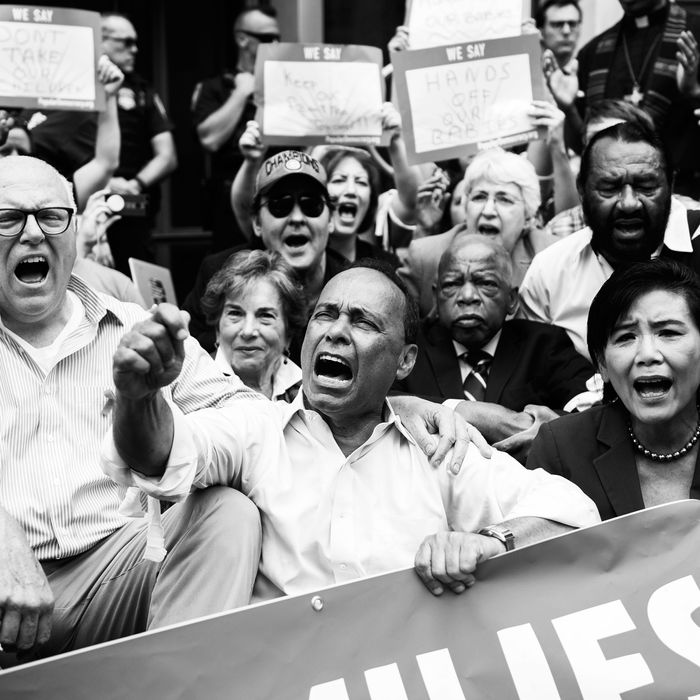 Photo: Tom Williams/CQ-Roll Call,Inc.
Across the country today, people are turning out to protest the Trump administration's policy of separating immigrant children from their families when they are detained at the U.S.-Mexico border.
"To separate immigrant families, victims of violence, hunger and poverty, is to re-violate them," Families Belong Together, the group that is organizing the protests, wrote on their website. "Children as young as 18 months are torn from their mother's arms by the U.S. government. This is violent abuse. These families are victimized again by the government to which they turn for help. Families Belong Together opposes the inhumane policies of the Trump Administration, Border Patrol, and I.C.E. and calls for immediate reform."
The protests come after a wave of troubling reports of children being separated from their families as a result of the Trump administration's "zero tolerance" policy toward people attempting to enter the U.S. Under the new rules, once their guardians are detained, children are treated as if they arrived alone, and placed with a family member, or in a shelter while their case is considered.
Since the new policy went into effect, over 1,300 children have been removed from their families at the U.S. border with Mexico. The U.N. has denounced this practice as a "serious violation of the rights of the child."
"Detention is never in the best interests of the child and always constitutes a child-rights violation," said Ravina Shamdasani, spokesperson for the U.N. human-rights office.
On Wednesday, the day before the protests were scheduled, a group of legislators and activists — including Representatives John Lewis, Pramila Jayapal, Luis Gutiérrez, and actor John Cusack — staged a sit-in outside the headquarters of the Customs and Border Protection agency in Washington, D.C., to protest the family-separation policy. As they marched outside the building, protesters chanted, "Bring our babies back!"
For information about how to find a Families Belong Together march near you, click here.