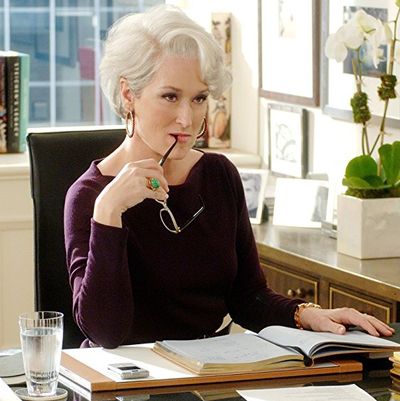 Photo: Twentieth Century Fox
Mary Z. liked fashion when she started her career. She interned in the fashion department of Cosmopolitan, then under the editorship of Kate White, and went on to an editorial assistant role at the magazine First for Women. "Everyone was lovely," she said.
Then, she took a job as an assistant in fashion PR.
The owner of one firm she worked at, she said, threw hardcover books at her and her colleagues. "He would throw things at us pretty often," she said. "He would call us cunts."
The mid-level employees at the company weren't much better. "I saw the way girls there treated their assistants — they would berate them," she said. "They would call them fat."
After 15 years in fashion, sick of being subjected to and witnessing mistreatment, she moved to Washington D.C., where she now works happily at a software company run by people who "genuinely care about you and how you feel and how you think."
To the average person, The Devil Wears Prada is a farce. But to those who have worked in fashion, the 2006 film can feel like a documentary. When the movie came out 12 years ago, pre–social media, assistants who had experienced emotional abuse were virtually powerless to do anything about it. But today, emboldened by the #MeToo movement that brought down powerful alleged sexual abusers in the industry like Terry Richardson and Mario Testino, they're finding ways to organize and share their stories — and managers have noticed.
Assistants and former assistants interviewed for this story described working conditions that seem like fashion industry parodies. One former PR assistant said she was required to stand outside in 15-degree weather without a coat for hours to check people into a New York Fashion Week show. Assistants — who earned salaries in the low $40,000 range — were only allowed to wear black coats, and hers was the wrong color. "I couldn't use the iPad because my fingers were so cold and so numb," she said.
Another said her boss, furious that a certain shipment didn't arrive to a designer's appointment overseas on time, screamed at her and threatened to take the money to overnight the items out of her paycheck (they never did). During Fashion Week, she was expected to work until 3 a.m. and come back to the office at 6 a.m.
An assistant who is called fat on a daily basis by her manager is, understandably, less protected by the law than a sexual-assault victim. Unlike sexual or physical assault, emotional and verbal abuse aren't illegal. "In the case of an actual assault, there might be some kind of criminal action," said Susan Scafidi, the director of the Fashion Law Institute at Fordham. "The likelihood of that, unless you're seriously injured by a flying stiletto, is small."
Nonetheless, the balance of power in the fashion industry is undergoing a major shift. Models and other low-level workers have been organizing since 2012, when the Model Alliance formed to protect models from issues like sexual assault and non-payment. Also in 2012, a Harper's Bazaar intern sued Hearst Corporation for violating labor laws by not paying her, though she was effectively full-time. (She lost in court the following year.) Unpaid interns also filed a buzzy class action lawsuit against Condé Nast in 2013; the company settled for $5.8 million.
Though Hearst's interns lost, the company ultimately decided to start paying its interns — now called "fellows" — an hourly wage anyway. "Even a failed lawsuit has the effect of changing practices within the industry," Scafidi said. Both lawsuits sent a powerful message to fashion's lowest level office workers: as fungible as you are, you are not helpless. The explosive #MeToo movement has only reinforced that notion, said Scafidi: "I think what we're seeing is the beginning of an overall sea change."
As with the #MeToo movement, that change is beginning on social media. The @FashionAssistants Instagram account, which has more than 16,000 followers after starting in December, serves as a repository for assistants' workplace horror stories.
The person behind the account, who works as an assistant in the industry and spoke to me on the condition of anonymity, said it didn't start taking off until she began sharing anonymous confessions about abusers at the suggestion of a friend. Disturbingly common complaints on the account — which various sources echoed in interviews for this story — include bosses who yelled in front of crowds of people, fat-shamed assistants, and failed to pay. (Many assistants work on a freelance basis for individual stylists or photographers. They have no contracts and, therefore, virtually no protection, unless they want to pursue legal action in small claims court.)
The person behind the account said she has been careful not to portray assistant abuse as being part of #MeToo. "We never wanted to associate it with anything at all as serious as sexual assault because that's a whole other level."
Yet, she talks about what she's created as though it's the beginning of a movement. "I want it to turn into something," she said. Already, she's gotten advice from Model Alliance founder Sara Ziff about how to create an organization that can protect freelancers, and helped organize a recent panel discussion in conjunction with the London College of Fashion.
Yet even without a formal organization, she and other assistants get the sense that work environments are improving, if only because people are afraid to be called out on social media by former employees. One assistant told me a past abusive boss invited her to coffee to make amends after the @fashionassistants account starting attracting attention in the industry. "I had moved on [from the abuse], but it made me feel great that they acknowledged that what they had done was wrong. And they said they're changing and they have grown up themselves and they're in a less stressful position at work," said this person, who knows other assistants who have had similar interactions with former bosses recently.
Both assistants and those who employ them agree that the fashion industry understands the power social media has to expose abusers, which the #MeToo movement has only reinforced. Right after his Golden Globe win, tweets emerged accusing James Franco of sexual misconduct, with an investigation by the LA Times into such behaviors following shortly thereafter. Freelancers already use social media to call out clients in the fashion industry for non-payment. "I do notice when you call out magazines or labels on social media, it's the only way you get things resolved," said London-based stylist Jamie-Maree Shipton. "We really have to fight for the things that we deserve."
Formed in October, the Humans of Fashion Foundation aims to protect all fashion workers internationally, including assistants, from all forms of abuse. Founders Antoniette Costa, who studied fashion law at Fordham, and Kristina Romanova, a model, are developing an app that would allow the industry's abuse victims to connect anonymously with mentors, therapists, and lawyers. Ultimately, they hope to create a code of conduct for fashion workplaces, which might receive something like a HOFF seal if they undergo training to adopt the code's policies.
Costa, who meets constantly with people at all levels in the industry, said assistant abuse "can have an almost PTSD-type of effect on people." She added, "I can tell you at least three people who I met with, who were assistants or who were assisting someone in the fashion industry — they said, I feel better just talking to you and joining your movement."
Bridgette Sena, a director of sales for accessories companies with 18 years of experience, thinks such an app could be a valuable way to anonymously warn people about abusive employers. Though she loves what she does, she's been both subjected to and witnessed egregious behavior over the course of her career. When she reached a director level, one particular boss treated her and her colleagues so horribly she couldn't sleep and found herself in tears on a daily basis. She later learned many people were aware of his reputation and was shocked no one told her before she decided to go work for him. "You're helpless, and HR, who was a woman, couldn't do anything about it," she said.
"You look at these assistants and interns, and the last thing you want is for them to experience this," she added. "I've had my former assistant hysterically cry to me, and I'm just hugging and holding her. And you're not even supposed to do that."