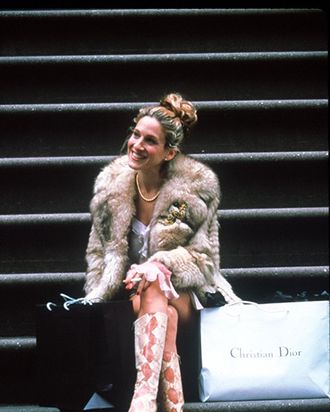 Sex and the City aired its first episode on June 6, 1998. In honor of the occasion, we're taking a look back at 20 years of SATC. Read all the Cut's anniversary coverage here.
There are so many iconic Sex and the City looks chiseled into our collective memories — Carrie's tutu, her Galliano newspaper dress, Miranda's bucket hat, etc. But in the 20 years since the show first premiered, they've become almost too iconic, losing a little bit of their luster.
With the help of "Every Outfit on Sex and the City," though — Instagram's most popular SATC fashion account — the show's lest-remembered, but equally fabulous outfits have been given a second life. Remember Carrie's Gucci fanny pack? Her pinstripe suit? And even her more minimal looks? These are the ones fashion obsessives still obsess over.
Below, we talked to 12 editors, stylists, and other fashion professionals about their favorite details and what makes them so unforgettable.
Carrie at the Beach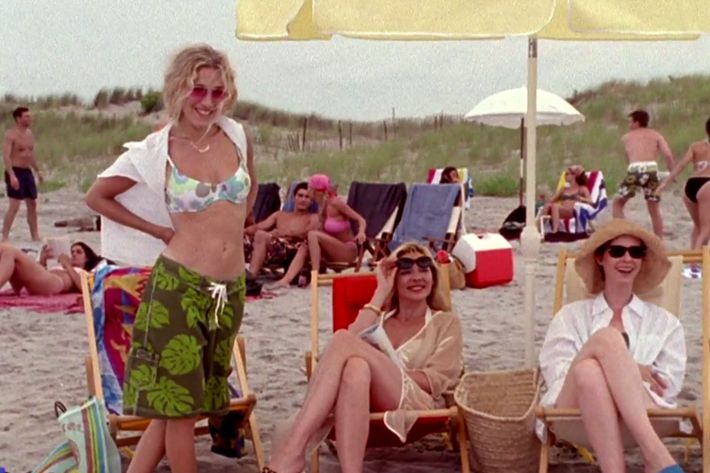 "I feel like this look says it all. She's giving me Carolyn Bessette-Kennedy on a bender. The classic white cardigan tied around her shoulders signals classic Cape Cod, but her men's board shorts are somewhere in the vicinity of Venice beach boardwalk. Who knows where the hot pink aviators came from, but it's working. This look is purest manifestation of the essence of Carrie. It's the reason why she's dated, dumped, and been dumped by Mr. Big countless times throughout the show: she just doesn't know what she wants. But at the end of the day it's that perfect brand of chaos that leaves us coming back for more." —Gabriella Karefa Johnson, fashion editor, Garage
Carrie's Gucci Fanny Pack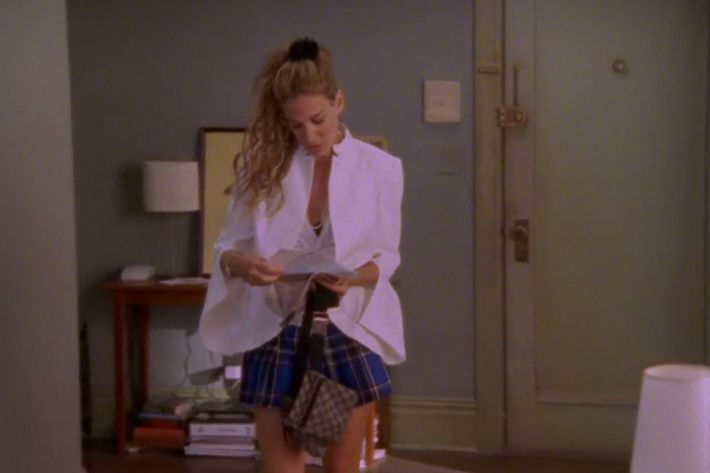 "I love Carrie's schoolgirl look with the Gucci monogram bag. Her repeat use of the fanny pack is very practical." —Ava Niuri, Helmut Lang
Everything High-Low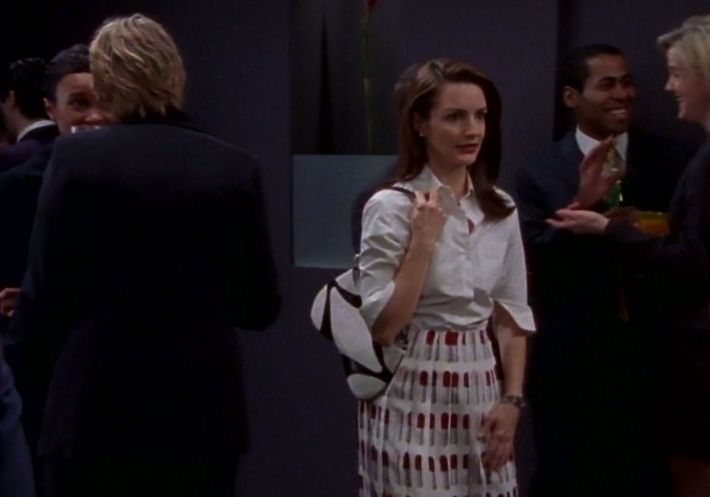 "The second, third and fourth seasons of SATC were the sweet spot, in my opinion. Patricia Field was sending Carrie around in $7 vintage dresses and $800 shoes, which personified "high-low" before that was a catchphrase, and was more symbolic of how women in New York shop. I remember Carrie in this gray mini dress with a vintage Gucci bag, aviators, and perfect waves. Or Samantha in a bubble gum pink Escada pantsuit. Miranda did lots of vintage Jean Paul Gaultier, and Charlotte wore a Prada lipstick print skirt. These looks had that ineffable cool city girl factor that you just can't bottle and mass market." —Marjon Carlos, writer
Samantha as a Spice Girl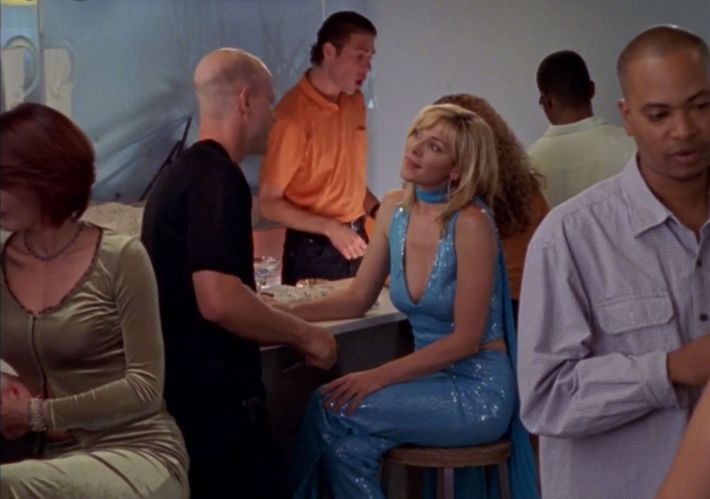 "This was a tough one because Samantha Jones is my idol. But if I had to choose one look, it's her slick, electric glittery blue crop top and pants AND a matching scarf. There's some kind of inner Spice Girl and millennial babe moment happening there and I always appreciate that Samantha dresses like Forever 21. She also makes her life as a publicist look the most fab." —Gia Kuan, publicist
Carrie's Sleeveless Dress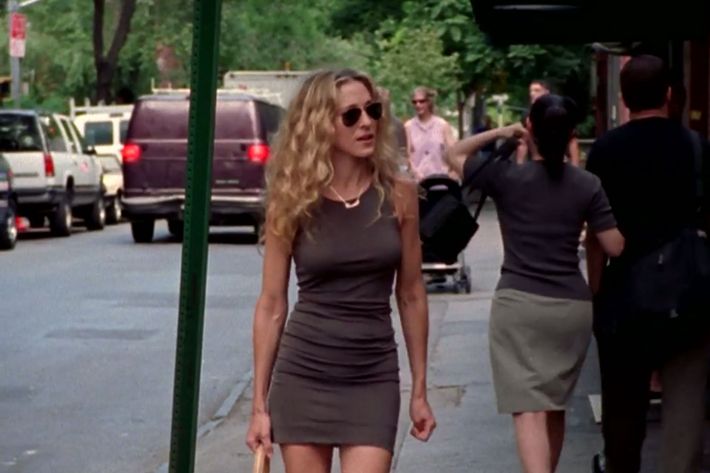 "When Carrie runs into her friends eating at a restaurant while walking home from a breakup with the short-story writer, she just looks fresh and iconic in the most effortless way. It's probably one of her simplest looks, but it's never left me. I most definitely try to re-create it every summer." —Danielle Nachmani, stylist
Carrie's Version of Casual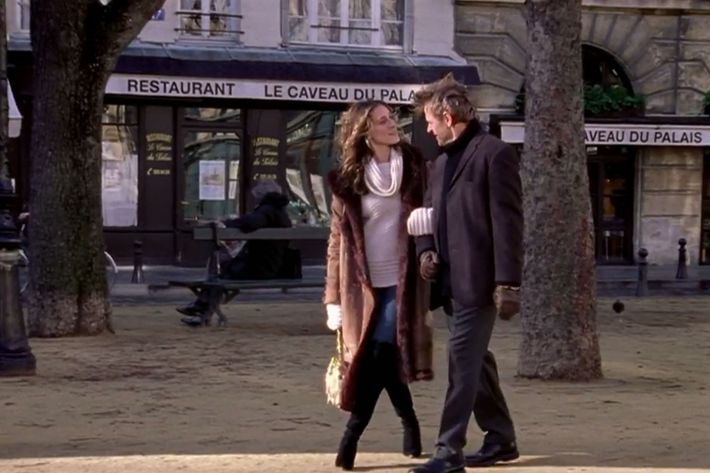 "I love the painted shearling look from season five. It's the perfect Carrie ensemble. Over-the-top — a hand-painted long shearling coat, thigh-high boots, and a gold fringe Gucci evening bag with enamel snake clasp — but completely wearable with jeans and a sweater. I searched for the coat for years and still fantasize about it! It's a total fashion look but not insane." —Brett Heyman, designer at Edie Parker
Parisian Carrie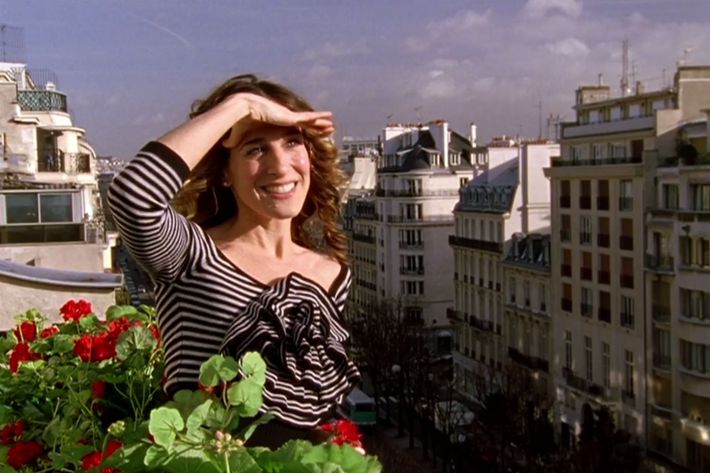 "I love all of the glamorous looks Carrie wore during the final season when she's dating Aleksandr Petrovsky. The one I think about most often though — the dream — is the graphic black-and-white Sonia Rykiel striped top and skirt she wears when she first arrives in Paris, accessorized with a pearl-embellished little hat. The outfit is so classic and chic while still quintessential Carrie with a big flower on her top. Whenever I go to France for work, which luckily is often in the wine business, this look is at the top of my Pinterest board." —Erica Blumenthal, co-founder Yes Way Rosé
Carrie's Crop Top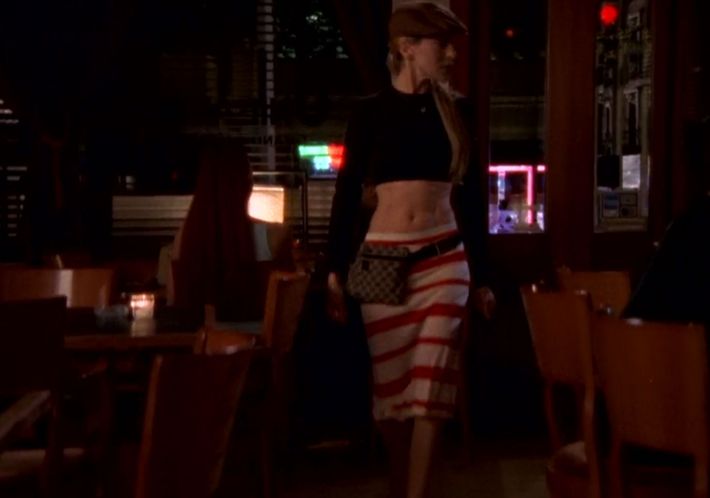 "This was the perfect outfit to try and win back Aiden, and show Shayna-the-bar-maid what's up. Abs on display, fitted skirt, and a bougie fanny pack at a dive-bar. That's what I always loved about Carrie: she would dress for the occasion, but never to fit in." —Thomas Christos Kikis, stylist
Minimalist Carrie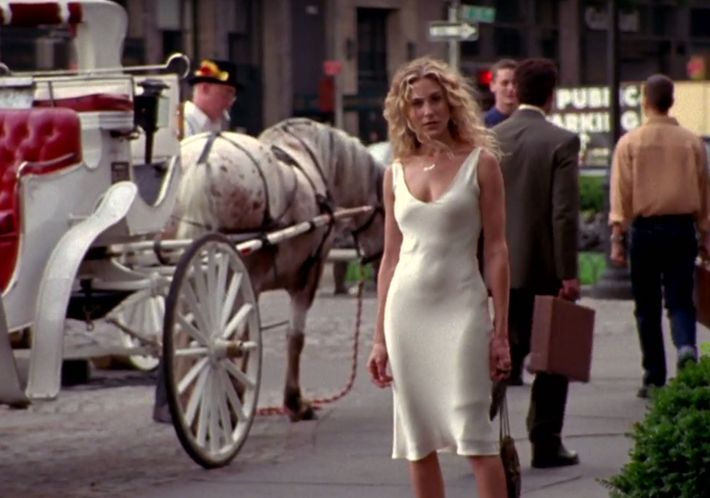 "There was something so New York, stylish, and iconic about Carrie's minimalist looks. Especially in the first season when Patricia Field and Sarah Jessica Parker really were defining the character and perfecting the Carrie formula. I love a little form fitting dress with a touch of flash, the perfect bag, sky-high heels, topped off by those signature curls. That, to me, is quintessential Carrie. —Miguel Enamorado, stylist
Carrie's Fur Coat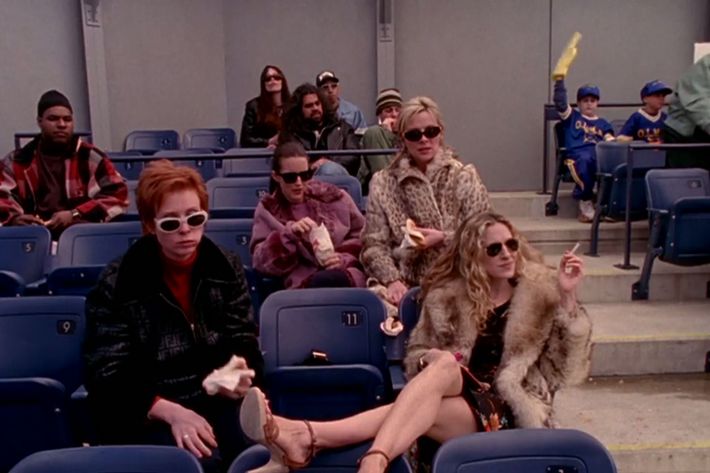 "Carrie's fur coat, an outfit in and of itself, is my favorite, most memorable SATC look. I like that it's vintage — not as much of a fur pas for the PETA gallery — and a repeat offender, appearing in more than one episode. It's one of those quintessential New York pieces that make me wonder: is she a hobo or boho?" —Sidney Prawatyotin, @siduations
Carrie's Pinstripe Suit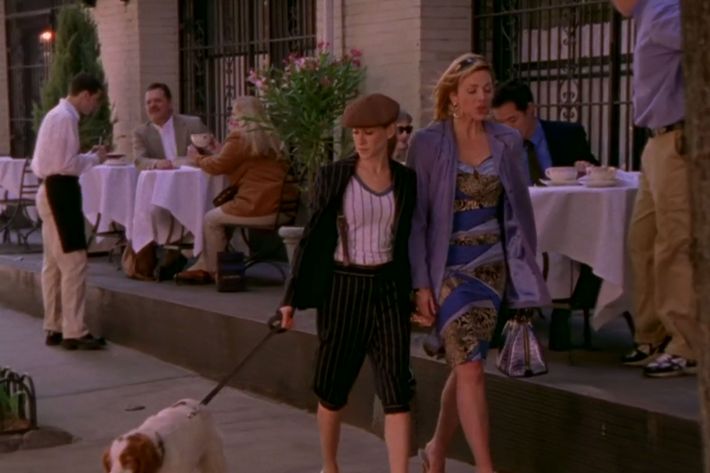 "I wish this was me every day. You would expect this to be a subtle look, given the classic pinstripes in muted colors. But the depth in detail makes this a top-five SATC outfit for me. This outfit pushed me over the edge when it came to my personal style. I think the glory of Carrie's fashion sense is that she can take so many archetypes and create something very uncategorizable. And this outfit really sums that up." —Gia Seo, creative consultant and stylist
Carrie's Tutu Finale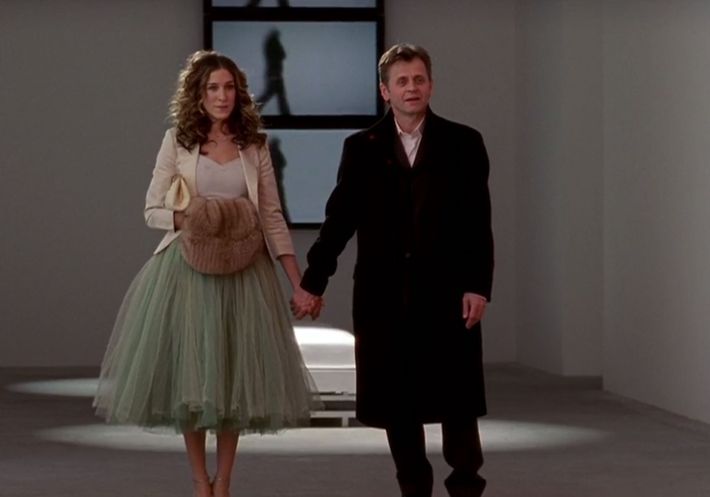 "I had a love-hate relationship with a lot of Carrie's outfits throughout the show … But I remember watching the last episode of SATC, when Carrie goes to Paris, and being obsessed with her dress with the green tulle skirt. Such an iconic scene and outfit." —Louise Parker, model and photographer