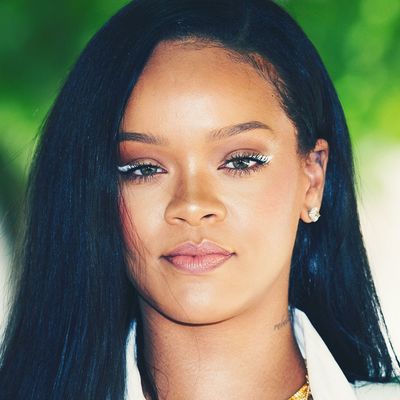 Photo: Stephane Cardinale/Corbis via Getty Images
Cue up the "Cake, cake, cake, cake, cake" — Rihanna is opening her first Fenty Beauty store starting tomorrow. For three days, the brand will have exclusive pop-up shops all around New York City in celebration of Moroccan Spice, her new collection. The new products, inspired by the neutrals and jewel tones of a Moroccan market, mostly consist of shadows, brushes, and what looks like the brand's first eyeliner called Flyliner (the shade name: "Cuz I'm Black," the color "true satin black").
The Moroccan Spice Market will have the full assortment of Fenty Beauty products available for purchase, including the Pro Filt'r Soft Matte Longwear Foundation, arguably the brand's most acclaimed product (you can get color-matched on-site). There will also be a hookah lounge at the events, but in Rihanna parlance they're being billed as "Beauty Retreats." The shops will be located in Manhattan and Brooklyn. On June 27, it will be at 2 Penn Plaza. On June 28, they'll be at Water Street between Pearl Street and Anchorage Place. On the 29th, the last and final day, they'll be at the Seaport District in NYC at 89 South Street. All stores are open from 11 a.m. – 7 p.m.