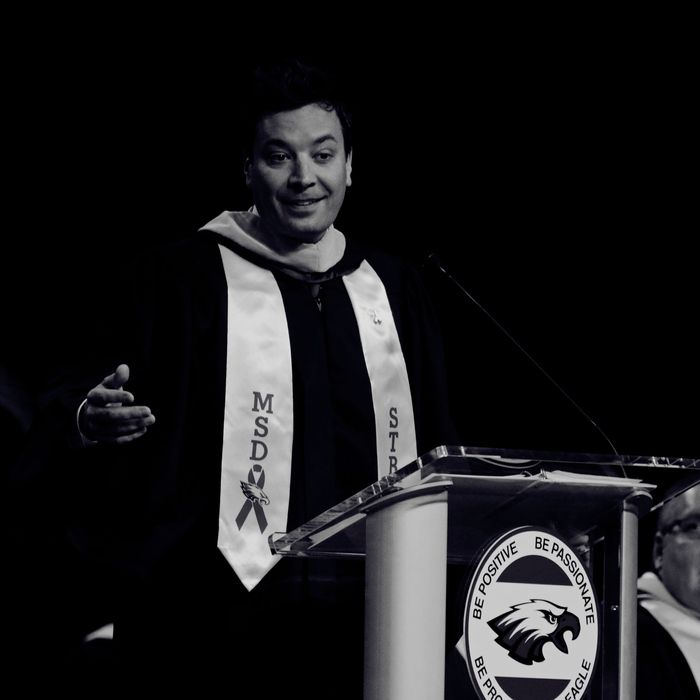 Jimmy Fallon.
Photo: Staff/Sun Sentinel/TNS via Getty Images/2018 MCT
Months after a student killed 17 of his classmates and faculty members, Marjory Stoneman Douglas High School seniors celebrated their graduation. Many steps were taken to insure that the students who lost their lives on Valentine's Day were remembered. As a surprise, Jimmy Fallon gave the commencement address (even though MSD usually doesn't have guest speakers).
"You are not just the future — you are the present. Keep changing the world. Keep making us proud," Fallon told the graduating class, including teens who spearheaded the March for Our Lives and #NeverAgain movement.
Four students who died in the shooting were supposed to graduate yesterday — Joaquin Oliver, Carmen Schentrup, Meadow Pollack, and Nicholas Dworet. They were honored with four empty chairs and diplomas were presented to their families. Pollack's brother accepted on her behalf, and her friend Carley Ogozaly decorated her cap with a picture of Pollack and the message, "We're still in this together."
Oliver's mother accepted his diploma wearing a shirt that read, "This should be my son."
Schentrup's mother, April, tweeted that she would not attend, as it was "too painful to celebrate w/o Carmen."
The faculty who lost their lives in the shooting, teacher Scott Beigel, coach Aaron Feis, and athletic director Chris Hixon, were honored with eagle statues presented to friends and family.
And then there were the political statements. Many students (including Emma González and Delaney Tarr) and teachers wore orange lipstick from the "social justice brand" the Lipstick Lobby. The color is part of a national movement to raise awareness about gun violence.
David Hogg, a leader of the student movement, painted his cap orange with a $1.05 price tag. The figure is meant to represent what the life of a student means to Florida senator Marco Rubio, in relation to the money he receives from the NRA.
As for post-grad plans, both Hogg and González teased that March for Our Lives was planning a big announcement. This morning, the Sun Sentinel reported that they're going on a bus tour to encourage young people to register to vote and name politicians who accept donations from the NRA.