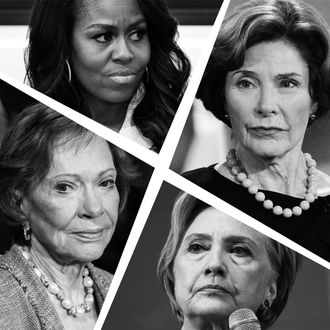 Clockwise from lower left: Rosalynn Carter, Michelle Obama, Laura Bush, Hillary Clinton.
Photo: Getty Images
As of Monday, all four living former first ladies — Rosalynn Carter, Hillary Clinton, Laura Bush, and Michelle Obama — have condemned the Trump administration's horrifying policy of separating migrant children from their parents at the U.S-Mexico border, NBC News reports.
Bush was the first to speak out about the new immigration policy that has ripped approximately 2,000 migrant children from their parents. Though some in the Trump administration have either denied the policy's existence or argued that it was the Democrats' doing, Bush —whose husband created the Department of Homeland Security that oversees the policy's enforcement — did not shy away from harshly criticizing the current administration's "zero-tolerance" policy in a Washington Post op-ed published on Sunday.
"I appreciate the need to enforce and protect our international boundaries, but this zero-tolerance policy is cruel," she wrote. "It is immoral. And it breaks my heart."
On Monday, Michelle Obama endorsed Bush's op-ed on Twitter, where she retweeted the former first lady's original tweet with the message, "Sometimes truth transcends party."
In a talk at a women's group event in New York City, Hillary Clinton took aim at Attorney General Jeff Sessions and White House Press Secretary Sarah Huckabee Sanders, both of whom had attempted to justify the family-separation policy with the Bible, claiming it was "biblical" to enforce the law. "Those who selectively use the Bible to justify this cruelty are ignoring a central tenant of Christianity," Clinton said.
Later on Monday afternoon, Clinton also took to Twitter, calling what's happening at the border "a humanitarian crisis." "Despite what this White House claims, separating families is not mandated by law," she added. "That is an outright lie, and it's incumbent on all of us — journalists and citizens alike — to call it just that."
The last to speak out was Carter, who referred to the policy as "disgraceful and a shame to our country."
While current First Lady Melania Trump has commented on the practice, her statement has little in common with those of the four former first ladies. On Sunday, she echoed many of her husband's talking points on the issue, calling for congressional action where none is necessary and blaming "both sides of the aisle."
There are more ways we can help families separated at the border. Please see here.