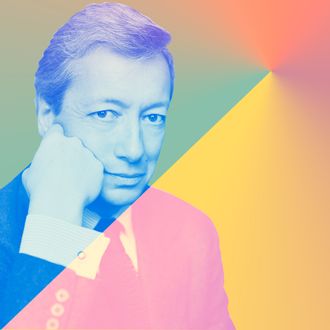 Photo-Illustration: Brigitte Lacomb
When Frédéric Malle was 18, he told his father he wouldn't be attending Harvard and following in his father's footsteps.
In response, his father took him to Wall Street. "[We visited] a family friend who was the king of traders at Lehman Brothers at the time," he recalls. "I stood in front of this little man in suspenders, with dyed red hair and beads of sweat on his forehead. He wagged his finger at me and said, 'Frédéric, I'm going to make a man out of you.'
"I thought to myself, 'Like hell, you are.'"
He's got dozens of anecdotes like these. Laced with charm, biting humor and a hint of arrogance, his formative years are something out of an Evelyn Waugh novel.
Malle grew up in a colorful household in Paris. His father became a movie producer, working alongside his brother, acclaimed film director Louis Malle, and his mother was art director of Parfums Christian Dior (her father had founded the fragrance brand).
"Perfumery was so close to me, I veered away from it," he explains. "I decided that I wanted to become an art dealer. My mother always told me that the fragrance business is a trade that one should know every aspect of — not only perfumery, but the glass making, marketing, advertising," he explains. "I always thought, if I ever go back to perfumery, everything I'm learning along the way is going to help me."
It was one fortuitous moment, however, that pushed him closer to his destiny.
"I was living in Paris, in a sixth floor walk-up. I had no girlfriend and I was broke," he bemoans at the memory. "So I went to my mother's for a free meal."
A friend of Madame Malle, who happened to be a bigwig at the fragrance house Roure Bertrand Dupont, was there that same night and had brought some fragrance samples for her to smell. He invited Frédéric to check them out, too.
"I smelled one and said, 'This smells exactly like that one you had shown us ten years ago.'"
It was. Having impressed the friend with his nose, three weeks later, he had a job at Roure.
"All the perfumers there sort of adopted me," he remembers. "Edouard Flechier, Dominique Ropion, Jean-Claude Ellena."
He honed his skills and befriended more perfumers at Roure before deciding to set out on his own. He called himself a perfume publisher, working alongside his talented olfactive friends. He pushed their creativity limits, but his new business also provided a platform for blends they'd made that they had not yet found homes for. And, perhaps, most importantly and unusually, he put their names front and center on the labels of their creations.
Exactly 18 years ago today [June 6], he debuted Editions Frédéric Malle, with nine "editions," including abundant florals En Passant by Olivia Giacobetti, Lys Mediterranee by Edouard Fléchier and soon-to-be cult favorite Musc Ravageur by Maurice Roucel. The scent that Malle is arguably best known for, though, is Carnal Flower, whose ubiquity in New York fashion and social circles is a modern-day Joy or Fracas (though Malle would likely cringe at the notion of it being compared to any scent).
He spoke with the Cut about his most favorite place in Paris, his weakness for a good glass of wine and why choosing the right fragrance takes patience.
Favorite time of day and why? Between 5:00 and 8:00 p.m., when the light is warm and beautiful, when everybody is gone and I can concentrate on "my things".
Watch brand: A 1960's Rolex Submariner.
Suit brand: Anderson & Sheppard.
Dress shoe brand: Christian Louboutin.
Weekend shoe brand: John Lobb.
What fashion look do you not get? Anything that doesn't respect women.
What item stresses you out if you're running low on it? Lapsang Souchong tea.
Cleanser of choice: Our bar soaps. In particular, Anterenea.
Toothbrush of choice: Oral-B Pro-Health Crossaction.
What do you carry your stuff around in? Either a tote from T. Anthony or an old Valextra messenger bag.
What phrase or word are you known for saying? "Isn't that funny?"
What celeb would be your friend if only you two met? Louis the XIV. I like simple people.
What drives you crazy? Muzak.
What is always in your fridge? Dark chocolate, proper white burgundy wine, French butter, and Activia Yogurt.
Preferred wine label? Lafitte for Bordeaux, and de Montille Pommard for their whites.
What do you think Pantone's color of 2018 should have been? Pantone is like roulette. You either find the perfect fit, or you are frustrated forever. I wish there were more colors and therefore better odds for finding the right one.
What song is currently in your head right now, and are you happy about it? I am presently listening to an old album of Cat Stevens.
What technology or app do you rely on most? Spotify.
Favorite Instagram? Who cares?
Favorite meal and where? Anything cooked by Joel Robuchon.
Comfort food: Spaghetti Strofinati al Pesto E Pomodoro Piccante at Sant Ambroeus.
Most recently watched TV binge: Babylon Berlin.
What product in your domain is misunderstood and should be a best seller? Dans Tes Bras by Maurice Roucel. It's one of our most beautiful perfumes, but you have to wear it and live with it. You don't necessarily get it when you smell it the first time. One must have the patience to try it, though.
What do you foresee as the top beauty trends in 2018? A return to something less noisy and less fashion-centric. People linger for something quiet.
What do you wish you had invented? Perfume.
Favorite spot in the entire world? Paris VI arrondissement.
Dream car? The Ferrari 250 GT that my father used to race with.
If you won the Power Ball tomorrow, what are the first five things you would do? (after, of course, donating the majority of it to your top charities…) I would spend the little I have left at Galerie Kugel and a some at Miguel Abreu's gallery for good balance.