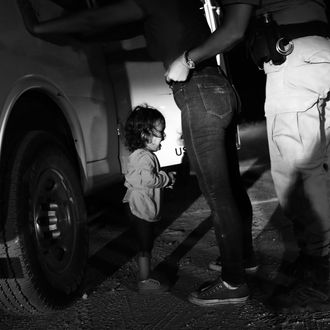 A 2-year-old girl crying as a Border Patrol agent pats down her mother.
Photo: John Moore/Getty Images
After photographer John Moore's picture of a 2-year-old migrant girl crying at the border went viral, a California couple was inspired to start a fundraiser to help immigrant children and parents. In just three days, it's raised over $4 million.
Charlotte and Dave Willner of Silicon Valley have tapped into many Americans' desire to fight the Trump administration's brutal family-separation policy. Their fundraiser is for The Refugee and Immigrant Center for Education and Legal Services (RAICES), which is currently working on securing legal representation for migrant children and paying the bonds required to reunite families. At one point, money was pouring in at a rate of almost $4,000 per minute.
"These aren't kids we don't have to care about. They're like our kids," Charlotte Willner told the The Mercury News. "When we look at the faces of these children, we can't help but see our own children's faces."
There are more ways we can help families separated at the border. Please see here.