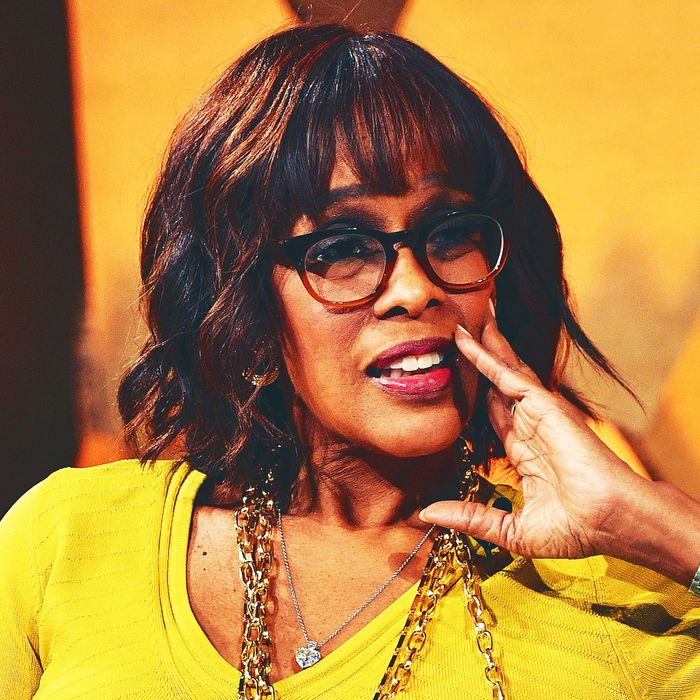 Gayle King.
Photo: Dia Dipasupil/Getty Images
In a world full of intentionally grammatically incorrect tweets and bizarre water bottle behavior, it's comforting to know that we can always count on the endearing best friendship of Gayle King and Oprah Winfrey to be there when we need it most. That was certainly the case on Thursday morning, when Gayle got emotional (awww) talking about Oprah's impact on a CBS This Morning segment.
The touching moment occurred when Gayle was speaking about "Watching Oprah: The Oprah Winfrey Show and American Culture," a new exhibit at the Smithsonian's National Museum of African American History and Culture. The morning program aired a clip of Gayle and Oprah touring the exhibit, which takes a look at Oprah's astounding career and its effect on us all. The CBS This Morning co-host also took a moment to share some thoughts on her best friend's impact on the world.
"Everybody was fine walking through because we were marveling, because it really was a trip down memory lane. But when Oprah hears from people directly the impact she has on them, that instantly is a game-changer for her," Gayle said on CBS This Morning.
Gayle went on to share an anecdote that she was told Thursday morning by the man who was driving her that day — an immigrant from Pakistan who arrived in the U.S. in 1992 — about the importance of Oprah on his life. She got emotional as she said, "He started watching The Oprah Winfrey Show and he would see her walk in the audience and some of the issues she would cover, and he said, I just knew that she was a good human."
Struggling to hold back tears, Gayle said, "I'm so sorry because I'm so used talking about her but it's the way that he said it this morning and when I see all the things that are in this room, it's getting to me."
Great, now Gayle's crying, I'm crying, and we're all crying!