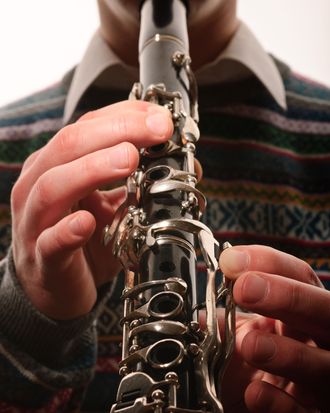 Photo: Oliver Helbig/EyeEm/Getty Images
I'm sure you love your boyfriend. You love him enough to go to his soccer match. You love him enough to watch him play a video game once and then never again, but you did do it once. You love him enough to go to the beard trimming store with him, or whatever. But do you love your boyfriend enough — to ruin his life and career?
In 2013, Eric Abramovitz was a McGill University music student and one of the top clarinetists in Canada — a distinction many Canadian clarinetists can only dream of. He applied to complete his bachelor's at Colburn Conservatory of Music in Los Angeles, which awards everyone accepted into its program with a complete scholarship, plus room and board, plus money for meals. According to the Montreal Gazette, it is worth roughly $50,000 a year. There, Abramovitz would study under Yehuda Gilad, who, as you already know but the Gazette reminded me, is "one of the best clarinet teachers on the planet."
Abramovitz auditioned in front of Gilad in February of 2014 and a month later he was accepted into the program.
— Or was he?
He was.
A joyous occasion indeed, save for the fact that his girlfriend, Jennifer Lee, who was also a student at McGill, could not bear to see him go, and also knew all of his computer passwords. Ah, the dangers of love! She responded to the acceptance email declining the scholarship, stating that Abramovitz would "be elsewhere." Hahaha. Ah, I mean — it's truly so sad. Then she deleted all of her evidence.
Not finished with her ruse, Lee registered an email posing as Gilad (giladyehuda09@gmail.com), from which she offered Abramovitz a $5,000 per year scholarship to the University of Southern California, which she knew was not a large enough sum of money to allow him to attend. Devilishly thorough.
So, he continued at McGill and did a two-year certificate program at USC, where he studied part-time under Gilad and he and Lee broke up for unrelated reasons. It is at this point that I will allow the Gazette to take it away:
It was at his second audition before Gilad, in which they had a brief and strange interaction, when Gilad said, "Why did you reject me?"

It was a fair question. As Abramovitz put it, "You don't reject him." But having done nothing of the sort, Abramovitz asked in return, "Why did you reject me?"




They could not sort it out then and there, but over time, the wonder lingered. Another student of Gilad's asked him about it. Eventually, Abramovitz forwarded the fake email to Gilad, who replied: "I've never seen that in my life."
Incredible. Abramovitz then tried one of Lee's passwords to log into the fake email account and was successful, nailing her on her dirty deed. Stassi Schroeder would be proud of both of them.
Long story short, he sued her for $300,000 and was awarded even more: $350,000. Damn. I guess the moral is — let your boyfriend play clarinet wherever he wants; who cares, damn.