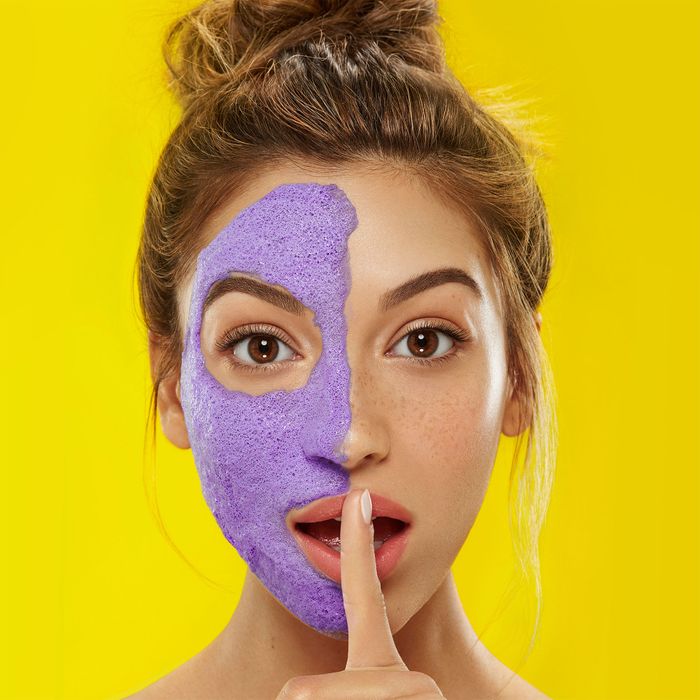 Photo: Courtesy of Glam Glow
Face masks are great, but sometimes you don't have 20 minutes to sit around waiting for a mask to sink into your skin (or dry in the case of mud masks). Glamglow is here to make face masking easier and, as always, Instagrammable. The Hollywood-based skin-care line's latest concoction is a fast-acting pore-unclogging treatment in a bottle.
All you need is one minute for the Instamud 60-Second Pore-Refining Treatment to do its job. Instamud is an violet foaming mousse mask that works into a foam that allegedly refines pores and evens skin tone faster than you can queue up a song to relax to. It's made with bentonite and kaolin cays to deep clean, and Glamglow's Teaoxi witch hazel and aloe vera complex, which purportedly evens discoloration. Since those ingredients can be drying and irritating, Glamglow added licorice root and apple to smooth and soothe the skin. When applied, the mask instantly foams for your Instagramming and Snapchatting pleasure, then, when washed off, skin is brighter and more glowy.
It's suggested you use the mask only two to three times a week, though, if your skin can handle it, you can use it as often as you like.
But, for the sake of your friendships, don't Instagram every time you decide to use it.
The Instamud mask is available now at Sephora and on Glamglow's website.
If you buy something through our links, New York may earn an affiliate commission.