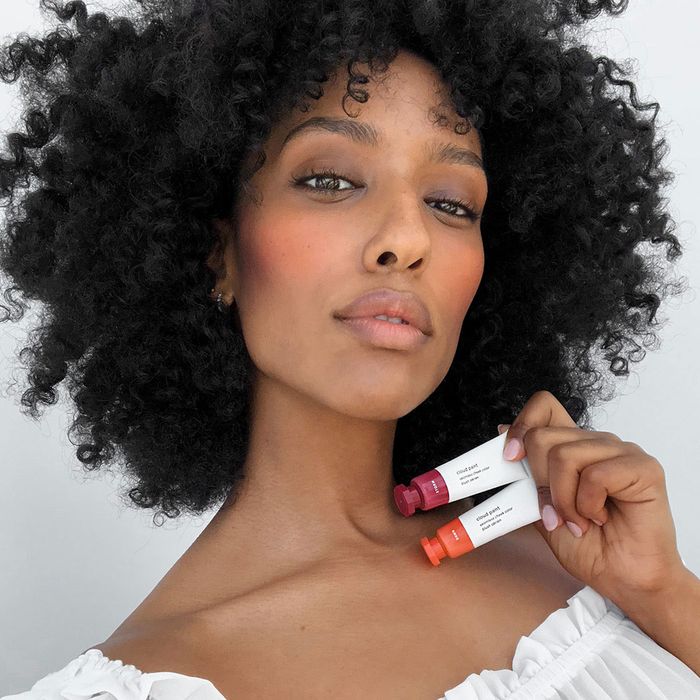 While you were busy trying to get that perfect Instagram of the Manhattanhenge sunset, Glossier was at work turning it into more blush shades. The brand announced today that they've extended their Cloud Paint color range with two new shades, "Dawn" and "Storm."
The shades are brighter and more vivid than the original run. Like the pre-existing colors, they are also inspired by nature, specifically the sunset. "Dawn" is a summery coral-orange that the brand says will look like you just "spent a restful weekend on a yacht." "Storm" is a deep brownish rose shade that's supposed to make cheeks look as if they've been bitten by the cold. As you can see from Glossier's chosen campaign models, both shades are especially well-suited for darker skin tones, though they could also be used, with more blending, on lighter tones.
Cloud Paint is a gel-cream consistency that goes on smooth. It is also packed with powders that allegedly "blur" skin, letting the blush go on seamlessly and without streaks so it won't magnify pores or textured skin. A little goes a long way with Cloud Paint, which means you should make sure to only use a tiny dot and blend it until you reach your desired flush level.
The two new Cloud Paint shades are available now from Glossier for $18 each or you can buy a duo for $30.
If you buy something through our links, New York may earn an affiliate commission.