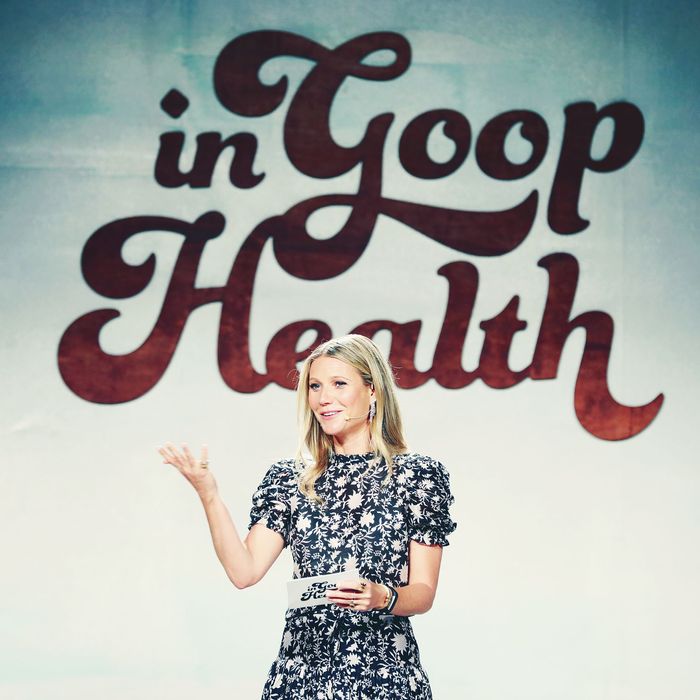 Gwyneth Paltrow.
Photo: Neilson Barnard/Getty Images
Click on this Goop story about consulting a medical medium, and you'll see a flashing tag at the top that reads "For your enjoyment." It's not just that Goop proprietor Gwyneth Paltrow wants you to have fun reading about a man who diagnoses cancer with the help of a mystical voice — the tag is there as part of Goop's new transparency initiative.
According to Racked, Goop is now tagging stories (but not products) according to whether they're based in science. The company categorizes posts into five options:
For Your Enjoyment: There probably aren't going to be peer-reviewed studies about this concept, but it's fun, and there's real merit in that.




Ancient Modality: This practice is nearly as old as time — many find value in it, even if modern-day research hasn't caught up yet (it's possible the practice will never attract its attention).




Speculative but Promising: There's momentum behind this concept, though it needs more research to elucidate exactly what's at work.




Supported by Science: There's sound science for the value of this concept and the promise of more evidence to come soon that may prove its impact.




Rigorously Tested: The validity of this concept is pretty much undisputed within the world of M.D.'s, D.O.'s, N.D.'s, and Ph.D.'s.
A story on a doula is tagged "Ancient Modality," while a piece on postpartum anxiety is "Supported by Science." Not all of the posts are tagged as of publishing time. Goop CMO Blair Lawson told Racked what Paltrow has long been saying in defense of the brand: There's benefit to putting everything out there.
"We're not doctors, and we're not diagnosing you or telling you what to do," Lawson said. "I think Gwyneth feels, as someone who is exposed to so many experts and to so many alternative theories, that it's a service to put that out there and to allow people to evaluate it for themselves, and see if that might be something that might work for them." Goop has been criticized for this philosophy of putting everything out there without discerning between fact and fiction.
As for the products, Lawson says they require documentation from third-party suppliers that they have "scientific substantiation" on ingredients. Goop has also hired two Ph.D.s in nutritional science for an in-house way to vet supplements. Hopefully, the tags will extend to the products soon so we can figure out if the $27 Kid Calming Mist is rooted in science.