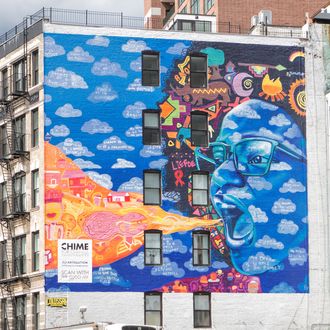 It's hard to miss the giant brick "ArtWall" where Gucci displays its creative campaigns on Lafayette between Prince and Spring Streets in Soho. But instead of plastering it with images of glittery sunglasses or the words of artist Coco Capitán this time around, the brand has decided to donate its prime real estate to a good cause.
On World Refugee Day, Gucci and Chime for Change announced a partnership with Artolution, a nonprofit organization that helps bring public arts programming to refugee and vulnerable communities around the world. To mark this collaboration, Gucci dedicated its ArtWalls in New York, London, Milan, Hong Kong, and Shanghai to murals made by global refugees. In a press release, the brand said it hopes to spread awareness of Artolution's work, as well as the "determination and spirit" of the women, children, and families being helped by its programs.
The artwork now on view in Soho was originally created in 2016 by kids and teens at an orphanage in Johannesburg. The group chose to paint supportive people in their lives, along with a mosaic of cultural symbols representing Pan-African unity. The central image features a woman surrounded by clouds, in which each child wrote their dreams for the future, and their "superpowers" or special talents.
Next time you walk by, be sure to stop and look up.