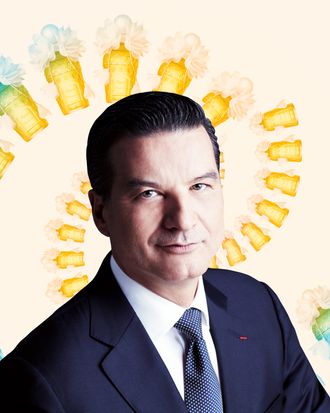 Thierry Masser of Guerlain
Photo: Courtesy of Guerlain
Call it the Proust effect: Memories are best triggered by smells. Scientific studies confirm that out of all the senses, smells and fragrance offer the best recall. Our new feature, Scent Memories, asks its subjects to talk about the scents they associate with different emotions and thoughts. Next up is Guerlain's Master Perfumer, Thierry Wasser. He's held the coveted post since 2008 and succeeded the house's previous in-house perfumer, Jean-Paul Guerlain. In the past decade Wasser has created updated renditions of Guerlain's cult fragrance, Shalimar. His latest work is Muguet Millesime 2018. The lily of the valley eau de toilette is a modern reinterpretation of Jacques Guerlain's 110-year-old fragrance. Wasser spoke with the Cut about why he has the best-smelling car and how baking is central to his scent memory bank.
My first scent memory: Apricots. Before getting in this trade, I wanted to be a chef. I started cooking very early on at home. When you bake apricots, you just put the fruits on top of the dough, and stick that in the oven. After a couple of minutes, the scent of those fruits become really strong. Today, if I do the same thing, bam! I lose 50 years and I'm back in front of my mom's oven.
The smell I associate with love: Your sense of scent is so personal. The scent of love, for me, is vanilla. It is confidential, to a certain extent, because it doesn't fly off of the skin when it's in fragrance; it's close to the skin. Vanilla is discreet and personal, just like love. Of course, since it's used in baking it is also reassuring. And love is an expression of feeling good and secure.
Happiness smells like: Jasmine. It's very bright and full of light.
Loss or heartbreak smells like: Well, it's obviously a darker feeling. I don't know if there is a scent dark enough to express that. Maybe it smells like something rotten. Heartbreak is the death of something, and rotten food is the death of food.
Sunday morning smells like: Lily of the valley. It is bright, fresh in a way that it wakes you up, and it opens your senses to what that Sunday will be.
Friendship smells like: Jasmine again. White flowers make you happy like friendship does.
Monday morning smells like: It smells like something very zesty. Well, you will need something zesty to start the week fresh. You need that energy or zing after the smoothness of Sunday.
If you could have one smell on your hands forever, what would it be and why? I would wear Bulgarian rose. Bulgarian rose just makes me feel good. It is a flower that smells like lychee, raspberry, and bitter almonds; it's complex, but it is a flower. It's a happy rose. There are richer, more honey-like roses, but the ones from Bulgaria dance. It's a rose that dances, although I am a very poor dancer myself.
I smell like: Since I was 13, I've smelled like Habit Rouge, which is weird because it's a Guerlain fragrance. I have a special bond with that scent and it became a part of me. It's how people know me, and even if someone steals my car, they will know it's my car because it's reeking of Habit Rouge. Sometimes the car valet will say, "Woah, your car smells amazing." It's been my scent for 45 years.
If you buy something through our links, New York may earn an affiliate commission.