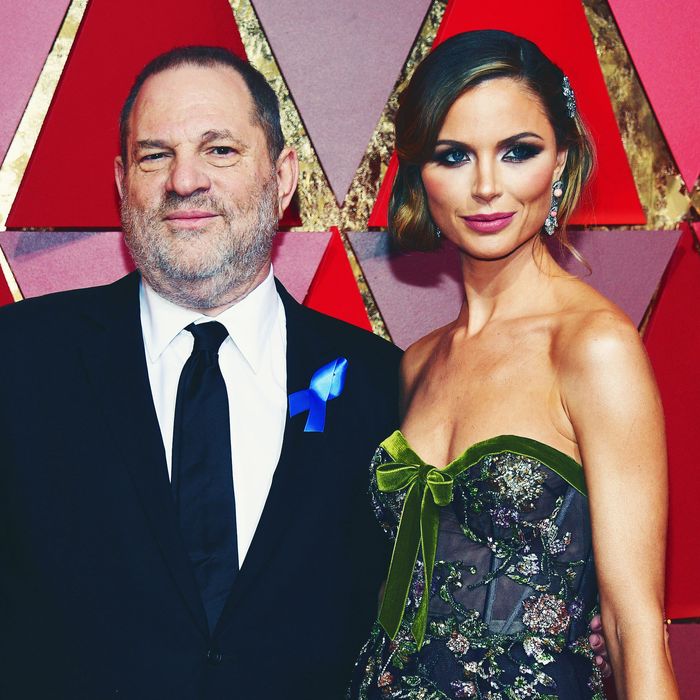 Harvey Weinstein and Georgina Chapman.
Photo: Kevork Djansezian/Getty Images
Ever since Harvey Weinstein was accused of sexually assaulting and harassing dozens of women in a series of explosive reports last October, the fate of Marchesa, the fashion line founded by his estranged wife, Georgina Chapman, has remained unclear. Weinstein had always been an adamant supporter of Marchesa. In the weeks after his downfall, many wondered whether the brand's association with him would leave an indelible stain.
But then Anna Wintour intervened. In an editor's letter that ran in the June issue of Vogue, which accompanied a glowing profile of Chapman, Wintour insisted that the designer "had no idea about her husband's behavior," and that "blaming her for any of it, as too many have in our gladiatorial digital age, is wrong." (Notably, the profile was assigned in February, just a few months after the Weinstein revelations.) Two days before the Vogue profile was published online, Scarlett Johansson appeared on the Met Gala red carpet in Marchesa — the first celebrity to do so since the Weinstein stories broke. When asked why, Johansson told the Cut, "It is my pleasure to support a brand created by two incredibly talented and important female designers."
The implication is clear: Marchesa is a brand run by two women — one that's entirely distinct from Weinstein — and these women should not suffer for Weinstein's misdeeds. But that may not be the whole story; the relationship between Marchesa, Vogue, and Weinstein is complex and clearly mutually beneficial. As the Cut wrote earlier this year, "[j]ust look at the pipeline of Weinstein's starlets that graced the covers of Vogue, some of them wearing Marchesa." And the connection between Marchesa and Weinstein may go even deeper than that. According to a new report from the Daily Beast, Marchesa appears to have ties with another organization, SeaMarch Creations, Inc., which has Weinstein listed as "president" and "officer" in a business report indexed on a public-records database. (SeaMarch is an anagram of Marchesa.)
If Weinstein is indeed an officer in SeaMarch, and if SeaMarch is closely linked with Marchesa, it could prove impossible to separate Weinstein from the design house. According to a legal expert interviewed by the Cut, the Daily Beast's findings could potentially indicate that the two companies were operating some kind of partnership together. Much remains unclear, but what is obvious is that we're not getting the full story. How closely connected to Marchesa is Weinstein, really? And what does that mean in terms of his relationship to Hollywood and the fashion industry?
Here's what we know, and what it could mean.
These are the reported connections between Marchesa, SeaMarch, and Weinstein
The Daily Beast uncovered a 2015 court filing that lists "Marchesa/SeaMarch Creations Inc." as one entity. Marchesa and SeaMarch are also listed as sharing the same address on West 26th Street — Marchesa's headquarters.
"It strikes me that two entities operating a single business, under a common name, from a common address, suggests that they may be co-owners working together as a partnership," Robert Keatinge, a business-law expert and counsel at Holland & Hart LLP, told the Cut.
SeaMarch also once listed an office on Seventh Avenue as its address. This is the same address as Weinstein's former accountant, and the same address Weinstein and Chapman both listed when filing political donations in 2012.
Furthermore, the 2015 court filing also lists both "Marchesa Holdings, LLC"and "SeaMarch Corporations Inc." as d/b/a — or, doing business as — Marchesa, meaning both were using Marchesa as their name.
When reached for comment by the Daily Beast, Chapman declined to address the relationship between Marchesa and SeaMarch Creations, Inc., or whether Weinstein was ever involved with SeaMarch. A company spokesperson told the publication, "Ms. Chapman, Ms. Craig, nor anyone else at Marchesa has any involvement at all in SeaMarch. SeaMarch has no involvement at all in Marchesa Holdings, LLC." The spokesperson also said that "Mr. Weinstein has no involvement at all in Marchesa Holdings, LLC."
What, exactly, does it mean to be "doing business" under a different name?
In an email to the Cut, Imke Ratschko, a business lawyer based in New York, described a d/b/a arrangement thusly: "It is one and the same company. The company is just using another name in certain situations. It's like announcing to your Friday-night bridge friends that from now on you would like to be called Bridgette rather than your real name, Jane. You may still use Jane with other friends and family."
There are a few reasons a business might want this. "It might be a way of distancing certain entities, but also might just be a way of operating different divisions of the same company — for marketing purposes maybe," Michael A. Chasalow, director of the Small Business Clinic and clinical professor at USC Gould School of Law, told the Daily Beast.
In the case of Weinstein and Marchesa, things seem fairly murky. Marchesa was founded in 2004; the Daily Beast reports that "Marchesa/SeaMarch Creations Inc." has been listed as a business since 2006 at the New York Chamber of Commerce.
"Why would SeaMarch ever do business as Marchesa if there was a separate company called Marchesa?" asked Chasalow. "It's not so much about why they have a d/b/a. It's more puzzling that they have a separate entity and a d/b/a for Marchesa. Perhaps, if he was involved, it meant Weinstein could exist in the background. The question is how was it structured — whether he was involved in management, or did he just have an ownership interest? It does make him a little less visible. Or it could be he wasn't involved in running Marchesa, but put a lot of money into it."
How having a role in Marchesa could have helped Weinstein control women
According to sources that spoke to the Daily Beast, Weinstein helped build the Marchesa brand by making actresses wear its dresses on the red carpet. "Nobody knew who Marchesa was until Harvey put it on the red carpet at the Golden Globes, Cannes, and Oscars," one of Chapman's longtime acquaintances told the Daily Beast.
With his designer wife and close friends like Anna Wintour, Weinstein came to exist at the center of the complex web that connects the worlds of fashion, media, and entertainment. In October, the Cut outlined Weinstein's "mutually beneficial relationship" with Vogue specifically, noting that having an actress appear on the magazine's cover during the promotion cycle for a film project would give cultural cache to Vogue, publicity to the film, and "proof of concept" to advertisers of how bankable a certain celebrity was, helping her land lucrative contracts and endorsements. (This is not to say that Vogue knew about Weinstein's behavior, just that everyone benefited from his dealings with the fashion industry.)
Within that web of influence, Weinstein had the ability to exercise total control over women — offering tremendous opportunities to those who complied with him, and total ruin to those who didn't. Women in the industry knew that turning down Weinstein wasn't merely turning down Weinstein: It was turning down film opportunities and magazine covers as well.
It would be very bad for Marchesa if Weinstein were, in fact, still affiliated with SeaMarch and Marchesa
Chapman's label has already taken huge losses since the accusations against Weinstein began to emerge last fall. Until Scarlett Johansson wore a custom Marchesa gown at the Met Gala in May, the label, which had once been a red-carpet staple, was conspicuously absent from red carpets and awards shows, and Chapman canceled the Marchesa show during New York Fashion Week in February.
Deeper connections with Weinstein could prove disastrous for the company. "The SeaMarch situation is highly curious. Harvey's name is an anchor around the neck of the business. If this gets out, it will kill it — no matter how many 'Letters from the Editor' Anna Wintour writes," a source who works in fashion told the Daily Beast.
Marchesa, meanwhile, has vehemently and repeatedly denied having any financial ties with the disgraced producer.
In February, Keren Craig, who co-founded Marchesa with Chapman, told the British magazine Grazia: "Harvey was helpful in the beginning. He helped us with meeting people, arranging contacts, [but] in terms of the business, he has not been involved." When pressed, she clarified:
Did he ever make a financial investment? 'No.' Does he have any remaining financial involvement? 'No.' Really? No shares, no stake? 'None, nothing.'
If SeaMarch and Marchesa are connected, here's how Weinstein could potentially benefit from the brand's revival
According to Keatinge, Weinstein could potentially benefit from Marchesa's profits if he were an owner of SeaMarch (which it is not currently clear if he is), and if SeaMarch is a partner with Marchesa Holdings, operating Marchesa as a partnership.
"The definition of a partnership is 'the association of two or more persons to operate a business as co-owners for a profit,'" Keatinge explained.
If SeaMarch and Marchesa Holdings are, in fact, a partnership, and if Weinstein is a member of SeaMarch, he could potentially stand to make money from SeaMarch's and, by extension, Marchesa's profits.
Not only that: If Weinstein has ownership in SeaMarch, he might benefit from transferring his interest in SeaMarch or SeaMarch's transfer of its interest in Marchesa to either his wife or Marchesa Holdings LLC, satisfying any financial or liability obligations he has to his wife.
In other words, if SeaMarch is still in some sort of partnership with Marchesa Holdings, and Weinstein still has some interest in SeaMarch, Weinstein could stand to profit both from staying involved and from cutting ties with it.
But there's a lot we still don't know
The Daily Beast's report raised as many questions as it answered. It's still unclear exactly what Marchesa and SeaMarch's ties to each other are, whether SeaMarch is even still active, and whether Weinstein, through SeaMarch, has any financial ties to his wife's label.
And until we know for sure, stylists, stars, and fashion editors — the very people with links to Marchesa — should be demanding answers.