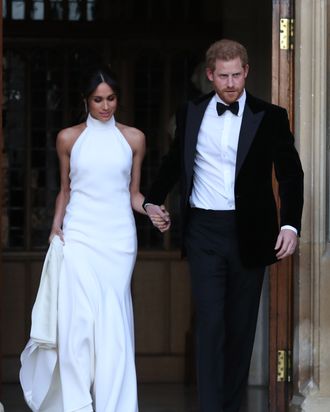 Meghan Markle and Prince Harry.
Photo: WPA Pool/Getty Images
At the royal wedding between Meghan Markle and Prince Harry, the Most Reverend Michael Bruce Curry delivered a powerful sermon on "the power of love" — a connection he witnessed between the future Duke and Duchess of Sussex in St. George's Chapel at Windsor Castle.
In an interview with Us Weekly, Curry revealed the exact moment during the May 19th ceremony that he felt Markle and Harry's commitment to one another: immediately after he delivered his sermon.
"They look at each other like they love each other. I remember thinking after the sermon, once I preached the sermon, I said, 'These two people love each other,' " he said. "They look at each other, and their love brought the rest of us together."
Though Curry did not personally know the couple before he was asked to speak at their wedding, his electrifying sermon quickly became of the highlights of the ceremony. Not only did his words stay with those who heard them, but the royal couple's love has stuck with the bishop.
"Their love, even if it was just for a few moments, showed us the power of what unselfish love that gives itself to another can actually do," he said.