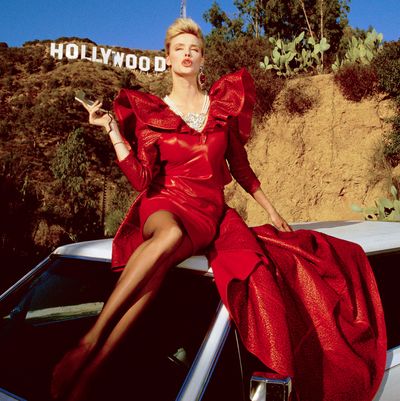 Photo: Douglas Kirkland/Corbis via Getty Images
After rising through the ranks at a Hollywood business management agency, Kristin Lee founded her own accounting firm, KLBM. Today, the 35 year-old manages finances for mix of high-level artists and entertainers — actors, recording artists, producers, writers, and athletes with personal net worths ranging from $1 million to $50 million (and no, she can't name names). Here, she talks to My Two Cents columnist Charlotte Cowles about what it's like to handle celebrities' money — and keep them from blowing it all.
I know many things about my clients that nobody else does, even their families and closest friends. Business managers are all-seeing. For example, we get all of our clients' mail — bills, fan mail, business-related mail, everything. Nothing goes to their homes. One reason for that is to protect their privacy, but we also want to be the first and main point of contact for anything financial. We oversee payments for their mortgages, phone, rent, utilities, and all the little things that keep their lives going and the lights on. Our clients could be anywhere in the world, on set somewhere or on tour for months, and we don't want that stuff stacking up in their houses.
I do a lot of hand-holding. Sometimes a client will call me and ask, "What's my Social Security number? Can you send me my insurance card?" Or, "How much money do I have?" These are intelligent people, but they are artists, and some of them want to keep the business aspect at arm's length. I just want to make sure they're being smart. They might have gotten an eight-digit advance to make an album, but that album cycle — including a tour and everything — could be two years long, so the advance has to last. And everyone always forgets about taxes.
Overspending can happen so fast. Most of my clients blow money on pretty standard stuff: the fancy cars, the house, the home renovations, the clothes, the shoes, feeling the need to add extra personnel or production to things. They like to hit their Soho House and their clubs and treat everybody. I recently got an Amex bill for one of my clients who had spent more than $3,000 in one night at 1 Oak. I got worried that it was fraudulent, because he doesn't normally do that kind of thing, and when I texted him to ask, he felt so guilty. He was like, "Oh God, I was so out of control that night. I was buying drinks for everyone. I can't believe I did that." It's hard to not get swept up.
I've trained most of my clients to call me before they do anything frivolous. I would much rather get the phone call saying, "Hey, I really, really, really want to buy this vintage Porsche," instead of, "Hey, I just bought this vintage Porsche." Most of the time, I can talk them off the ledge if it's a bad idea. I'll say, "You can, but I wouldn't." They respect my opinion when I say, "I would not do this personally," and that's gratifying. But I hate getting the phone call after money's already gone. Then there's a cash crunch that's a mess to fix.
I don't want to blame anything on the Kardashians, but the pressure to emulate that lifestyle is infectious, and some of my clients don't realize that other celebrities are getting a lot of stuff for free. There are celebrities who get paid to be courtside at basketball games, $25,000 or $50,000 just to sit there for two hours. And not only that, they'll get an entire box of designer clothes shipped to their house so they can pick out what to wear, for free. It's impossible to keep up with that, but it's natural to want to. My clients experience the same social pressures that we all feel, in normal life, except for them it's amplified and more public.
I've had clients fight me when I say that they can't afford something. In those cases, I will insist that they put it in writing. I will ask them to email me so that I can write back to say that I think their decision is unwise, because I've got to cover myself. I don't want to end up being in the news, like, "My business manager let me spend all of my money," when I didn't. Right now, I have a client who's doing really well, and he's been hanging out with a bunch of high-level entertainment guys who fly around on jets and have multiple homes. My client isn't at that point yet, but he's gotten a taste of it, and now every two weeks he wants to talk about buying some crazy villa in Hawaii or Spain. I'm just trying to hold him off from doing it for as long as I can, but at a certain point there will be nothing I can do to stop him. It's his money.
When I have to be the naysayer, I do try to be very honest. I once got a client's Amex bill with a weird $60,000 charge on it, and he was like, "Oh yeah, I bought a couple of Jet Skis." I was like, "What?!" And he had been riding them around uninsured! I was like, "Oh, that's so bad. All of it." I don't work with him anymore.
One thing that's surprisingly inexpensive for a lot of our clients is health insurance. The insurance policy for members of SAG-AFTRA is amazing. For the money, it is the best health insurance out there. It's only about $400 per quarter for an individual, so you're looking at about $1,200 or $1,500 a year for the best PPO coverage in the country. It travels with you everywhere, and you have access to emergency care facilities and 24/7 mental-health care. It's great. I wish I could get it.
I try to make clients take ownership of their money. I'm big on communication. I'll say, "You spent $6,000 on Ubers this month. If you keep doing that, you'll spend $72,000 on Ubers this year." It's not about shaming anyone. It's just about helping them take a step back and think, Okay. Where would I rather be spending this money? Or maybe I'm okay with this expense, but I need to cut back somewhere else.
The old-school accountant approach is to protect clients from themselves. Like, "We don't want them to know this money's here, because then they will spend it." I understand that, but I disagree with it. I think the better approach is to educate clients, not shield them like they're children who can't make decisions for themselves. Sometimes we'll get a client who says, "I don't even have a log-in to my bank account," and that's just bananas to me. They have a right to know what's coming in and going out. I don't think that they need to be treated with kid gloves.
It is easy to become enmeshed in clients' lives. I had one client who was young and impressionable and became very successful very quickly, and he was getting pulled in different directions by the people around him. He and I clicked and became very close. He bought a house and was away a lot, so I was at his house every single day, helping to oversee contractors, pick out windows, pick out drapes. I was a big part of his life. He died suddenly, and it crushed me. I felt like I had failed him, or could have done more.
Sometimes I do need to intervene with a client and say, "Hey, business aside, as a friend and someone who cares about you, I think you're making some bad life decisions right now. Maybe it's time to make some changes." I had to stop working with a client after having that conversation with him. He decided to step out of the entertainment industry for a while and focus on himself and his health. I was like, "I think that's great," and we parted ways. So it was a positive thing, overall. Mental health can be a major concern; if a client is in a dark bad place, they often can't work.
When I get a client who's the next big thing, everyone wants a piece of it, and people come out of the woodwork. Not everyone has good intentions. I see a lot of opportunistic businesspeople as well as toxic relationships. The latter can be tough. My client will have this hot new girlfriend and he's all about her, but I'm like, "She is actually bleeding you dry." I saw a woman come out of nowhere and start dating one of my clients when he was at the top of his game. She'd never even seen him perform or heard of his music or anything, but she moved to L.A. and picked out their house and all this new furniture. They had a huge wedding. Then, when the money dried up, she completely bailed. It was one of the grossest things I've ever seen. I would love to give everybody the benefit of the doubt, but our clients are extra exposed. And I feel for them; it's got to be difficult to wonder, Does this person love me for my money and my status, or do they love me? And of course, I don't have the right to tell anybody, "I think this person is bad for you." I'd probably be fired. When people are in love, they don't want to hear it.
I encourage my clients to save, and also to reinvest in themselves. That might mean funding a new business venture or taking acting lessons; it's important that they're staying in touch with their creativity. I don't want one of my clients to wake up one day and say, "I'm tired of the entertainment business. I just want to disappear." People get burnt out, and trying something new is not easy, especially if you're famous.
Luckily, I haven't had any clients get seriously blackmailed. I once had a client who left his laptop with all his music on it in the back of an SUV in Las Vegas, and the driver was trying to get us to pay him to give it back. We ended up giving him a little bit of money as a thank-you, but not what he initially asked for. Recently, we've had threats made against some of our female artists. We called the FBI and the LAPD and beefed up security. You can't take these things as empty threats. It costs extra money to take precautions, but it's better to know you're doing everything you can.
I don't really get envious of what my clients have. After a while, the dollar amounts become kind of abstract. Numbers are numbers, and they don't lie — they all add up, and that's the most important thing at the end of the day. I focus on accuracy. The clients are human beings; they're not defined by their contracts or their salary. So I try not to think about that too much, and my own life is pretty good. I charge a 5 percent commission rate, which is pretty standard, and I'm happy with where we are and what I have. Every once in a while I'm like, "Damn, that's a nice car. That would be fun to own." But I think that's human nature, and I know I don't need it.