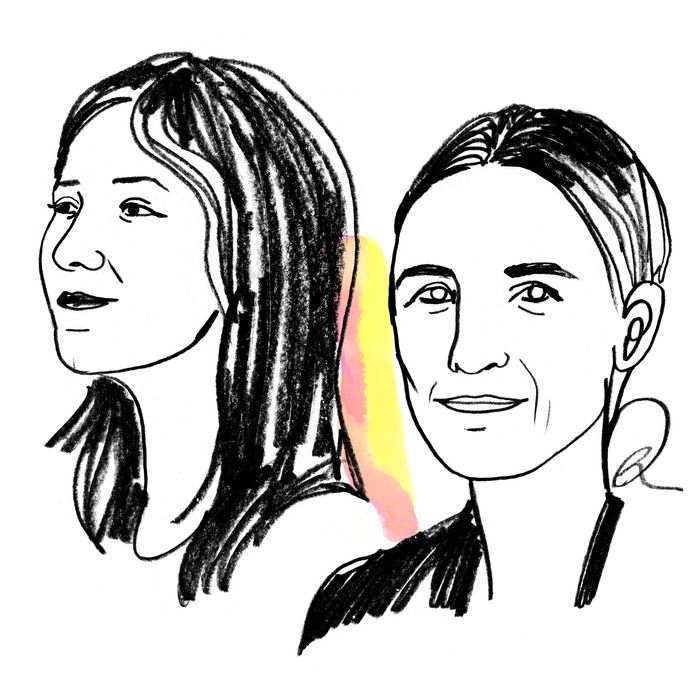 BPCM founders Carrie Ellen Phillips and Vanessa von Bismarck.
Illustration: Lauren Tamaki
Carrie Ellen Phillips and Vanessa von Bismarck are the founding partners of the global strategic communications and brand building company BPCM. They have offices in New York, Los Angeles, and London, approximately 100 employees, and divisions dedicated to fashion, beauty, luxury, travel, wine and spirits, digital, and sustainability. They're also raising four and two young children, respectively, and they each get to BPCM's New York office by 8:30 a.m. on a typical workday. But then again, no day in their lives is ever really typical. Here's how they get it all done.
On their morning routines:
Vanessa: My morning routine starts at around 7 a.m. when my kids [wake up]. I have two boys, Cosmo and Laszlo, 6 and 9 years old. I have a German au pair, because I want my kids to speak German. When I hear them all trampling upstairs I try to get downstairs a little faster. I get dressed and make breakfast for them, we have a little chat about the day, and then I take them to school. School is walking distance and right next to the office as well, so that's kind of perfect. I'm at the office really, really early, I mean like at 8:30, and then I start my day.
Carrie: I have four kids so if I want any time to myself, I have to get up really early. At 6 a.m., my alarm goes off. Occasionally, there's a snooze. I go downstairs and make myself this beauty shop concoction that our business partner Ali in L.A. got me into, a couple of little potions and warm water and lemon. It's just a really nice wake-up beverage, and then I almost always meditate. If I have time or am feeling up to it, I'll exercise. Then I go and wake up my 8-and-a-half-year-old and get her started on her get-ready-for-school process — and I try desperately not to wake the other three up.
I shower and get dressed and by the time I'm done, my partner Eric has made lunch for all the kids. Poppy, my oldest and I, get out the door. I take her to school in the morning, which is great 'cause it's our time. She likes to DJ and recently it's been absolutely terrible. She's discovered "Gangnam Style," a song that I never needed to hear twice. Now I've heard it maybe 600 times in the last three weeks. I know the words to so many Taylor Swift and Justin Bieber songs. It's not something I'm proud of. I get her to school by 8 and then I come into the office and I'm usually sitting at my desk, working, by 8:30 unless I have a breakfast meeting, which does quite often happen. The office doesn't open until 9:30 but it's great get-stuff-done time, or if Vanessa and I are both in the office, it's catch-up time for the two of us.
On their work uniforms:
Vanessa: My work uniform is usually a black pair of pants. It used to be black sort of skinny jeans but I'm mixing it up a bit now. And usually a white shirt, in most cases Equipment, and Golden Goose sneakers. I'm really obsessed with them.
Carrie: It totally depends on what I'm doing that day. Most of the time I'm either wearing Brock or Preen and some kind of dress or a skirt, and I'm either wearing heels or Vans, which I've worn since I was 12 years old. I kind of have this thing where the more exhausted I am, the higher the heels get and the more lipstick goes on.
On morning beauty:
Vanessa: [My routine] depends on if I washed my hair or not that morning, but usually I wash and blow dry my hair and then I apply makeup or not. A lot of the days I don't, but if I have client meetings, then I will. We work with Maybelline and I'm really obsessed with their stuff. I use a moisturizer called Ceramidin, it's from a company called Doctor Jart+. I go through so many tubes. Then I use foundation and some blush (both from Maybelline) and Rodial mascara. Then I have a Diptyque fragrance called 34. I don't do a lot.
Carrie: My beauty routine is all around skin. I remember my Italian grandmother saying one time, when I was maybe 13, that the best makeup you can have is having good skin. It's always stuck with me. My absolute go-to is an Eve Lom cleanser, it's a balm cleanser. You take it off with a muslin cloth and it's sort of this perfect reset in the morning. And then I use a concoction of different serums and oils from Marie Veronique and Pratima — I'm obsessed with Pratima Neem oil. It's incredible and I just literally slather it all over my body. I don't wear a lot of makeup. When I do, I usually do my eyebrows and I can't imagine a day where I'm not wearing Maybelline mascara.
It's mascara and lipstick and my lipsticks are always either Lipstick Queen or Maybelline. And then my fragrance is Hermès Pamplemousse Rose.
On their day-to-day work:
Carrie: I have to sit down with our assistant every morning and plan what I need to achieve that day. If I had to boil my day down to two things, it would be calls and meetings. Today I have eight meetings or calls. I also have a client who is doing a full day of appointments that I need to go over to. I have Drew Barrymore doing a P.A., and then we're doing an influencer dinner tonight and simultaneously, we have a watch event. At least three out of five days, I have some sort of a lunch meeting. I try every day to meet with some bit of the team. Some people have scheduled touch-bases with me, some people kind of pop in, and we're very open-door policy, which can be very distracting but the team is so important for us that we want to make sure they're always feeling supported.
Vanessa: When I come in at 8:30, if Carrie's here, we'll have a catch-up. I get a text from my assistant the night before, with a schedule, so I know pretty much where I have to be. If I'm in the office because I don't have a breakfast or a meeting in the morning, I will be going through my emails, answer anything that needs to be answered, especially the European ones. I deal with a lot of the European clients and every day is different, really. Tonight we have a client event so this morning, I met with the client and a journalist because they were doing an interview. Just now I was sitting here catching up on emails, and then I have to go and meet an agent for lunch to talk about his client. It's really so varied. There is no standard day, ever.
On family time after work:
Carrie: In the evenings, unless we have a client event that's right after work, I try to leave a little bit early so that I can spend time with my three littler ones who go to bed fairly early. I always say I'm gonna leave at 5 and it's usually 5:30, and then my twins and my younger son go to bed at 7. I walk into my house, my phone goes in my bag, and I'm 100 percent with them. Usually my older daughter is doing her homework and I'm just playing with the little kids till they're ready to go to bed, and then I put them to bed and spend a little more time with my older daughter and put her to bed. But I also travel a lot so, as my family has pointed out to me, I've been gone every other week. It's really important to me that when I'm here I can be really present with them.
Vanessa: I try to leave here around 6:15ish to be home by 6:30.
I'm not quite sure why I do 6:30 anymore. We used to have a nanny who left at 6:30 but now we have the au pair who lives here. Because home is fairly close to the office, I can just walk over. Yesterday, I walked over and my kids weren't even home yet so I started cooking their dinner, because I had a client dinner later that night. I will sit with them while they're having dinner or, if I'm staying home, I will have dinner with them and then we put them to bed. Either Max, my husband, or I [will do that] depending on how tired the other one is. And afterward we try to sit together and talk about things other than kids, or watch something together. If I stay at home that's my evening routine.
Carrie: Once all of our kids are in bed — which, when there are four of them, is sort of an exhausting process — Eric and I make dinner together, and that's our time to catch up and talk and just be a couple. After dinner maybe we'll watch something. We play a lot of backgammon, especially in the summer when the weather's nice. Then I try really hard to get six or seven hours, seven or eight hours of sleep. I don't always succeed, but I try to get up to bed by like 10-ish. I have kind of a routine again with my Eve Lom cleanser and then lots of Marie Veronique serums and Pratima oils and just trying to keep my skin looking like I don't travel as much as I do. I'm somebody who absolutely loves to read, so I try to get in a half an hour at least.
On working out:
Vanessa: I go through phases. Sometimes I go to Equinox like three, four times a week. I have to go right after drop-off because I've realized that in the evening, I just can't do it. I do a bit of cardio and at the moment I am trying to do Equinox as much as I can because I'm going to the Ashram in California on Sunday. I want to be fit to get up those hills. This is my second year that I'm going without having given birth. It's physically completely exhausting, which is perfect, because that's the moment where you really stop thinking about anything.
Carrie: I am the exact opposite. The Ashram sounds like complete and utter torture to me. I'd prefer a silent retreat or a yoga retreat or to go somewhere in the mountains and meditate for two days. My favorite place that I go to is called WeCare in Palm Desert. It's in the middle of the desert and it just has a really amazing essence. As soon as I step onto the property, I just let it all go. For exercise I'll either do yoga or foam roller stuff — for me, it's all about staying limber and flexible. I've never been an aggressive workout person. I just want to be able to touch my toes for the rest of my life.
On the biggest lessons they've learned throughout their careers:
Vanessa: Don't take no for an answer. Have fun.
Carrie: If you're not having fun you're kind of not doing it right. Vanessa's really taught me that — that if we're not having fun doing what we're doing, then we're doing the wrong thing. And we need to change something up.
Vanessa: I learned that if you don't step into the room, the door doesn't open, so you have to take risks and you have to be willing to go out of your comfort zone.
Carrie: You can't be afraid not to know every answer. I think you have to have a level of humility that things might not always go exactly as you think they're going to go, and actually that's a great thing. If you can kind of put yourself in a mental framework where everything that happens, whether it's good or bad, is something that's teaching you a lesson, then the bad stuff doesn't really affect you as much, and you get so much more from the good stuff.
This interview has been edited and condensed. If you buy something through our links, New York may earn an affiliate commission.