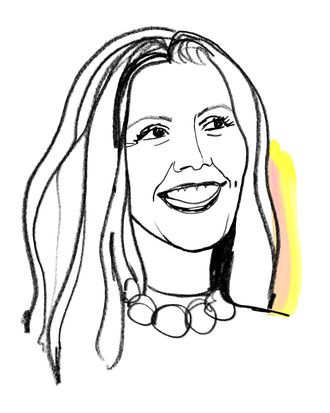 Illustration: Lauren Tamaki
In 2000, Sara Blakely launched her popular shapewear brand Spanx with no advertising or marketing. Nearly two decades later, it's estimated that Spanx brings in roughly $400 million in sales each year, and Blakely, who is still very much an active part of the company, has a net worth of $1 billion. The mother of four young kids, Blakely spends her days at the company headquarters in Atlanta, Georgia, coming up with innovative product ideas and trying out the merchandise firsthand. Here's how she gets it done.
On her mornings:
I have four children under the age of 8, so there's no such thing as a typical morning. Depending on what my work schedule is that day, I try to do yoga at my house at 6:30 a.m. After that, I get my kids ready and take them to school. I eat the same breakfast every morning. It's a smoothie that has a lot of ingredients in it — my husband thinks it's disgusting. It has frozen wild blueberries, a few dark cherries, kale, dates, cinnamon, spinach, cilantro, fresh mint, lemon, water, ice, chia, and walnuts. It's thick and I eat it like ice cream, so it makes me feel like I'm having dessert. I drink green tea with honey from a local honey beekeeper here in Georgia and homemade cashew milk. I've never had a cup of coffee in my whole life, but that is my morning fix.
On getting dressed:
I don't put a lot of thought into what I wear. I go for comfort. I wear a lot of Spanx leggings because they feel like pajamas. They're really comfortable. I'll throw on a T-shirt, oversized sweater, and our new product, the Arm Tights. I wear the Bra-llelujah! every day and have for years. It's the one Spanx item I'm always wearing.
On coming up with new product ideas:
My best thinking time is in the car. I live about five minutes from Spanx but I will drive around sometimes for up to an hour before I go into the office. It's the time I've identified in my day that my mind will wander. So many of my ideas have come to me in the car. The name Spanx came to me while in my car. I always jot things down. I've carried a notebook with me since I started Spanx — I have shelves and shelves and shelves of them. Now that the iPhone is so much more a part of our lives, I often type in my phone, but I still have my notebooks.
On office life:
I go into the office every day. I have a few lanes I stay in at the company. As the CEO, there's a lot of different things coming at me. Most of my time is spent with the design team in the fitting room actually putting products on and discussing what we can do to make garments better for women. I spend time with brand, creative, and sales. As the face of the brand, I take interviews, travel, give speeches. For 16 years, Spanx never advertised. This brand became a word-of-mouth brand by women sharing a good secret, but also by me refusing to say no to anybody willing to hear me talk about Spanx and the products we were making.
On keeping a schedule:
There are certain days that I have segmented. Wednesday is always meeting day. I have meetings with my direct reports and key people I'm involved with in the business all day Wednesday. Monday is my think day. I usually clear my entire calendar for Monday, unless something urgent comes up. I use that day to create and think. Thursdays, I spend a lot of time with the product and creative team. Tuesday and Friday, as things come up, each can be a little different.
I implemented this schedule about a year ago. When you are a CEO or a founder of a company, you are still involved in such a wide range of business issues. It's not like being an accountant where your brain can stay in accountant-land. One minute I need to talk to lawyers about an issue affecting the business, the next minute I'm trying on a bra, and the next, I'm getting a call from my kid's teacher. I found that it helps the quality of my thinking so much to bucket my day.
On assistants:
I have one assistant who has been with me for 16 years. Her name is Lisa and she literally knows everything about me. She manages the personal side of my business, as well as special projects. My schedule, my travel — she can solve and figure out anything. She has actually gotten my child a passport and gotten him out of the country without being the parent. I don't know how she does it.
On Instagram:
I've only been on Instagram for a year, but I do all of it myself. Oftentimes, I will write the post in the carpool line after I drop my kids off in the morning. If something happens to me that day, I will post about it. It's 100 percent spontaneous. The other day my two sons who are twins randomly took off all their clothes and streaked my older son's soccer game. So, I captured that! I like to put out as much real content as I can.
On traveling:
I'm a nervous flyer and afraid of heights and very uncomfortable on a plane. I always have to have a bag of Cheez-Its, I have my original iPod, and I have to listen to same good luck take-off song by Mark Knopfler called "What It Is." I wait until the wheels start going down the runway to hit play and start listening to it. I've had the same luggage since 1998. It's just a bag that Samsonite made. The wheels have all been replaced, and half the time they've got duct tape holding them together.
On time with her kids:
For the last year, I've been leaving between 4 p.m. and 6 p.m. and I often pick my children up from school. I have traditions. I make pancakes in strange shapes every Sunday morning. I take orders for shapes and the bar is getting really high. Last weekend, my son wanted a knight on a horse.
On nighttime routines:
I take a bath every single night. I've done it my entire life. I pretty much always light a candle. I sit in the bath for usually five or ten minutes. I get really, really, warm and then I get out. It calms my body down but it also helps keep me warm in bed. I use drugstore lavender Epson salts every night with the bath.
On staying calm:
If I start to feel stressed or anxious, I will take time to go alone in my office. Sometimes it only takes a few minutes, and sometimes I just excuse myself to go to the bathroom and I take a few minutes to breathe. I find since practicing yoga as much as I do, there's such a healing power in breath. The good news is, you can focus on your breath wherever you are and at any time. I'll call my mom. Mom is always good at calming me down. I call my dad for advice and I call my mom to feel better.
On the best advice she's ever been given:
Growing up, my dad would always encourage me to fail. He used to ask me and my brother growing up at the dinner table what we had failed at this week. If I came home and said, "Dad, I tried out for this and I failed," he would high-five me. All he was doing was reframing my definition of failure growing up. He did the same thing for my brother, and now we're both business owners and we're both inventors.