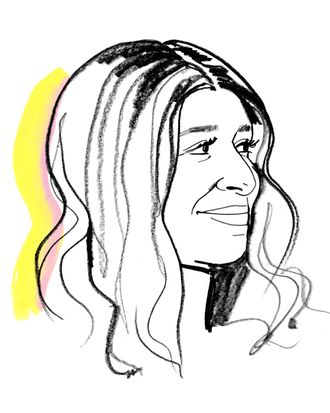 Illustration: Lauren Tamaki
Stephanie Mark is the editor-in-chief of Coveteur, the luxury fashion website she co-founded in 2011. Back then, Mark was working in retail in Toronto and photographing the closets of tastemakers as a side project. When she launched her site, it crashed from traffic overload the first day, and soon enough, she had a mini media empire on her hands.
Since then, Mark has moved the Coveteur headquarters to New York City, snatching up executives from Hearst and Condé Nast along the way. Today, the site goes beyond fashion, covering beauty, wellness, travel, and lifestyle, with Mark overseeing editorial and business development. Here's how she gets it all done. 
On a typical morning:
I can be the world's worst morning person. About two years ago I started getting serious about exercising and I trained myself to get up early. It's been a lot easier than I thought. I usually get up at about 6:30 a.m. to work out. I either go to Bari, Model Fit, or once a week I'll do personal training, which is very hard.
I like to be home by 8 a.m. and then I make my coffee. It's not fancy. I use a Keurig and then I add a Coffee Mate vanilla creamer that I'm obsessed with, and MCT oil. That's my breakfast. I'll shower, throw on Golden Girls, look at my calendar, and get any early emails out. I think having that time and not waking up and just rushing out the door has really changed my life. I find that I'm a lot less reactive, because if you wake up and your phone is full of emails, it feels panic-y, but if you're up at 6:30 and the first email comes in at 8:30, you've already been up for two hours.
Most mornings I don't go straight to the office, but when I do, I usually get there around 9:30 or 9:45 a.m. I'm fortunate enough that I can walk. Lately I've been more involved with the editorial team. A lot of my day is dedicated to going over stories, meeting with the editors, planning out the editorial calendar, and also focusing on larger brand partnerships and business development.
On her role as editor-in-chief:
There are three different types of days. I'm either in the office and that day is full of editorial meetings or business development meetings. Or, I'm running around the city for meetings with clients and partners. Or, I'm away traveling, which probably takes up about half my time, and those days are just completely different. It could be on set for editorial, it could be on set for a client, or I could be traveling for sales meetings.
On limiting social media:
I think the most stressful part of the day is when you get sucked into that mode of comparing yourself to other people, and lately that's something that's been making me really stressed out. I'm trying to spend less time looking at what other people are doing and really focus on doing the best that we possibly can.
On travel:
Travel takes up a huge chunk of my time. The place I go the most often is L.A. and when I'm there I always stay at Mr. C Beverly Hills, it's home away from home. A lot of our partners are in L.A. and so are a lot of our events, especially for beauty brands. It's very varied. I could be in Paris for ten days and then Fort Lauderdale for one night and Austin for one night. The most consistent travel is probably London and Paris for Fashion Week.
On conquering her inbox:
Just from the amount of emails that come in, it's not realistic to get everything done in one day. Usually once a week, and it's most likely on the weekend, I'll sit for a couple hours and go through everything and sort it. But, it's very hard day-to-day to maintain any semblance of a low email count, and to be completely honest the best time for me to really clean my inbox out is when I'm on a plane.
On trying to stay organized:  
My desk is a hot mess. I can't keep it neat. There are always packages coming in and out. It's a disaster explosion no matter how hard I try.
I don't have an assistant, so a lot of my time is spent organizing my own calendar and making sure everything makes sense. I share an office with Jake [Rosenberg, Coveteur co-founder] and Warren [Webster] our CEO, but most days I assign myself a desk where the editorial team sits. I just prefer sitting out there with everyone. It's to their disadvantage because every time someone says one sentence, I'm like, Oh what's that, tell me everything.
I'm not the world's most organized person, and I used to get very stressed about it, but now what I do is I have multiples of everything. I have my makeup that I use at home, and then I have a bag that sits with all my makeup that I only use for travel. I'll have chargers in three bags, and running shoes at my boyfriend's house, just making sure I have everything I need everywhere so I'm not running around trying to pack 100 bags every day. It's made a huge difference. I forget things less. I'm less stressed.
On recapping the work day:
Every day ends differently, but more or less I'll leave the office at around 7 p.m. I try to leave my week nights for dinners with friends. I got to a point where I was overcommitting myself to work things and I'm trying to be better at managing that. When I get home, I'll sit down and go through everything from the day, and that sort of helps me wrap up the day even if it's at 9:30 or 10 at night. I prep for the next day, go over everything that happened today, make sure that everyone who needed an answer got one, flag things for people for the morning and then I go to bed.
On being the boss:
I've started meeting with a career coach once a week to help with management. When we started [Coveteur] we were small, and now the company is 30 people and I've recently realized that managing people is not something I'm innately good at, and it's not something I've ever had training in, and that was causing me to be really stressed.
It also doesn't work to your advantage when you're everyone's friend and you're trying to also tell them about a deadline and they don't take you seriously. For me it's been about finding the balance and strongly communicating my expectations. I also find with younger digital brands — especially in the fashion space — that old sort of regime of ruling with fear is just very taboo and old-school, and that's not the type of company we want to have at all.
On the importance of sleep:
I'm a very sleep-dependent person. No sleep is no good for me. I will always prioritize sleep, even if that means coming home early from a dinner or sleeping through a workout. If I'm really tired, for me without a doubt, sleep is the most important thing I need to function. I'm in bed at 10:30 p.m., latest 11. I definitely watch TV before bed. Usually Law and Order SVU or Golden Girls, which is on every channel and it's obviously my favorite show. Lately I've been watching reruns of Fresh Prince, just something light.
On her advice for aspiring entrepreneurs:
I think the number one thing is really finding a point of how to be different. There is so much content out there, people are just flooded with it, so no matter if it's a clothing line, or an Instagram, or you're trying to be a full media company, you have to put a lens on it and offer someone something that they can't get anywhere else. That's the number one thing that you really need to hone in on, and then just be relentless about driving home and really adhering to why someone would want to come to your site, look at your Instagram, buy your clothes over the hundreds and thousands of other options.