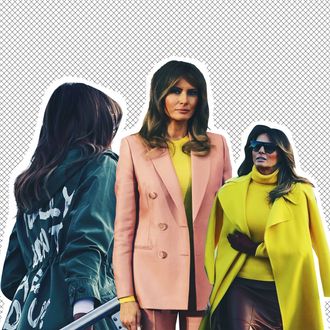 Melania Trump.
Photo: Getty Images
On Thursday, First Lady Melania Trump boarded a plane to Texas while wearing a $39 green cargo jacket from Zara that was painted with the words "I Really Don't Care, Do U?" The First Lady's choice of a jacket was, to put it lightly, perplexing. She was en route to visit 55 migrant children, some of whom had been separated from their families under her husband's cruel "zero tolerance" immigration policy, so at the very least, you'd think she'd steer clear of offensive clothes on this occasion.
So, how exactly did this outfit disaster even happen? It's unclear. Melania's spokesperson Stephanie Grisham downplayed the controversy in an emailed statement to the Cut, saying, "It's a jacket. There's no hidden message." And then, in typical Donald Trump fashion, the president later suggested on Twitter that the look was a dig at the media:
Whether Melania's jacket was intentional or just a really bad judgement call, this isn't the first time that her sartorial choices have sparked controversy. Here's everything we know about how Melania decides what to wear, from her stylist to the brands she prefers.
Melania has been working with stylist Hervé Pierre since her husband's inauguration. In the fall of 2017, Pierre told the New York Times that he first met Melania while designing her inaugural gown. Pierre, the former creative director of Carolina Herrera, had worked with former First Ladies Barbara Bush, Hillary Clinton, and Michelle Obama in the past, so he's not new to political dressing. However, he described styling Melania as being "not really [his] forte," though he did say he has had "good experience[s]" shopping for her anonymously at Bergdorf Goodman, Saks Fifth Avenue, Michael Kors, and Dior. Because he also told the Times, "I ask a question every time I put an idea on paper: Where is this woman going?" we can't imagine he styled this look.
She pays for most of her clothes out-of-pocket. Like Michelle Obama before her, Melania pays for most of her clothes out-of-pocket (which shouldn't be an issue, as she's married to the richest president in U.S. history). She is technically "allowed" to receive clothes as gifts from designers — W notes that under ethical rules, First Ladies can receive free designer clothes but the clothes technically become the property of the government and are sent to the National Archives. Red-carpet stylist Phillip Bloch, who has worked with the Trumps on several occasions, told the Hollywood Reporter last year that "Melania is buying, but she does not have limited options — she is married to a rich man and can buy whatever she wants!"
Many designers have refused to dress her. Since Donald Trump was elected as president, many designers have spoken out against his policies and have publicly stated that they would refuse to dress Melania. Marc Jacobs, Derek Lam, Tm Ford, Philip Lim, and Timo Weiland are among the designers who have said they don't want Melania in their clothes; meanwhile, Diane von Furstenberg, Tommy Hilfiger, and Thom Browne have said that they would be happy to dress her.
A lot of planning typically goes into a First Lady's outfits. In the past, First Ladies have made very calculated choices about what they wear in public. As the Times notes, former First Ladies Jacqueline Kennedy, Nancy Reagan, and Michelle Obama all understood that "fashion was a means to create an identity for an administration." Obama opted to work with a diverse array of designers while also highlighting some more affordable brands, like J. Crew. Recently, the custom Milly dress that Obama wore while posing for her official Amy Sherald portrait featured a colorful pattern that seemed to speak to the American tradition of quilting, fusing tradition with modernity. Women in Melania's position have also used their clothes to make diplomatic gestures, such as wearing a native designer while visiting their home countries. A First Lady's outfit makes a statement, and those statements are usually intentional.
So, what does all this mean for her decision to wear the "I Really Don't Care" jacket? Since the weather in Maryland was above 80 degrees Fahrenheit that day, and because Melania has received backlash for previous plane-entering outfits (see: when she wore stilettos to board the plane to visit hurricane victims), we have to assume she knew what she was doing with that look. And anyway, as President Trump confirmed, maybe she really doesn't care.