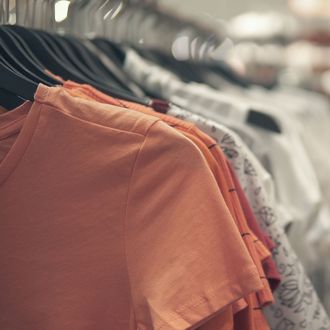 T-shirts like this.
Photo: LENblR/Getty Images/iStockphoto
Fashion activists have increasingly been calling for better wages and working conditions for the people who make our clothes, especially as fast fashion continues widen the gap between production and consumption. A new study shows that a $20 shirt would only have to cost 20 cents more in order to pay Indian workers a living wage, The Fashion Law reports.
Murray Ross Hall, a researcher at the University of Queensland, and Thomas Wiedmann, an associate professor at the University of New South Wales in Sydney, argue that it would cost somewhere between a 1 and 4 percent increase on the price of a garment in order to pay workers a living wage, depending on the country of production. Hall's research focused on production in India and consumption in Australia. He wrote for TFL, "a 20-cent increase on average would be sufficient to lift all Indian workers in the garment supply chain out of poverty."
The number is so small because of traditional store markups, which mean the labor is a fraction of the cost a customer pays at Zara for a T-shirt. It was corroborated in research done by Deloitte for Oxfam Australia in October 2017, which found that a 1 percent increase of retail prices could provide workers with a living wage. They found that only between 2 and 7 percent of the overall garment cost comes from the cost of production and increasing the price 1 percent would be the difference between living wages.
But if it's seemingly so easy, why aren't Zara and Forever21 jumping on it? For one, it's hard to track where the raw materials are produced and who actually makes them in the murky supply chain. Many retailers work with hired contractors, who then hire people to produce the fabrics. And it's also difficult to make sure that the 1 percent increase goes to the workers, who are far removed from the store where the item is sold. Hall suggests that retailers educate themselves on how much a cotton farmer should be paid, and implement a system to make sure they're being compensated fairly.
We consumers can't just add on a 20 percent tip when we shop in the hope that it goes to the factory workers. The best option is to use transparent companies who loudly and proudly pay their workers fairly at every step of production.