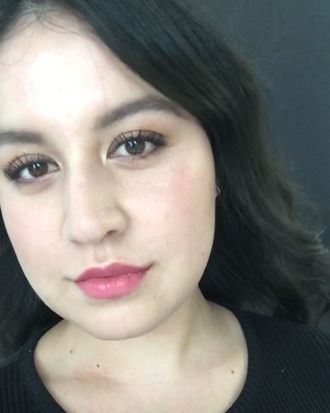 Photo: Courtesy of Daise Bedolla
Want more skin care? Join our Facebook Group, the Beauty of It All.
"I don't let anyone touch my eyebrows. I don't let anyone touch my face," the Cut's social-media editor Daise Bedolla told me. "Think of their hands on subways!"
Bedolla is also an admin for the Cut's beauty Facebook Group, The Beauty of it All, where readers give and receive advice about treatments and products. And she's a skin-care perfectionist. She doesn't even use towels to dry her face — air dry only! Below, she gives us her entire skin-care regimen.
The Micellar Water
"Bioderma is so easy to use with a cotton pad in the morning. I was washing my face with cleanser twice a day until I read a Man Repeller article called You're Probably Washing Your Face Too Much and decided to try micellar water instead — partly because I did suspect that I was washing my face too often, but mostly out of laziness and not wanting to splash my face with water after waking up."
The Cleanser
"I don't want to say that my skin is sensitive because I think everyone is convinced of that, but my skin is definitely finicky. My mom has stunning skin and never had to use special beauty products. Sadly, I was not so lucky. Growing up, I had no idea that I had to wash my face regularly, let alone use a cleanser. First Aid Beauty changed the game for me. It gets the last bit of makeup off my face without irritating it. Another thing that's made a significant change is letting my face air dry rather than using a towel."
The Masks
"Most charcoal masks are too abrasive for my skin, but Origins' charcoal one is just perfect. It's strong enough to clear up any spots but sensitive enough not to make my skin ache after using it."
"The air is so horrible on planes, but this mask truly does wonders. I put on a thick layer of it on my last flight and stepped off the plane with baby-smooth skin and no signs of break-outs."
The Face Oil
"I became addicted to marula oil in the winter when my skin was dry. Especially with New York winters, that extra layer of moisture is a lifesaver."
The Moisturizers
"I mix Avène sunscreen with my moisturizer. Many sunscreens can be a problem if you're putting makeup on top, but this one is lightweight and mixes well with other products. And the bottle is small enough that it fits in my purse for reapplication if I'm going to be outside for a long time."
"My skin went absolutely crazy the summer after my freshman year of college. I blame it on a combination of stress and using a drugstore moisturizer that everyone loves (and that I won't name). It resulted in my first trip to the dermatologist, who had me throw everything away and start a skin-care routine for the first time in my life. Cetaphil is non-comedogenic, good for sensitive skin, and has SPF protection."
If you buy something through our links, New York may earn an affiliate commission.