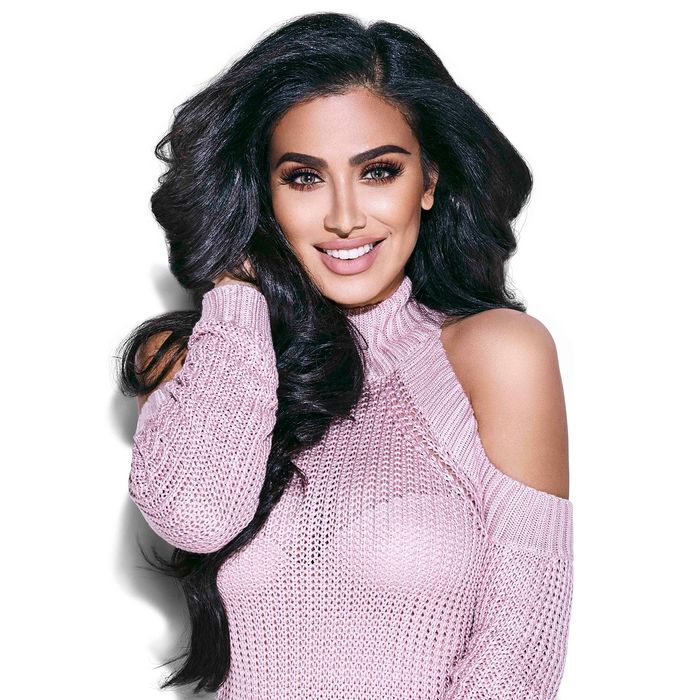 Photo: Courtesy of Huda Kattan
Huda Kattan has 25 million Instagram followers and she knows how to use them. While some legacy beauty labels are still trying to find their voices on social media, Huda has understood its power since the beginning. Her brand centers on two things: her Instagram posts, which document her beauty advice, favorite trends, and daily antics, and Huda Beauty, the makeup line she launched in 2013 with her sisters, Mona Kattan and Alya Kattan.
Huda's new project is a new Facebook Watch reality show, Huda Boss. (Get it?) It follows Huda and Mona through everything from product launches that don't go as planned (the brand took a $2 million L in the second episode while trying to make Huda Beauty's first concealers) to dating (Mona's got her eye on her statuesque trainer, Jeremy). At 20 minutes a pop, the episodes are as easy to watch as one of Huda's YouTube tutorials.
The Cut talked to Huda and Mona about bad Botox, flying all the time, and what's in store for Huda Beauty this year.
Who's the most entertaining person on the show?
MK: Our dad is a pretty big character on the show. He's so good on camera. He's like my favorite person on the show.
HK: Yeah, I feel like he's the main character. We're all just supporting ones. When we found out we were doing the show, he was like, "Okay, I want a role. I want to be famous." Our 74-year-old dad just retired and he's ready for stardom. He wants to be Insta-famous, he wants to do appearances.
What's your family dynamic like?
HK: Mona is the wise, calm one who is also the youngest. She is spoiled; she needs a lot of love. She constantly needs affection. And she wants to touch you and hug you all the time.
MK: You make me sound creepy! But I need it all and more. I would describe Huda as passionate. I do think she is definitely a leader, and I think that she is the tough one as well. She needs to work on her patience because I feel like she's too fiery.
HK: That happens because Mona is so calm! And she's like, "Everything is okay," and I'm like, "Ah! It's not okay! You're making me freak out even more!" Honestly, it's because of you. I bet internally your heart beats really slow. You're going to live forever.
Huda, you initially didn't even want to start a beauty line until Mona convinced you to. How'd she get through to you?HK: Can I say something else about Mona?
MK: What? That I'm psychic?
HK: You are! She's a psychic. I will listen to anything she says. And I'll give her the best advice in the world — it's fucking awesome advice, so good — and she will not listen to me no matter what.
MK: I love helping people find their passion. And I was just looking at Huda and I was just trying to study her and I was like, you know what, she loves beauty more than anyone I know. Common sense: She should do beauty.
HK: You told me to start the brand, you told me to study makeup, you told me to marry Chris [Goncalo], you told me to do all these things — I listened to her for all of them.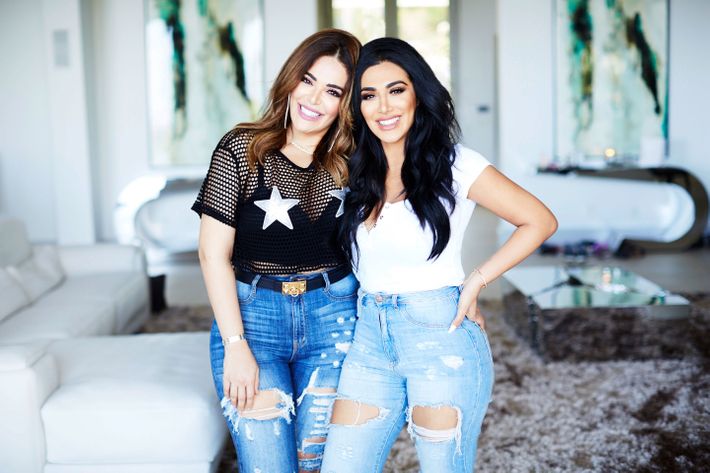 Since you've started, you've done makeup for Eva Longoria, Nicole Richie, and royal weddings in Abu Dhabi. Are you a fan of the British royals and Meghan Markle?
HK: I love her! I would die to do Meghan Markle's makeup. I just love how she's this incredible mix — she's an actor, she's divorced, she's just everything that's not normal in the royal family. She's just such a boss.
You two are traveling all the time. What are your beauty secrets for flying halfway across the world from your home in Dubai to your business meetings in America? Do you get the private pods? 
HK: Yes, if we can. We've flown many different ways, and there's a way to do skin care depending on which cabin you're in. Sometimes you don't want to put a face mask on — when there are people next to you, it's just uncomfortable. But there are some amazing face masks that no one will know you're wearing, like this one Tata Harper enzyme peel. You can put it on and it's really wonderful because it can give you a glow. If you have your own pod — if you're lucky enough to do that — then definitely those weird face masks. I love the Tony Molly placenta mask.
I have this little bag that I travel with. I have my Hand Chemistry hand cream — I have really dark knuckles and it makes them go away. I have my La Mer lip balm, and then I try to use a rose oil that I can use all over.
MK: I'm the complete opposite. I'm a low-maintenance girl. I make sure I wear no makeup.
What was one of your biggest beauty mistakes?
MK: I've over-Botoxed. There were times that I looked evil — my brows were just like up constantly. You have to wait it out. There's no solution. It takes a month and it was so terrible I didn't even want to look at myself. I took no photos that month.
If you buy something through our links, New York may earn an affiliate commission.