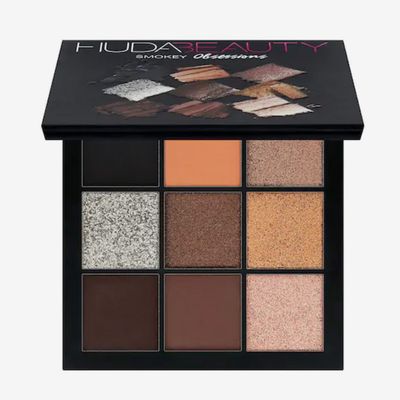 My stance with eye shadow is that unless it completely thrills and delights me, I'm not going to bother. The eyelid might as well be the elbow of the face — it attracts the least attention. "Nice eyelids," says no one ever, so if you're wearing eye shadow, you have to wear it for yourself.
Keep that attitude in mind when you look at Huda Beauty's Obsessions palette. It comes in six categories, including Mauve, Warm Brown, and Gemstones, but I'm partial to Smokey. Each palette is about the size of a Post-it and contains nine shades of shadow. That's too many, you're probably thinking. But each one is about the size of a square on a Rubik's cube, so you won't get overwhelmed. The colors are really, really gorgeous, and the color payoff is super-strong so you don't need multiple layers to get the same intensity of color you see in the palette.
The texture is — as comedian and beauty expert Caroline Goldfarb put it so well — "Buttery! Pigmented! Amazing!" The powder is so silky and soft that you want to smush your fingers into it. It feels so luxurious and rich. If there were a blanket made from this texture, I would buy it, and then I would swaddle myself in it to ward off the office air-conditioning.
I have a strong fear of looking like the mugshot of the woman arrested for stealing $144 of eye shadow, and so I used to be neurotic about using it. I wouldn't go near the stuff. But then I realized I was overthinking it. That's a nice color and I feel like putting it on my face is my attitude nowadays. Smear it up to my crease, blend, and enjoy it. I'll leave the smoky-eye tutorials to John Mayer.