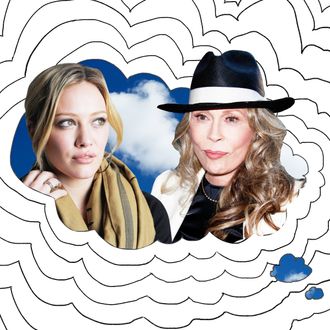 I Think About This a Lot is a series dedicated to private memes: images, videos, and other random trivia we are doomed to play forever on loop in our minds.
Hilary Duff is my favorite celebrity and, as a result, I think about her often. The 30-year-old Disney star turned TV Land star is like my pope: I'm not sure what she's talking about half the time, but I trust and revere her anyway, and I always want to know what she's up to. What is she wearing? Who is she dating? Is she really playing Sharon Tate in an original film about the Manson murders called The Haunting of Sharon Tate? (The answer to that last one is yes.) Questions like these are always floating around in my brain, and I return to them whenever I am bored or on deadline. But what I find myself thinking about the most, when it comes to Hilary Duff, is feuds.
Hilary Duff loves a feud.
In the halcyon days of the mid-aughts, when Us Weekly catalogued teen starlet rivalries with unflagging enthusiasm, Duff feuded with many of her contemporaries. She wrote mean pop songs about Nicole Richie, after Richie started dating her ex-boyfriend Joel Madden. She also clashed with Lindsay Lohan, who dated Aaron Carter when she was dating Aaron Carter. (Lohan and Duff never really made up: After Lohan joked about their conflict on Saturday Night Live, Duff memorably told a reporter that she "wasn't honored" by the shout-out.) During this time period, celebrities like Duff were more conversant with the tabloids and quicker to openly criticize their peers, probably because no one was thinking too much about the internet and how every public comment ever made was one day going to be searchable online. Which brings us to Duff's best feud. Do you know whom Duff started squabbling with on February 3, 2009, when she was 20 years old?
The Oscar-winning Bonnie and Clyde actress Faye Dunaway, who was 68 at the time.
Whaaat????? is probably what you're thinking right now. But it's true. It all started when Duff got cast in a remake of Bonnie and Clyde (Whaaat?????) and posed for a Dunaway-inspired photo shoot for Allure. Dunaway heard about the casting and the send-up, and according to a gossip columnist at the Chicago Sun-Times, she was not pleased. The Sun-Times reported, via anonymous sources, that upon learning of Duff's role in the film, Dunaway asked, "Couldn't they at least cast a real actress?"
Dunaway never publicly confirmed that she said this. But E! News asked Duff about the comment the following week, and Duff unleashed a torrent of zingers that she had, perhaps, been practicing beforehand. Please watch:
If you didn't watch (oh my God, watch!), Duff said of Dunaway, "I think that my fans who are going to go see the movie don't even know who she is. I think it was a little unnecessary, but I might be mad if I looked like that now, too."
Dunaway did not respond. Duff kept the animosity alive, however, when she appeared on The Bonnie Hunt Show the next week. She told Hunt that Dunaway had no right to judge her acting abilities, and that "it's not okay for people to take stabs at you and to say mean things for no reason."
How did this feud end? With a whimper, two years later. News broke in 2011 that producers dropped Duff from the Bonnie and Clyde project. According to TMZ, she was paid $100,000 to walk away, and producers planned to hire a new actress to take on Dunaway's iconic role. At the time, Duff was pregnant with her first child, and she told TMZ that she was definitely not mad about leaving the film. "I don't wanna give them any more press than they've already gotten off me," she said. "I think [my] baby is a little bit more exciting." To this day, the movie has not been made.
What's most striking to me about all of this is the fact that Dunaway never retaliated. She never even confirmed her feelings about Duff's casting. Did she really say the rude comment the gossip columnist said she said? Was Duff simply feuding with herself the entire time? We'll never know, and that's why I can't let it go.
Thankfully, Duff has not lost her capacity for conflict. Just this month, she launched a feud, on Instagram, with her New York City neighbor, who she claims has been smoking too much pot in their building. I will think about that now, too.