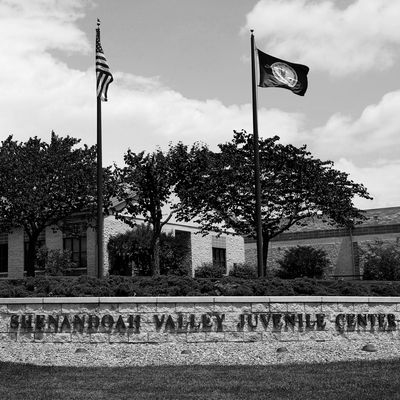 Photo: Zachary Wajsgras/AP/REX/Shutterstock
Immigrant children detained in a juvenile detention center in Virginia are alleging in a new lawsuit that they have been subjected to horrific abuse, including being stripped of their clothes by guards, strapped to chairs with bags over their heads, left nude in cold cells, and kept in solitary confinement for long periods of time.
The kids, who are as young as 14, were not detained under the Trump administration's brutal family-separation policy, but were locked up after being caught entering the country by themselves, the Associated Press reports.
According to federal court documents, more than a half-dozen Latino teens jailed for months or years have given sworn statements alleging abuse against the Shenandoah Valley Juvenile Center near Staunton, Virginia. Per the AP:
"Whenever they used to restrain me and put me in the chair, they would handcuff me," said a Honduran immigrant who was sent to the facility when he was 15 years old. "Strapped me down all the way, from your feet all the way to your chest, you couldn't really move. … They have total control over you. They also put a bag over your head. It has little holes; you can see through it. But you feel suffocated with the bag on."
A child-development specialist who previously worked in the facility also told the AP that she encountered jailed teens who had bruises and broken bones that they attributed to abuse from the guards. Attorneys representing the detention facility have denied all allegations of abuse.
Many of the immigrant teens incarcerated at the facility were sent there by U.S. officials, who accused the kids of being members of gangs like MS-13 — which is the gang that President Donald Trump constantly brings up when talking about his own zero-tolerance immigration policies. However, the AP notes that a top manager from the Shenandoah facility recently said in a congressional hearing that the children do not appear to be gang members.
While the children in the lawsuit weren't sent to Shenandoah under the family-separation policy, the facility is operated under the same program run by the U.S. Office of Refugee Resettlement. It's unknown whether any children separated from their parents since the policy was announced in April have been sent to Shenandoah.