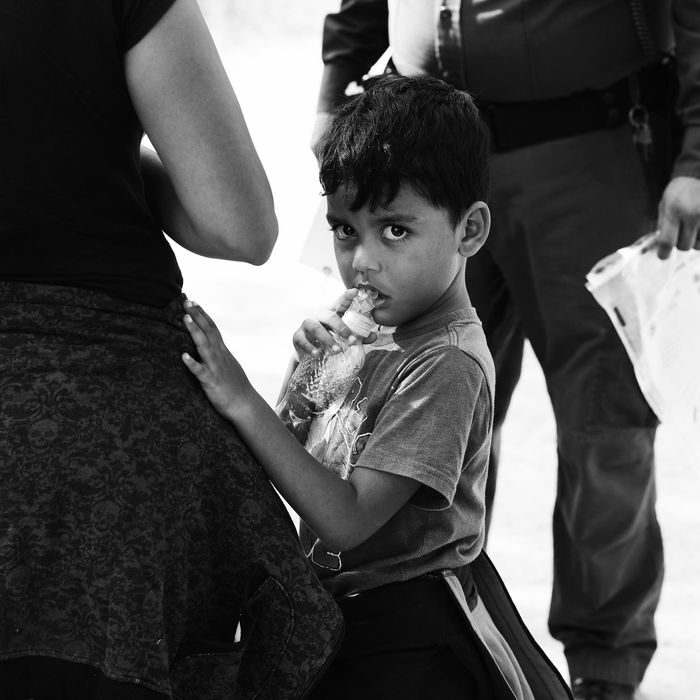 Asylum seekers taken into custody by U.S. Border Patrol near McAllen, Texas.
Photo: John Moore/Getty Images
The Trump administration's inhumane family-separation policy has seen nearly 2,000 children ripped away from their families at the U.S.–Mexico border. Much of the outrage has been focused on the jail-like detention centers in which children are being held — sometimes in cages — after being torn from their parents. But according to a new investigation, conditions are similarly horrendous in privately operated shelters meant to house migrant children — and children recently torn from their families are now headed to these.
According to the investigation, which was conducted by Reveal and the Texas Tribune, several of the private facilities that the Office of Refugee Resettlement partners with in order to hold immigrant children have histories of abuse and misconduct allegations against them, including accusations of drugging children and assaulting them sexually and physically.
At one facility, the Shiloh Treatment Center in the small town of Manvel, Texas, a 9-year-old Honduran boy was reportedly administered psychotropic drugs without his parents' consent after he arrived in the U.S. seeking asylum. His mother, Maribel Bernardez, who was already in the country awaiting the results of her own asylum hearing, said that when her son's caseworker allowed her to video chat with her him on WhatsApp, he was "completely hypnotized and lethargic." The boy also told Reveal reporter Aura Bogado that he was assaulted by staff at the facility.
"He mentioned it casually and said it happened all the time," Bogado tweeted.
In 2001, a 16-year-old died at Shiloh after being restrained by staff, who were later found to have been "in compliance" with state requirements, Reveal reports. Since 2013, Shiloh has received more than $25 million in government grants.
And Shiloh is far from being the only shelter housing migrant children that has an alarming past. In November 2017, for instance, an employee at a shelter in Homestead, Florida, was sentenced to ten years in prison for engaging in sexually inappropriate behavior with the minors housed there, including by asking one 15-year-old boy to send her a pornographic video of himself. Though the shelter was temporarily shut down in April 2017, it reopened again in February, thanks to $30 million contract from the refugee resettlement office. It now houses approximately 1,000 children.
As Reveal points out, despite these serious allegations, few of the companies ever lose their government grants, and federal agencies continue to send children there. "Of about 70 entities that won grants from the Office of Refugee Resettlement," the report reads, "only two did not have their contracts renewed following confirmed complaints."
In the past four years, $1.5 billion in taxpayer dollars have gone to private companies that operate shelters like these.
Read the full report here. And to see ways you can help families separated at the border, click here.