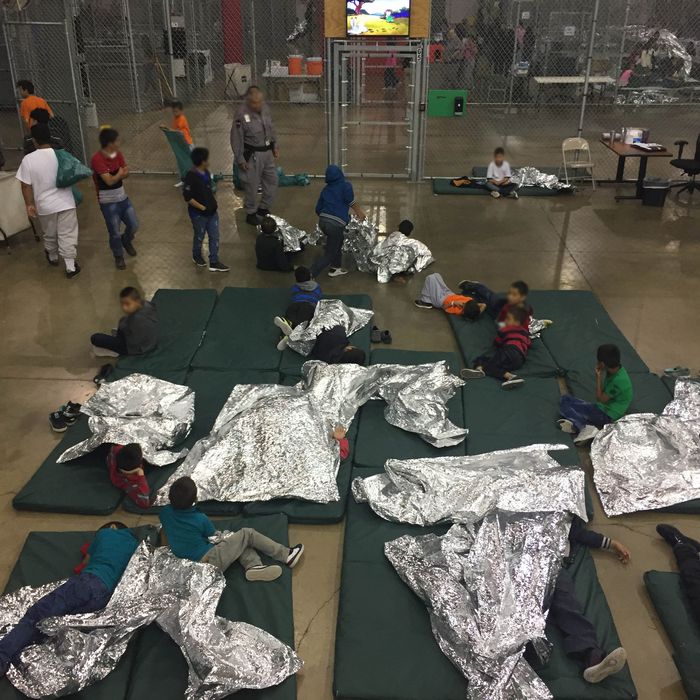 Detention center in McAllen, Texas.
Photo: Center for Border Protection
Within the last six weeks, nearly 2,000 migrant children have been separated from their families while crossing the U.S.–Mexico border under the Trump administration's "zero-tolerance" policy. That means an average of 45 migrant children are being ripped from their families per day and placed in detention centers on their own.
Reports have begun to emerge of horrifying conditions in these detention centers, several of which have been compared to jails. Photos from one facility in McAllen, Texas, show children being held in cages.
Members of the Trump administration have made conflicting statements about the justification behind separating families: President Trump himself blamed the policy on Democrats, while DHS Secretary Kirstjen Nielsen denied its existence. In truth, the practice is new, a direct result of the administration's extreme "zero-tolerance" immigration policy, which was first announced on May 7.
Under this new policy, all adults who do not enter the U.S. through a port of entry are supposed to be criminally prosecuted. This is what results in the family separation: Adults have to appear before a federal judge before undergoing deportation procedures, so they're held in federal custody while awaiting trial. Meanwhile, their children — who are not referred for prosecution, and thus aren't incarcerated with their parents — end up being sent into the custody of the Office for Refugee Resettlement.
It's incredibly difficult for families to reunite once they make their way through this byzantine process, as there is no formal protocol that ensures that separated migrant families are deported back to their home country together.
There's been a deluge of coverage of the detention centers in recent weeks, and Trump has faced mounting backlash for his zero-tolerance policy. Here's what to know.
There are at least 100 shelters in 17 states
Kenneth Wolfe, a U.S. Department of Health and Human Services spokesman, told the Los Angeles Times that the government contracts with 100 shelters that are located in 17 states. Some of biggest centers are in McAllen and Brownsville, both in Texas, and Estrella del Norte in Tucson.
On June 19, AP published a disturbing report about the existence of at least three "tender age" shelters in South Texas, where the government has been placing the youngest migrant children. The three centers are located in Combes, Raymondville, and Brownsville.
Overall, the number of centers are increasing. Last week, the Trump administration announced the creation of a new "tent city" just outside of El Paso that would house between 1,000 and 5,000 kids. The government is also reportedly constructing a fourth "tender age" shelter, located in an abandoned warehouse in Houston, that would house up to 240 children.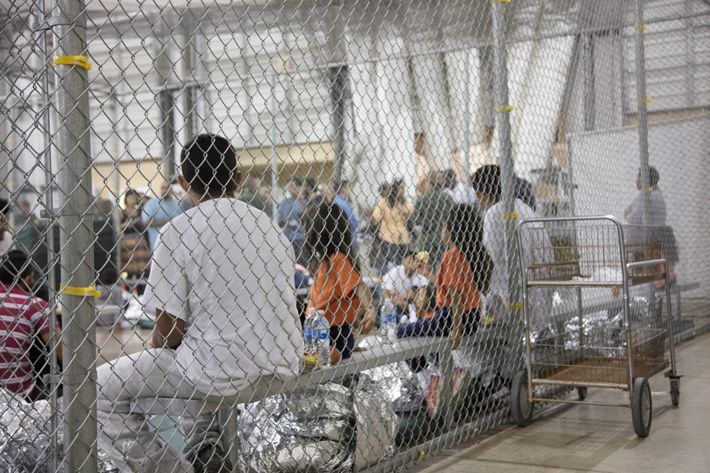 More than 11,000 children are currently in detention
As of Tuesday, the aforementioned centers house 11,786 immigrant children, according to the U.S. Department of Health and Human Services. Of those unaccompanied minors, 3,280 are female and 8,506 are male.
At the central "Ursula" facility in McAllen, Texas — which one official called the "epicenter" of the family-separation policy — hundreds of unaccompanied migrant children are currently detained in cages made of metal wire, according to reports. At the center in Brownsville, Texas, approximately 1,500 boys between the ages of 10 to 17 spend an astonishing 22 hours per day inside the converted former Walmart, which one reporter described as "like a prison or jail."
Furthermore, while few photographs in general have emerged from the detention centers, the ones that have are of young boys, prompting the question, Where are the girls? In disturbing audio that ProPublica obtained from inside one U.S. Customs and Border Protection facility, though, one can hear the upsetting pleas of a young migrant girl begging a border patrol agent to call her aunt to "get me out of here."
Federal agents have been accused of taking children away without giving their parents fair warning
In an interview with Texas Monthly, Anne Chandler, the executive director of the Houston office of the nonprofit Tahirih Justice Center, said that she's heard accounts of agents taking children away from their parents, ostensibly to give them baths, and never returning.
"The officers say, 'I'm going to take your child to get bathed.' That's one we see again and again. "Your child needs to come with me for a bath,'" Chandler said. "The child goes off, and in a half an hour, 20 minutes, the parent inquires, 'Where is my 5-year-old?' 'Where's my 7-year-old?' 'This is a long bath.' And they say, 'You won't be seeing your child again.'"
Last week, an undocumented immigrant from Honduras told an attorney that federal agents ripped away her daughter while she was breastfeeding her in a Texas detention center.
The conditions inside the centers are reportedly horrifying
Children are literally being kept in cages, though border agents are "uncomfortable" with this characterization. "It's not inaccurate, but they're very uncomfortable with using the word 'cages,'" read a statement from the U.S. Border Patrol.
In the McAllen facility, for instance, children are given bottled water and chips for sustenance, and foil sheets intended to serve as blankets. An advocate who spent several hours in the facility told the Associated Press that she met a 16-year-old girl who'd been taking care of a young, unaccompanied child for three days. "She had to teach other kids in the cell to change her diaper," she said. "She was so traumatized that she wasn't talking. She was just curled up in a little ball."
Antar Davidson, a former youth care worker at the Estrella del Norte shelter in Tuscon, told the Los Angeles Times that he quit after a few months because he was horrified by what he saw inside. According to his account, children aren't even allowed to hug one another while they're in detention, and many are struggling to deal with extreme trauma:
During his time at the shelter, children were running away, screaming, throwing furniture and attempting suicide, Davidson said. Several were being monitored this week because they were at risk of running away, self-harm and suicide, records show.
Trump signed an executive order ending family separation, but it does nothing to address the families that have already been torn apart
On June 20, President Trump signed an executive order meant to end the separation of families at the border. Instead of taking immigrant children from their parents and detaining them alone, per the order, the U.S. government will detain families together indefinitely.
Neither the order nor the subsequent announcement does anything to address the plight of more than 2,300 children who have already been separated from their parents, and are still languishing in government custody. Government officials have openly acknowledged that there's no clear plan on how to reunite the families the U.S. government has torn apart.
In an interview with NBC that took place before the family-separation policy was rescinded, John Sandweg, who served as acting director of ICE under the Obama administration from 2013–2014, said that some separated families never reunite. "You could easily end up in a situation where the gap between a parent's deportation and a child's deportation is years," he said, later adding, "You could be creating thousands of immigrant orphans in the U.S."
Here's who to follow for on-the-ground updates
A number of publications have people working the immigration beat and/or reporting from the border. To follow along with their reporting, their Twitter handles are attached below.
• Molly Hennessy-Fiske, Los Angeles Times
• Jacob Soboroff, MSNBC
• Elise Foley, HuffPost
• Roque Planas, HuffPost
• Nick Miroff, Washington Post
• Miram Jordan, New York Times
• Tal Kopan, CNN
• Julia E. Ainsley, NBC
• Lomi Kriel, Houston Chronicle
• Madlin Mekelburg, El Paso Times
• Bob Moore, Texas Monthly
There are ways we can help families separated at the border. Please see here.