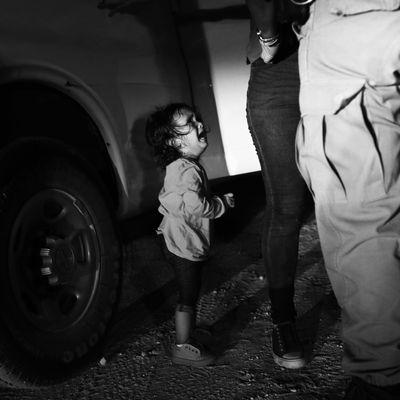 Photo: John Moore/Getty Images
Since the Trump administration implemented its new "zero-tolerance" immigration policy weeks ago, over 2,000 children have been ripped away from their families at the U.S.–Mexico border, and held in "prison-like" detention centers. Now, ProPublica has obtained disturbing audio from inside one U.S. Customs and Border Protection facility, which captures the agonizing sounds of young children sobbing and screaming for their parents.
In the recording, which was made last week by someone who asked not to be identified for fear of retaliation, ten Central American children who were separated from their parents can be heard weeping, calling out for "Mami" and "Papá." At one point, a Border Patrol agent jokes, "Well, we have an orchestra here. What's missing is a conductor."
"At least can I go with my aunt?" sobs one child, identified by ProPublica as a 6-year-old from El Salvador; in the background, another child calls out for their father over and over again. "I want my aunt to come so she can take me to her house."
After some discussion, the girl gives a consular worker her aunt's number, sniffling, "My mommy says that I'll go with my aunt, and that she'll come to pick me up there as quickly as possible, so I can go with her."
When ProPublica later dialed the number the little girl recites in the recording, her aunt told them, "It was the hardest moment in my life. Imagine getting a call from your 6-year-old niece. She's crying and begging me to go get her. She says, 'I promise I'll behave, but please get me out of here. I'm all alone.'"
She added that there wasn't anything she could do to help her niece, because she and her daughter are currently seeking asylum, and she worries that intervening in her niece's situation would put her own case in jeopardy.
The recording adds to the devastating picture that has been forming of these detention centers in recent weeks. Reporters and advocates have been sharing pictures and videos from inside the facilities where immigrant children are being taken and held, but they have been prohibited from speaking to the children.
According to an HHS official, 11,351 children are currently being held in these Office of Refugee Resettlement facilities.
For ways to help families separated at the border, please see here.