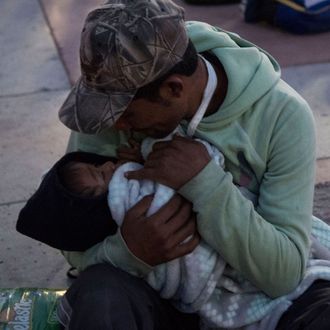 U.S.–Mexico border.
Photo: The Washington Post/The Washington Post/Getty Images
An undocumented immigrant from Honduras says federal agents took her daughter from her while she was breastfeeding the baby in a Texas detention center, an attorney told CNN on Wednesday.
The attorney, Natalia Cornelio of the Texas Civil Rights Project, told CNN she had interviewed the anonymous woman, and according to her account, she was handcuffed when she resisted.
In a statement to the Cut, a Center for Border Patrol official called these allegations "unsubstantiated" and said "nothing could be further from the truth." He added, "Those who enter the country will be prosecuted in accordance with the Department of Justice zero-tolerance policy."
Under the DOJ's "zero-tolerance" policy, which was officially announced on May 7, more than 1,000 immigrant children have been separated from their parents while crossing into the U.S. — a practice that has become increasingly common in the past month. Per the New York Times, children as young as 18 months have been taken from their parents at the U.S.–Mexico border, and at least 100 of the separated children have been under the age of 4.
"The government is essentially torturing people by doing this," Cornelio, the attorney at the Texas Civil Rights Project, told CNN.
There are ways we can help families separated at the border. Please see here.