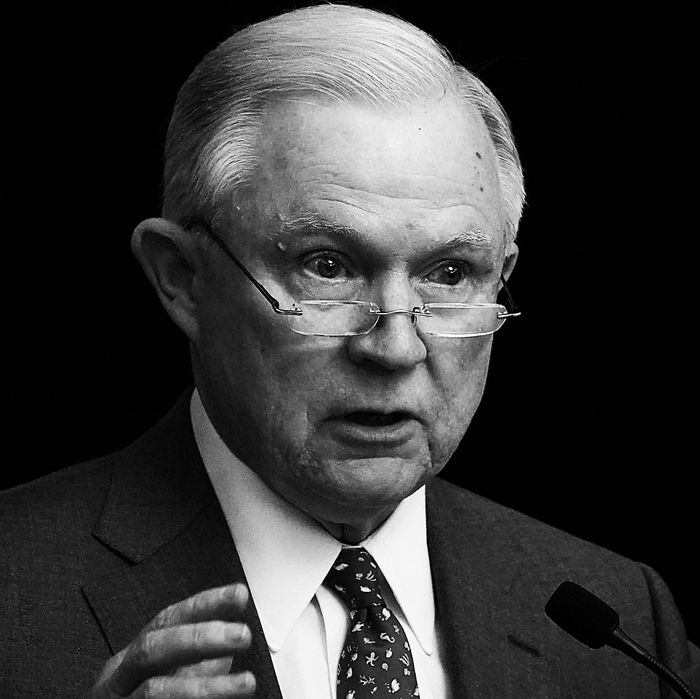 Jeff Sessions.
Photo: Alex Wong/Getty Images
Thousands of domestic-violence survivors now face an uncertain future due to a new ruling by Attorney General Jeff Sessions, which severely restricts who can be granted asylum in the U.S.
On Monday, Sessions overturned asylum protections for victims of domestic abuse and gang violence, which he described as "private violence." Under the new ruling, an individual who has suffered at the hands of an intimate partner or criminal gang must prove their government "condoned the private actions or demonstrated an inability to protect the victims" in order to receive asylum in the U.S.
According to immigration lawyers, this could invalidate tens of thousands of pending asylum claims. Of approximately 711,000 cases currently making their way through U.S. immigration courts, about 230,000 of those are asylum petitions from Mexico and Central America — many of which are based on domestic or gang violence.
Sessions's decision has left many of these applicants reeling. Matt Cameron, an immigration attorney based in Boston, told Reuters he has a case scheduled for Thursday involving a woman who fled to the U.S. after enduring years of physical violence from the father of her children. His client had a strong likelihood of success, he said, until Monday's ruling.
"This person had been through a lot of counseling, a lot of preparation," he said. "It took a long time to get her to the point where she could actually talk about it. Now you have to tell them they don't even have a case anymore."
An Albuquerque-based immigration lawyer said she has six cases that are now in doubt, one of which involves a teenager whose father was gunned down by gang members and died in his arms.
Sessions's decision has been widely criticized. In a statement on Monday, the Southern Poverty Law Center called it "cruel and heartless," and said, "By shutting down most claims of persecution at the hands of criminal gangs and/or intimate partners, Sessions is demonstrating his contempt for immigrants and women."
"My mother was a victim of domestic violence. We had to cross the border to be safe so that my mom, my siblings and I could be free from pain and suffering," Erika Andiola, former press secretary for Bernie Sanders and DACA recipient, tweeted that day. "I know exactly what it takes to migrate as a domestic-violence survivor, and it hurts so much to see this happening."