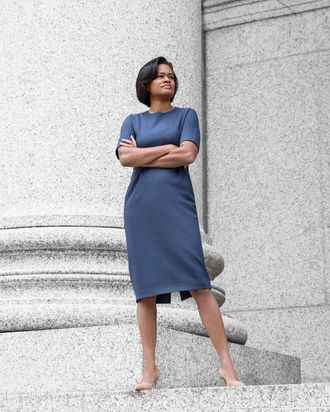 Dawn Smalls wears Sergio Rossi.
Photo: 2014
In Her Shoes is a column about what real women wear when they need to get things done.
With stints in the Obama and Clinton administrations, Dawn Smalls has a pretty impressive résumé. Smalls grew up in Boston and went to Boston University, where she studied linguistics, with minors in Italian and political science. Following college, she worked at the White House in the final years of the Clinton presidency. She attended Stanford Law School, then moved to New York, working as an associate at Boies Schiller Flexner before moving on to the Open Society Foundations to work on political reform.
But even though she was busy in New York, Smalls couldn't stop thinking about D.C., especially with a big election year — 2008 — on the horizon. "One of things I had taken away from my time in the White House was that doing a presidential campaign was a rite of passage," she explains. "I decided that it was my time to jump on one, and I joined the Hillary Clinton for president campaign as the Iowa/NH political desk." When Clinton conceded, Smalls switched to the Obama campaign, joining his administration as executive secretary at the Department of Health and Human Services for two years.
Post–White House, Smalls continued working on political engagement at the Ford Foundation before returning to Boies Schiller Flexner as a partner. Currently, she's one of the leading attorneys on a nationwide au pair class-action suit for unpaid and unfair wages. The Cut caught up with Smalls before an evening attending fundraisers for Democratic candidates who are attempting to overturn traditionally Republican seats. Read on to hear about her approach to power dressing, why sneakers are a lifesaver for her, and how she achieves that elusive work-life balance as a mom of three.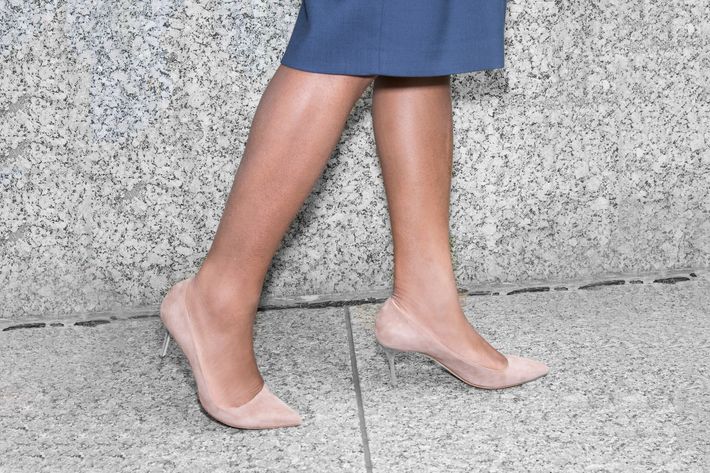 On her commuter shoes: On any given day, I'm running from meetings to the courtroom and back, so I rely on flats. I have a pair of GREATS pale pink sneakers that are stylish in a way that traditional sneakers aren't. I also love my Robert Clergerie loafers. They look smart and polished, yet offer comfort and support for hours on end. When I get into the office, I'll switch to pumps like these low Sergio Rossi ones.
Shop Smart Sneakers
On dressing for big meetings: If I'm appearing in court, I tend to wear a suit and jacket. For certain clients, that may be too formal, so I will often opt for a tailored dress. I'll choose one that's appropriate for the office but can also transition to after-work meetings and events. The standard lawyer's uniform is black and gray but I try to make an effort to insert some color.
On the power of a dress: I really like this Max Mara blue cap-sleeve dress I'm wearing in the photo. It's versatile enough that I recently wore it to defend a witness, and then repurposed it to host a fundraiser for a candidate running for Congress this election cycle. I also wore it to the annual convention of the American Constitution Society Convention (on whose board I serve) featuring Justice Sonia Sotomayor.
Shop Power Dresses
On dressing for court: I tend to turn to black slacks with a neutral top and a dark blazer. My go-tos are a herringbone Giorgio Armani blazer or a dark gray Dolce & Gabbana blazer. But in the summer I'll often wear a sleeveless sheath that I can layer a jacket or a sweater on top. Two favorites are a dark gray Max Mara dress and a cream Narciso Rodriguez dress.
On her lack of desk shoes: I actually don't keep a huge collection of shoes with me in the office. I generally wear something that I can keep on throughout the day, or I bring a large bag with me with a spare pair that I can switch into.
 
On evening affairs: I don't have time for outfit changes! Unless it's black tie, I look for something that I can wear to the office and whatever I have after-work. Since I have three young children, my after-work events are rarely social. More often than not they're with clients, or relating to the work I do on behalf of candidates or progressive organizations.
On her approach to dressing: I dress for myself — it's based on what I'm comfortable in and what feels appropriate for the setting. At home or on the weekends, I'm perfectly happy in jeans and a T-shirt. Our office is fairly informal and we follow a "business casual" aesthetic, so I'm often in slacks and a blouse or dress shirt, or a simple, classic dress that is professional but also fashionable enough to wear to an event after-work. I try to look stylish, sharp but accessible. Clients place a lot of trust in us and the work we do. I want to make sure that what I wear conveys competence, and that they feel that we can engage in open, straightforward, and productive conversations.
 
On work/life balance: I heard someone say once that you can have it all — just not all at the same time. I think that's right. There are times when your kids need you and there are times when you are able to lean in a bit more at work. That's how the balance happens, but I'm not sure it happens at the same time.
If you buy something through our links, New York may earn an affiliate commission.