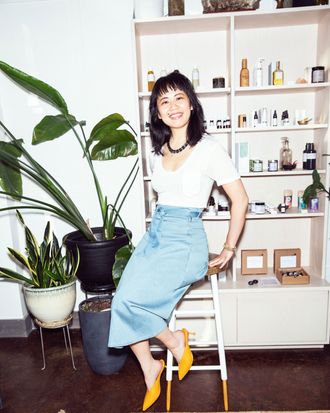 Sandra Chiu wears Mercedes Castillo mules.
Photo: Victoria Stevens
In Her Shoes is a column about what real women wear when they need to get things done.
Growing up in Seattle, Sandra Chiu was your stereotypical Asian-American success story. After dutifully attending U.C. Berkeley, where she studied pre-med and economics, she went on to a lucrative career in investment banking. But the hours and stress took a toll on her both physically and emotionally, and one day she had enough. She tried other corporate roles from business development to account management, but nothing clicked until she enrolled in school for traditional Chinese medicine.
Through her studies both here and in China, Chiu developed a deeper understanding of the benefits of acupuncture and medicinal herbs. She started a solo practice in 2006, and in 2012 she opened Treatment by Lanshin, a Williamsburg space that offers acupuncture, massage, facial gua sha (a type of treatment using a jade scraper to lift, sculpt, and tone the skin), and ortho-bionomy (a gentle therapy for body pain.) The Cut caught up with Chiu to talk about the importance of posture, her love of bare feet, and awkward pants.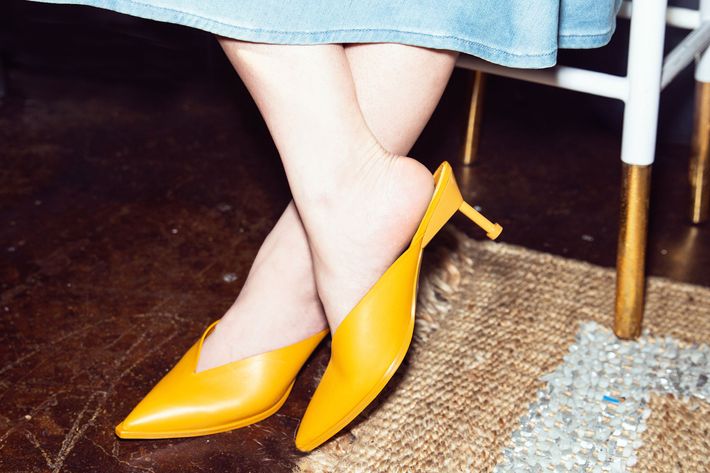 On her office shoes policy: At work I'm either barefoot, in slippers, or in "indoor" sneakers which I designate as a special pair of shoes for indoor only. We're like a quasi-Chinese household at Lanshin — everyone removes their outdoor shoes at the front bench.
On wearing only low heels: While I do love the idea of high heels, I find that after about five minutes of wearing them, I'm throwing them off and cursing them. Lower heels are just so much better for your back and posture, so you'll mostly find me in comfy sneakers or flat-to-low sandals. I really loved the beautiful gold yellow on these mules — they spoke to me immediately.
Shop Colorful Flat Sandals
On the importance of good posture: I'm always talking to my clients about posture because bad posture is often the source of pain and tension in the body. I see it most in the neck, shoulder, back, and hips, but now due to the work we do on our phones, it even extends to the elbows and wrists.
On the joys of non-corporate life: Twenty years ago when I was an investment banker, I was one of those people who kept different shoes in their desk so I could have high heels for that office corporate look. But no more! I'm excited to say that I don't even have a desk at work. I don't even keep extra options there, either, because whatever I wear from home are so comfortable.
On what she wears for a night out: In my current wardrobe mood, I'm loving my high-waisted Ilana Kohn Boyd pants. I would definitely change into those (although I often wear them to work too), and pair them with a bodysuit or slim fit T-shirt. And I'd swap my slippers for my Isabel Marant Jayde sandals. I'm obsessed with them — they have a sturdy low heel but still look dressed up.
Shop Bodysuits
On the best off-duty clothes: Being that I create my own schedule, Mondays are my day off! I'm usually in something man-repelling, like sweatpants and old, hole-ridden T-shirts that I love because they are so soft and ratty.
On her work-clothes philosophy: I feel positive and at home in myself when I like my own outfit. If others are impressed by that, great. If they aren't, great. I'm usually in a linen T-shirt and professional-looking denim or slacks when I see clients. I want to be comfortable and able to move around. I figure I just end up projecting some kind of image by being myself all day — but I don't consciously try to define it. If I had to guess, it would be confident, happy, and bright.
If you buy something through our links, New York may earn an affiliate commission.