It's the first real hot day of May in New York, which means the drivers on Houston Street are finally rolling down their windows as they blast contenders for the song of summer. This year there's Cardi B, Bad Bunny & J Balvin's "I Like It," and Drake's "Nice for What" — and, as Jorja Smith and I eat lunch at a Caribbean restaurant in Soho, I hear one of hers, "On My Mind," which is from 2017 but still feels fresh enough to end up on this year's summer playlist.
About three weeks after we meet, Smith will release her debut album, Lost and Found. And before these new songs she's written and toiled over emerge as worthy selections for the soundtracks of barbecues, beach days, and open-window drives around town, Smith would like to make one thing very clear: She did not date Drake, she explains, while delicately destroying coconut shrimp with her pink and white ombré talons. Back in 2016 Drake slid into her Instagram DMs to ask her to be on a song on More Life. He'd heard her stuff on SoundCloud, and once said in an interview that one track in particular, "Where Did You Go" — a moody, minimalist song about getting over a breakup — kept him sane on an 18-hour flight. He wanted her vocals on a duet called "Get It Together." Smith said no.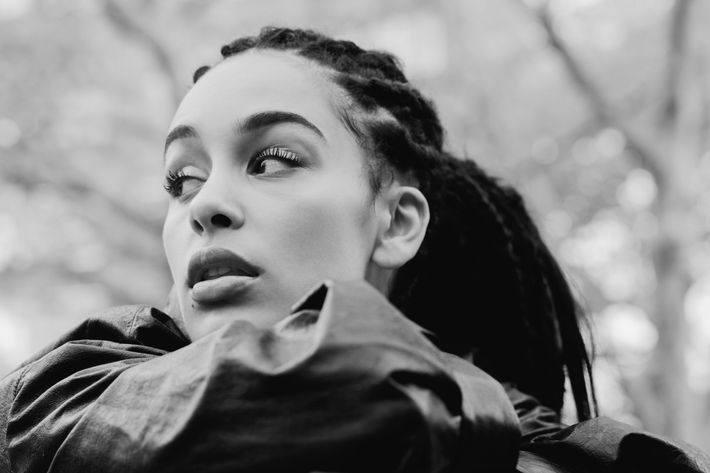 "I couldn't sing it because it didn't relate to me," she says. "I didn't write it, didn't know what I was talking about." But soon thereafter, she and her then-boyfriend broke up. Suddenly Drake's song — a gentle end-of-relationship plea for a man to get his shit together — made a lot of sense. "I messaged him being like 'Hey, is there still space for me to be on that song?'" There was, and Smith recorded it in London without ever having met Drake. A few months later, they performed the song together onstage in London and then Toronto, and tabloids began suggesting the two were "hot and heavy."
It was purely because "I was a female working with a huge celebrity," she says. "But nah, I have my man. I'm happy I did it and so grateful. Loads of people found out about me because of that song."
"Get It Together" is the rare track that I wanted to start over again before I even got through the first verse — I needed to hear the way Smith came into the song all over again, as soon as possible. She sounds like smoked honey, oozing all over a beat. Any song, in her voice, turns into a torch song — mature, elegant, restrained, swollen with pathos — made for candlelit stages and a body splayed across a piano, like Michelle Pfeiffer in The Fabulous Baker Boys, except vocally talented. As I tell Smith, the song made me feel seen in a very precise way: I wanted to conference call all the men in my life and play it for them on speakerphone. "See," she says. "That never would have happened if I didn't relate to the emotion of the song."
Since the Drake feature, Smith has taken her place in the roster of R&B artists whose sound is dominating the radio waves right now, people like Daniel Caesar and Kelela, and Ella Mai — husky-voiced singers who sprang up on SoundCloud and seduce their listeners with songs like the sexy, aural equivalent of Norwegian slow TV. Smith bristles a bit at the comparison, insisting that if she has a genre, it's just "Jorja." She's had her own singles — "Blue Lights," "On My Mind," and "Teenage Fantasy," all written by the time she was 18 — but she's also been the B12 shot in the ass on a lot of other people's work. Her vocals make good songs exponentially better. She showed up on the sleepy Kali Uchis hit "Tyrant" like Red Bull after a blunt. She hopped on the Kendrick Lamar–curated Black Panther soundtrack with "I Am," and popped up on the Insecure season two with "Fine Lines," the unofficial soundtrack to Issa's complicated single life. Without actually signing to a label, Smith established her voice in the current landscape of hip-hop, alt-pop, pop, and grime before she even released a full album.
Somewhere in between the appetizer and the entrée, she realizes it's happy hour, claps her hands together, and suggests we get a drink — it's summer, she just finished her tour, the album is about to drop. We both agree on matching rum punches, the color of the best sunrise you've ever seen. Then, just before the waitress comes over, Smith hesitates. "Do you think it matters I'm not quite 21?" she whispers. It doesn't.
Things happened quickly for the not-quite-21-year-old. Three years ago, Smith had just arrived in London and was living with her aunt and uncle, working as a Starbucks barista, spending breaks recording lyrics into Voicenotes on her phone and imagining the interview she would give when she was famous. She'd grown up in a small town called Walsall, where she played the oboe and hung out at the bus depot with her friends. Her mother is a jewelry maker, who designed the delicate rings and nameplate necklace Smith wears every day, and her Jamaican-born father is a musician, the lead singer of the neo-soul group 2nd Naicha. She grew up listening to his music, from Black Sabbath and the Slips to Curtis Mayfield. For her own tastes, Smith gravitated toward Amy Winehouse, especially the album Frank, which she cannot believe I haven't listened to from top to bottom multiple times. Her dad was the first person who realized — and not just in the paternal-pride way — that she could really sing. When Smith was 8 years old, she wrote her own nativity play for Sunday school, and nobody showed up to perform — so she insisted on playing all the parts, and ended the show by singing "Silent Night." She wrote her first song at age 11. It was called "Life Is a Path Worth Taking."
When Smith was 15, she uploaded a video to YouTube of herself singing a cover of Alex Clare's "Too Close." She looks so young: Her Afro is hastily tied up, there's no makeup on her face, and she's got a lavender silk scarf draped over a T-shirt in an attempt to dress up. But then there's that voice, and while it might not yet be quite as full-bodied, it still has the same "listen to me right now" quality; it attracted the attention of her current manager. By the time Smith graduated from high school, she had a notebook full of songs and her parents' approval to skip college and pursue music full-time. Some of the songs Smith wrote at 16 show up on Lost and Found — she describes the album as a collection of tracks from different points in her life, from then until now, aged 16 to 20. "It's still the same problems, no matter how old you are," she says.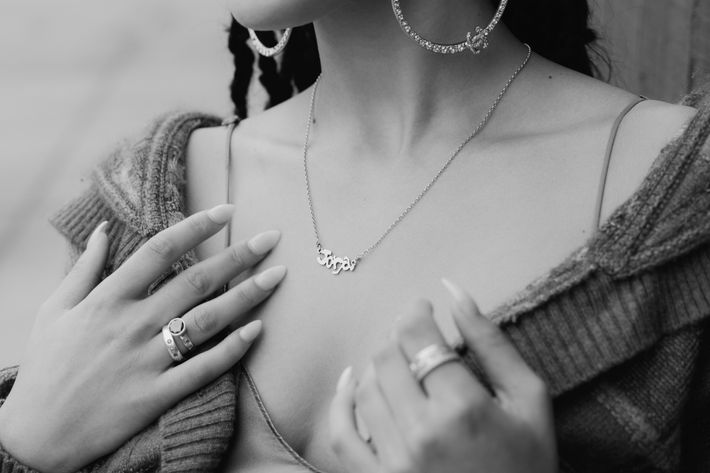 Looks — having them, or not having them, or which kind you have — are one of those perpetual problems. This is true even when you're Smith, who has the sort of skin that makes normal people think, God, I need to drink more water. She looks like she sounds: buttery and languid, with full lips and what she jokingly calls her "stoner eyes." Growing up, though, she says she felt unattractive. "I wanted to be pale," she remembers. "I didn't wanna go in the sun, because I was in school with a lot of white girls. I remember one girl said to me, 'You look better pale.' And I was like, 'Well, you're tan!' She was like, 'It's not the same.' I didn't wanna have a bum, I didn't wanna have lips."
These days, she gamely poses for photo shoots, she gamely creates content for her 1 million Instagram followers, but she can't stop reading the comments — especially the ones that suggest she "cannot sing, but what does it matter when you look like that."
"Let's look," she says, picking up her phone, searching her name on Twitter, and scrolling through the results like it's a habit. The most recent reads, "Jorja Smith in addition to singing extremely good music, she is beautiful."
"Well, that isn't exactly rude," I counter.
"But that was two minutes ago," she says. "It's mad! I also get a lot of things about colorism. I find it difficult to talk about it, because I don't know enough." She pauses, and then tries to explain, hesitantly.
"There's this — an issue where I'm really doing well and got hate 'cause I'm too light-skinned." She pauses again. "I understand why people say that 'cause it's, like, throughout history the lighter you are, that's how it's been, innit. But it's not my fault! My mom and dad had me, and that's not my fault! I look how I look. I grew up with my dad telling me, You're not white. You're black. I'm mixed race, but I was told, You're never going to be white, which is true. If it came down to it, and we had a race war, white people wouldn't accept me."
Lately there's been a growing awareness (and frustration) that R&B songstresses who look like Jorja Smith or the aforementioned Ella Mai have had certain career advantages because they more closely fit a record-executive-approved standard of conventional beauty. Which is not to say that these women don't have talent — a lot of it. But there's a broader problem in the industry when you compare their careers with those of similarly talented female artists who have darker skin who don't even get a foot in the door. It's a long-running conversation, and it's popped up most recently around Cardi B, after Love & Hip Hop: Miami star and artist Amara La Negra went on "The Breakfast Club" and attributed Cardi's rise to fame to her "lighter skin." Elsewhere, in a recent interview with BBC Newsbeat, grime artist Lioness explained that she quit the music industry for seven years after experiencing unrelenting prejudice. Talent scouts "would say things like, She would be better if she was light-skinned," she told the BBC. "That sentence doesn't even make sense."
Smith is keenly aware of the external factors that have contributed to her rise. She is light-skinned, beautiful, and curvy in certain places, slender in the others — traits the music industry often values at the expense of women with more unequivocally black phenotypes. Smith is wrestling with it. She doesn't have a solution for systemic issues, but has been thinking about Zendaya's recent comments at Beautycon, where the actress acknowledged that she is "Hollywood's acceptable version of a black girl" and called for immediate change.
"Her response was so good and smart but I don't know what to do or say," Smith tells me. But she picks up speed again as she emphasizes why she is where she is: "I know I can sing; I can sing and I like how I sound. I believe a voice is a voice. I could wear a box on my head and still have a good voice."
The conversation turns to Smith's show in Brooklyn, which I attended a few days before. The show was sold out — full of slow-swaying adults and early 20-somethings in their ugliest sneaks and coolest jeans, all clutching Juuls. Smoke hung heavy in the air, presumably from the vapes, but it could have just been from the set. Over the 90 minutes she performed, she apologized over and over for only singing down-tempo songs: "I hope I'm not boring you." I ask how she managed to keep a Saturday night crowd in a slow Sunday mood, knowing that what I'm really asking is how has she managed to pull ahead.
"Maybe I am a bit of a siren," she shrugs.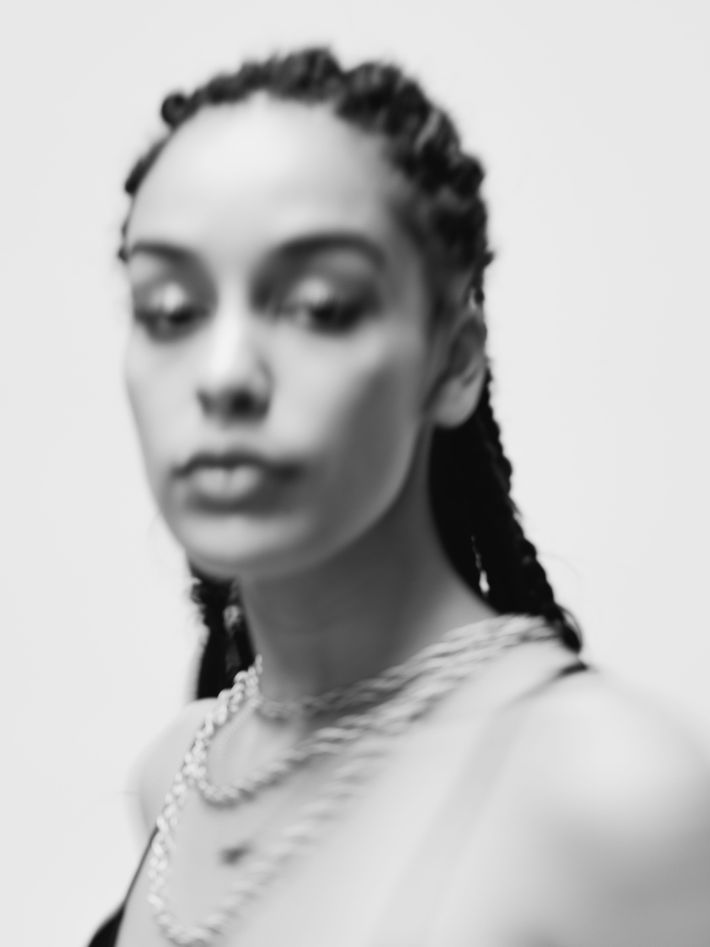 Lead image credits: Chanel cashmere and wool dress, $2,300 at 15 E. 57th St. Jennifer Fisher hoop earrings, $450 at Jennifer Fisher.