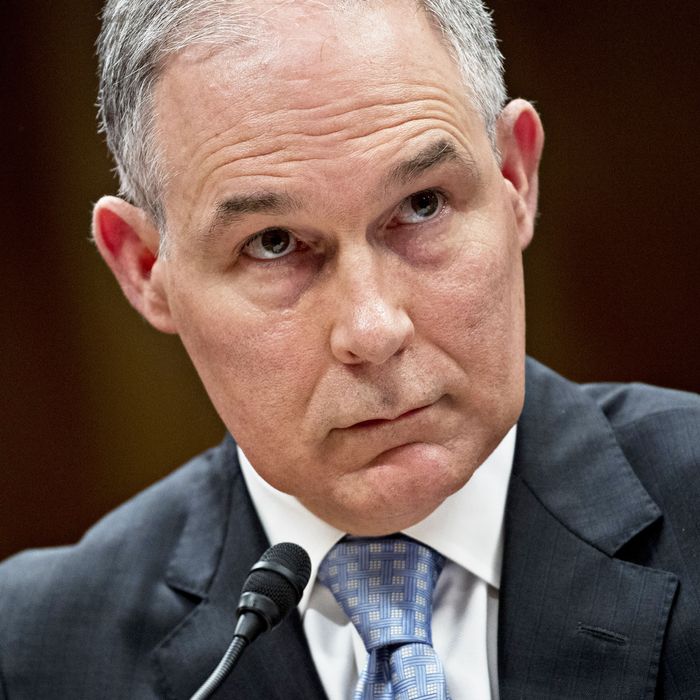 He's back.
Photo: Andrew Harrer/Bloomberg via Getty Images
It's become routine now. Wake up, drink some coffee, and read about the latest ethical scandal involving EPA administrator Scott Pruitt.
Friday morning brought two new ones from the guy who used government staffers to find his wife a job and paid a cut rate for a Capitol Hill apartment rented to him by a lobbyist.
First, from the Times, is the revelation the Pruitt pressured staff to "help in personal matters and obtain special favors for his family."
As an example, Mr. Pruitt, shortly after taking the E.P.A. job, reached out to the former speaker of the Virginia House of Delegates seeking help for his daughter, McKenna, in securing admission to the University of Virginia School of Law. William Howell, the former speaker, appears on Mr. Pruitt's official E.P.A. calendar, and he confirmed in an interview that he was approached by Mr. Pruitt and subsequently wrote a letter to the school's dean on the daughter's behalf.
EPA staffers told the Times they were enlisted to set up meetings with wealthy donors, arrange personal travel, and help Pruitt get access to batting practice before a Washington Nationals game, among other personal favors. As one said, the problem with Pruitt, who is paid nearly $180,000 a year to run the EPA, is that he wants to live like Trump. "He is not a billionaire," the anonymous aide said. "But he sincerely thinks he is."
That's one bad story for Pruitt this morning. Here's another: In January, he reportedly used his position to get 50-yard-line tickets to the Rose Bowl. Pruitt bought tickets five days prior to the sold-out game, which saw the Oklahoma Sooners take on the Georgia Bulldogs, and paid the face-value price of $175, the Times reports. "Tickets for equivalent seats were on sale on the secondary market for as much as seven times the price paid by Mr. Pruitt, data from two ticket companies show," the paper adds. And who did Pruitt buy them from? An energy company PR executive from Oklahoma.
President Trump was asked about Pruitt Friday morning and despite the never-ending trickle of scandals, he endorsed the EPA administrator, albeit tepidly. "I'm not happy about certain things, but he's done a fantastic job running the EPA," Trump said. Seems the president is interested not in the daily headlines about Pruitt's unethical behavior, but in those marking his never-ending mission to dismantle environmental protections.