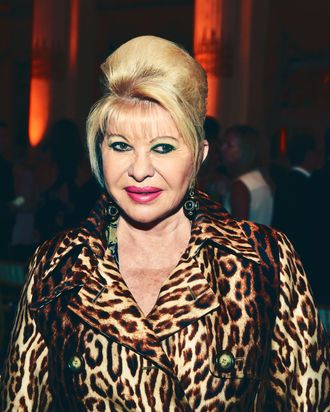 Ivana Trump.
Photo: Eugene Gologursky/WireImage
First, she decided to become a memoirist. Then, she tried out dancing. Now, Ivana Trump is ready for her next new thing: Ending obesity in America.
According to "Page Six," Donald Trump's first ex-wife is launching an anti-obesity initiative next week at the Plaza Hotel with Gianluca Mech, whose "Italiano Diet" instructs followers to lose weight by eating pasta and cookies. It doesn't sound like this initiative will bear much of a resemblance to former First Lady Michelle Obama's anti-childhood obesity "Let's Move" campaign.
Whatever it is exactly that the pair is undertaking, though, they're clearly going big. "Page Six" obtained the press materials for the launch, which apparently read: "A new diet and exercise plan will be announced before they begin their tour of the United States to encourage and teach millions of people to have better eating habits and exercise."
So does this mean Ivana's giving up street meat?