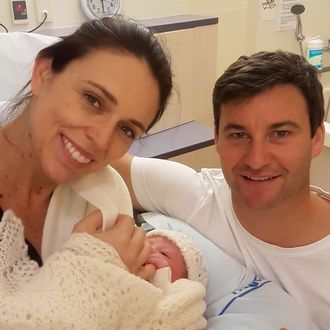 Jacinda Ardern and Clarke Gayford with their new baby.
Photo: Office of the Prime Minister of New Zealand via Getty Images
Jacinda Ardern, New Zealand's prime minister and the youngest female world leader at 37, welcomed a baby girl today. She is only the second elected official ever — and the first in nearly three decades — to give birth while in office.
Ardern, who helped her country's left-wing Labor Party snag last year's election in a surprising feat dubbed "Jacindamania," has amassed a global following thanks to her equal-pay advocacy, sick burns, and former beloved cat Paddles (RIP). She announced her pregnancy in January, only three months after assuming the PM role.
Ever since, she has been an outspoken advocate of women's — particularly mothers' — rights. "I am not the first woman to multitask," she told Radio New Zealand. "I am not the first woman to work and have a baby; there are many women who have done this before."
The news of her birth was announced to her followers on Instagram, where she has also shared photos alongside Barack Obama and Ed Sheeran.
The prime minister will take six weeks of parental leave before returning to work, at which point her husband Clarke Gayford, host of fishing show Fish of the Day (and outspoken dolphin critic), will assume the role of stay-at-home dad. Hopefully he will be as good a dad as he is an uncle.