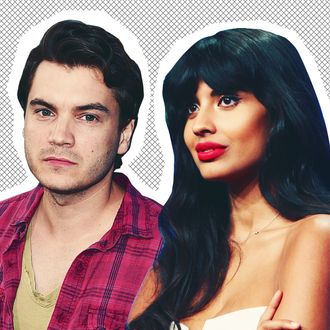 Emile Hirsch and Jameela Jamil.
Photo: Getty Images
This week, it was announced that actor Emile Hirsch was joining the cast of Quentin Tarantino's upcoming film about Charles Manson, Once Upon a Time in Hollywood, which also includes Al Pacino, Leonardo DiCaprio, Damian Lewis, Dakota Fanning, and others. But on Friday, The Good Place actress Jameela Jamil slammed the move, as Hirsch had been arrested for attacking a woman — one of her friends — at the Sundance Film Festival just three years ago.
"Cool," Jamil wrote on social media. "Emile Hirsch strangled my tiny female best friend until she blacked out at a party in front of dozens of witnesses at Sundance Film Festival (and was convicted) but Tarantino just cast him in a movie." She added, "INTENSE case of rich white male privilege eh? Cool. Cool. Cool."
The actress's comments stem from Hirsch's 2015 assault of a Paramount Pictures executive at a nightclub during the Sundance Film Festival. Hirsch allegedly "blindsided" the woman, who was later identified as Dani Bernfeld, by coming up behind her, putting her in a choke hold, and throwing her on the ground. Hirsch had been drinking and said he didn't remember the details of the attack. In August 2015, he pleaded guilty to a charge of misdemeanor assault.
Jamil continued that the attack left her friend with PTSD for three years. She also said the actor never paid for the woman's treatment or apologized to her.
"Slow clap to everyone involved in this movie," Jamil added. "So many other actors who haven't attacked women to choose from …"