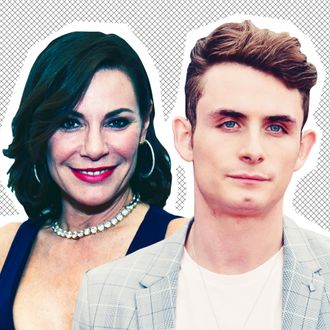 Real Housewife Countess Luann's 2010 hit "Money Can't Buy You Class" remains the gold standard of reality-television songwriting. It stands up against "Good As Gold" (by Scheana from Vanderpump Rules); it stands up even against "Come On Be My Baby Tonight" (by David from Real World: New Orleans). Elegance is learned, my friends. Elegance is learned, oh yeah.
I have the pleasure of telling you, now, that Countess Luann's 2010 hit "Money Can't Buy You Class" has gotten "even better" in that it has been altered and made much worse in a way that I am desperate for you to hear. In honor of San Francisco Pride this weekend, Vanderpump Rules' DJ James Kennedy — reality's best SUR DJ — has released a remix. Of the experience, Countess Luann told People, "It was so fabulous to collaborate with James in L.A., he's a doll. I can't wait to dance to his remix at Pride this weekend in San Francisco, my #CountessandFriends shows, and all summer long."
Incredible. Please click here to listen to DJ James Kennedy's remix, about which he told People, "I added a hard-hitting four in the floor kick and it just came out perfect; working on this collab with the one and only Countess was awesome."
One Cut staffer said, of the remix, "I've never heard such a bad song in my entire life." Another said, "This is the most perfect terrible song." James Kennedy told People, "Working in this remix was just a delight." What will you say? Please listen to the remix right now and find out.