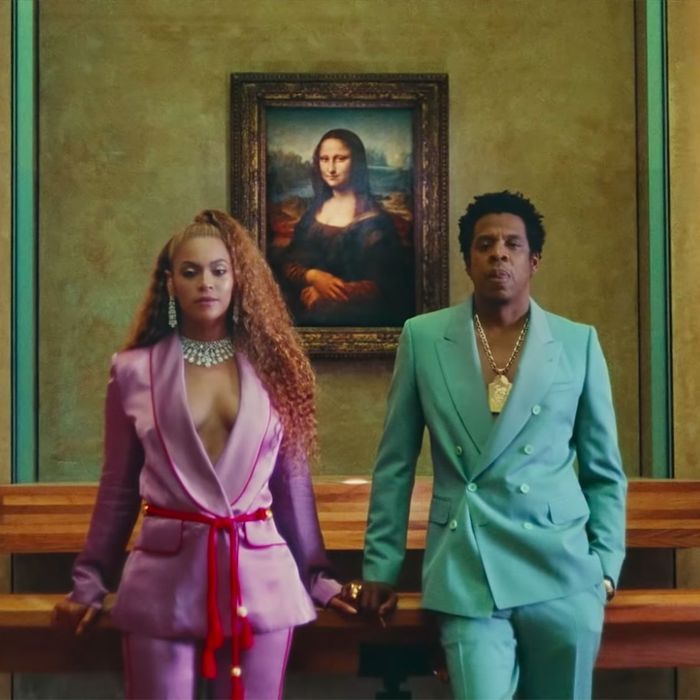 A still from "Apeshit" featuring Beyoncé and Jay-Z.
The green Dries Van Noten suit Jay-Z wears in his new "Apesh*t" music video with Beyoncé is simply perfect. I have thought about little else since its image was gifted to us on Saturday as part of the Carters' joint album, Everything Is Love.
I love everything about this suit. I love the color, and the way it compliments the museum and the artwork behind him. I love that it is double-breasted; that he wears no shirt underneath; and that he only fastens one of the buttons, allowing the jacket to drape over his body like his wife's, which is designed by Peter Pilotto. This look is casual in the most luxurious way — the way rich people and kings do casual. The way that inspires those "how you think you look" memes. Not even the Mona Lisa can compete.
Jay-Z's longtime stylist June Ambrose is to thank for this suit, and the rest of his suits in the "Apesh*t" video. Over the phone from Amsterdam — where she's currently on tour with the Carters — Ambrose walked us through each and every one of Jay-Z's looks.
The suits in this video are incredible. Can you talk to me a little bit about what you were thinking, and where you started with Jay-Z?
When we were in Jamaica making content, we both discovered that [suits] look great without a shirt. Jay specifically thought that, and I was so excited that he was willing to go for it. And then it became a thing — like, the new way of going rogue with suiting. It was kind of a throwback to the '70s with a certain edginess to it that was kind of gangster, kind of romantic, and kind of rude boy. Definitely leaning toward Jamaican and Caribbean culture. When we shot the "Apesh*t" video, we had really fallen in love [with that look].
Then there's the Louvre itself as a backdrop. I wanted to play off the colors that we were surrounded by in this opulent space. We used warm and rich tones that looked very regal. That was the inspiration. Jay was like, "I want to go apeshit. I want to do something that's super gangster and bossy." I wanted to do something that was really modern and artsy. I introduced Dries Van Noten [to Jay-Z] for the content in Jamaica and we really fell in love with the things Dries was doing in terms of the prints and embroideries and the rich and regal aspects of his designs. When you think about the Louvre, you think Elizabethan and the history of royal kings and queens.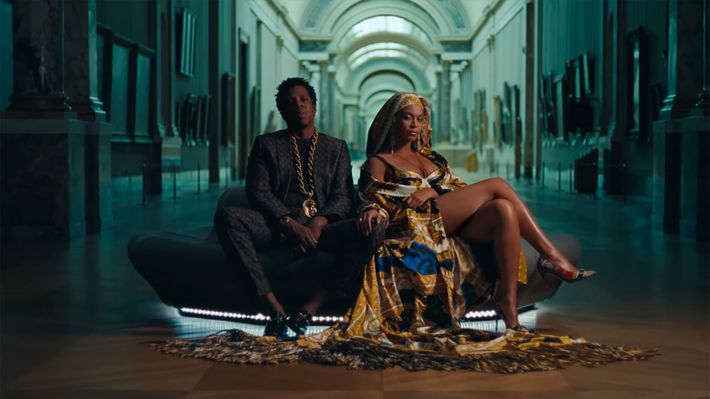 We were going for something effortlessly artistic, something that wasn't forced, or trying too hard. We wanted to just throw on the jacket. Throw on the suit. Slick. For me, that's fashion and menswear [right now]. Guys want to feel effortless, but they still want to make a really strong statement. Jay was the perfect muse for that because he doesn't like to be too fussy. He needs things to feel authentic and macho. I call him "the sovereign." He has so much history, and because I put him on a really high plateau, I just feel like everything he wears should feel luxurious. When you think about urban street fashion, he wasn't afraid to do a suit and tie. He wasn't afraid to mix a button-up shirt with denim. So, where do you go at this point in his career? You can only go up, right? But it should feel seasoned. I think that together, that's really where our minds were: effortless, but rich.
So the green suit that Jay-Z wears in front of the Mona Lisa, that was Dries?
That was Dries. And the suit he wore with Beyoncé when she's in Versace, that was also Dries. He wears Givenchy in one quick vignette — it was a plaid gray suit in front of a big piece. You wouldn't really notice it as much as the pink John Galliano suit, which you also wouldn't really know was pink. That was a big statement for us — this pink, double-breasted satin suit. He wore that when Beyoncé wore the nude corset.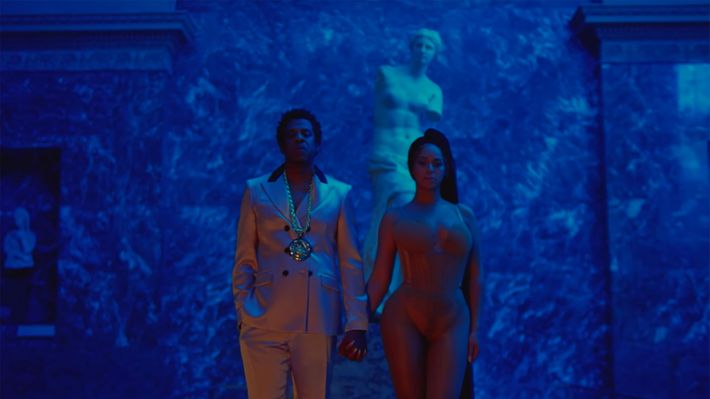 Why was that a statement for him?
We've never done a pink shiny suit! A satin suit! [Laughs] That's a real statement. It's not something he would typically wear, so it was him showing out and showing off. He looked at it and was like, "Ooh, this is good." John Galliano is known for doing things that are really eccentric and feminine, and I was really excited about this gangster, double-breasted pink satin suit.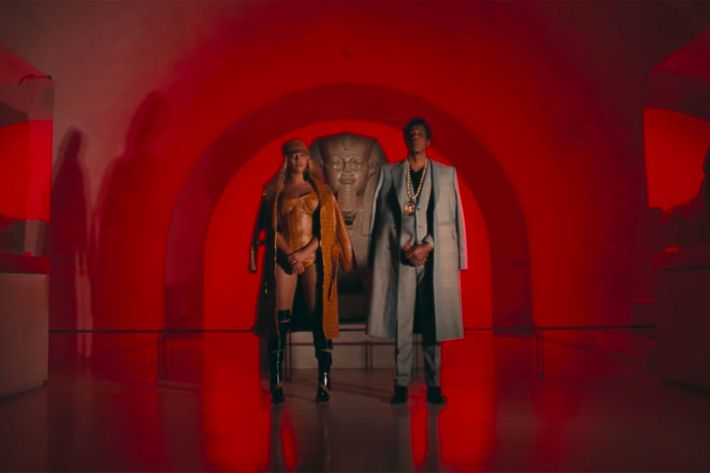 Then, we have this Alexander McQueen three-piece moment, which he wore when B wore the MCM look. Then we did Gucci — the Gucci stamp print, which was kind of a throwback retro look that was shot in front of the pyramid. You can't see his shoes, but we did head-to-toe.
And what about the white suit?
That was Givenchy. It was the perfect silhouette. It felt bridal, but still pure. There was a certain sense of romance to it, but also a little sporty with a jersey underneath and sneakers, which tied it back to his personal persona. I just love doing a double-breasted suit with something sporty. A tuxedo with jersey? Who has the audacity to do that but Jay-Z?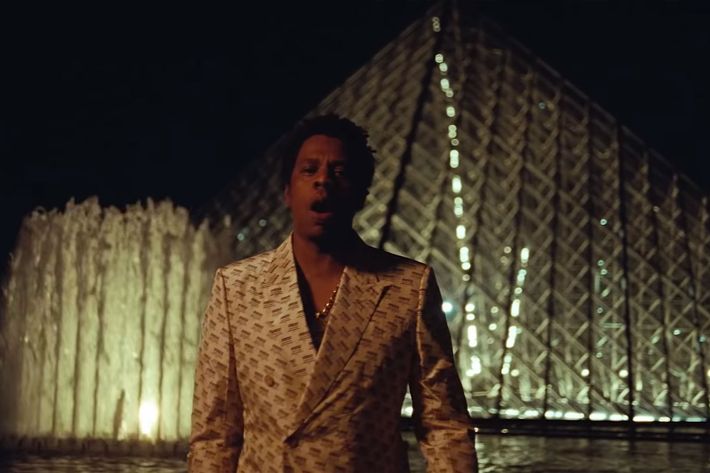 Was there a reason why you leaned toward double-breasted suits?
Yeah, it really shows off his svelteness. And there's a certain sense of authority to it. When you think of double-breasted, it's a refined silhouette. I love the hold that it has on his body. Because we were doing them without a shirt, I needed it to come to a certain point on his chest. It's like the perfect V-neck.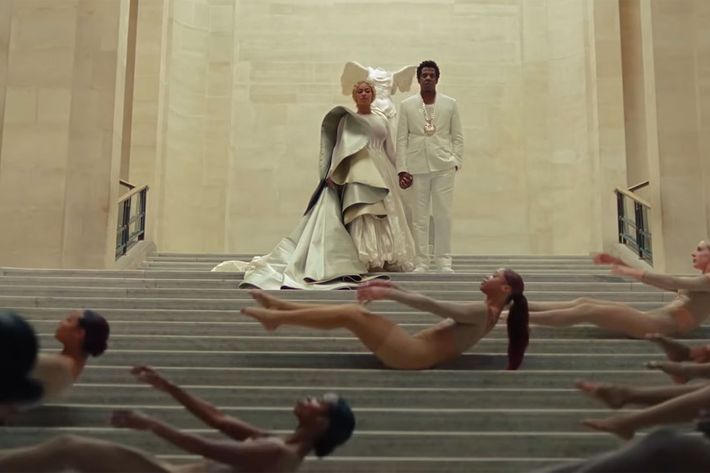 Were any of these suits custom?
No, we didn't have time to get anything custom. For the tour we did custom.
What was it like shooting in the Louvre?
It was actually my first time in the Louvre. Whenever I go to Paris, I'm working and I don't really have time to sightsee. But I mean, what better way to see the Mona Lisa? Honestly, it felt like we were at home. They were so hospitable, and it was artists amongst art. It just felt like we were in a classroom, like we were a part of history, like we were part of the walls. It was a really humbling feeling, realizing and recognizing that we were making history with such a statement.
This interview has been edited and condensed for clarity.