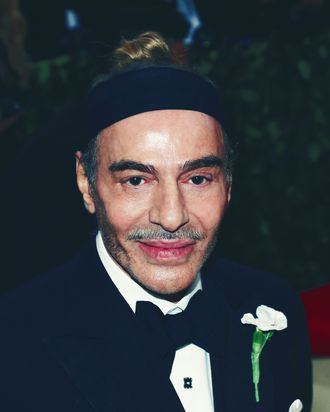 John Galliano.
Photo: Taylor Hill/Getty Images
In 2018, if your voice isn't on a podcast, do you even exist?
John Galliano is the latest — and perhaps most unlikely — personality to hop on the broadcasting trend. In tandem with his "artisanal" Maison Martin Margiela menswear collection, which showed at Paris Fashion Week on Friday, the famous fashion designer has launched the first episode of The Memory of … With John Galliano, his new podcast on iTunes.
Essentially, Galliano seeks to narrate the collection in his now-signature British drawl. Let's call it artisanal fashion ASMR. As dramatic drumming plays, he cuts abruptly from definitions of masculinity and femininity to talking about the elasticity of napkin fabric. It's a thrilling ride, made even better by the way he whispers words like "lush," "mercurial oil," and "noblesse" into the microphone.
Honestly, it's worth 12 minutes and 29 seconds of your day — even if you have no idea what Mr. Galliano is talking about. This might even be fashion's Great British Bakeoff. "Baste it! Never sew it." Galliano says of his artisanal fabric. "Fun."
You can listen to the first episode of The Memory of … With John Galliano, here.