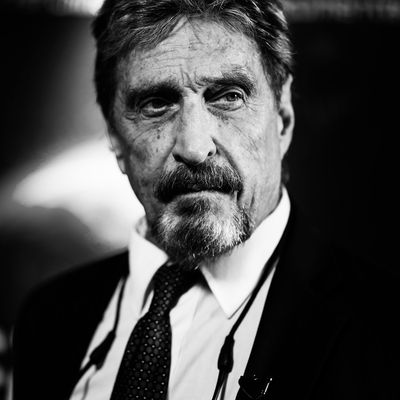 John McAfee, alive.
Photo: Anthony Kwan/Bloomberg via Getty Images
Perhaps you've noticed that John McAfee, 72, the eccentric anti-virus mogul who lived for a while on a remote pleasure island with his many young girlfriends, has been absent from Twitter for the past few days. Perhaps you've noticed it because you texted him to hang out the other day and he never responded, and you were like, "WTF."
If that's the case, don't worry — he totally wasn't ignoring you, he was just busy recovering after ingesting poison that one of his enemies had surreptitiously slipped him. It happens!
His return to social media is undoubtedly bad news for his haters and attempted assassins; as he noted in a tweet on Friday, the Mac is not only "back" but also "more difficult to kill than anyone can possibly imagine."
In another tweet, McAfee shared pictures of himself in the hospital room, down but not out, and said he knows exactly who you are, and that you had better "be gone" because "[y]ou will soon know the true meaning of wrath."
In response to one user who urged him to "Fuck them up!" (them, presumably referring to you, the haters) McAfee assured him, "It takes more than poison, bullets or hanging to kill me. All three have been tried more than once."
This is not the first time McAfee has suggested that there is some sort of violent conspiracy against him. In 2012, police in Belize investigated him for the murder of his neighbor, Gregory Viant Faull, but McAfee fled to Guatemala, afraid they would kill him. And when his house in Belize burned to the ground in 2013, McAfee said, "I believe that there are a select few with great power in Belize that will go to great lengths to harm me." He added, "This fire was not just a strange coincidence."
So be warned, haters. McAfee knows who you are, and he's coming for you. And to my friends and family whose texts I've ignored for the past few days, I'm sorry, I was unconscious for two days after my enemies managed to spike something I ingested, but don't worry, I'm back, and I know who they are, and they will pay.