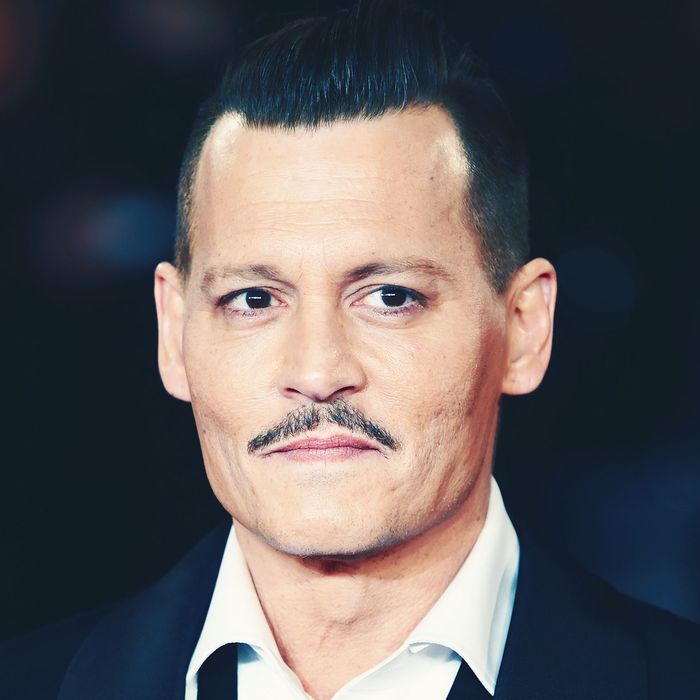 Photo: Karwai Tang/WireImage
In a new Rolling Stone profile, journalist Stephen Rodrick goes deep into Johnny Depp's financial troubles and the competing lawsuits between Depp and his former business managers Joel and Robert Mandel. Regardless of who you think is in the wrong, one thing is for sure: Johnny Depp comes off as being really, really bad with money. (According to the suit filed by Mandel, a list of Johnny's purchases reads "like Depp gave his wallet to a tween with ADD.")
Peppered with quotes from Depp like "Wine is not an investment if you drink it as soon as you buy it," the piece paints a concerning picture of the actor's lavish spending habits, depicting a man increasingly isolated from reality, locked away in a rental mansion with only his employees, tens of thousands of dollars in vintage wine, and the ghosts of Marlon Brando and Hunter S. Thompson to comfort him.
Here's a list of everything Depp owns or is alleged to have spent money on throughout the piece:
– A 10,500-square-foot rented mansion at 16 Bishopswood Road in London's Highgate neighborhood, which is where the interview takes place.
– A personal chef named Russell, who prepares Depp and Rodrick a "three-course meal of pad thai, duck and gingerbread with berries."
– A 1940 Harley-Davidson.
– The Viper Room, an old speakeasy once owned by Bugsy Siegel.
– An 8,000-square-foot estate nicknamed "Dracula's Castle."
– Millions of dollars on an army of attorneys "to bail him out of numerous legal crises" and pay "hush money."
– $75 million for 14 residences.
– $3 million to shoot his pal Hunter S. Thompson's ashes into the sky from a cannon. (Though, "by the way, it was not $3 million to shoot Hunter into the fucking sky," says Depp in the piece. "It was $5 million.")
– $7,000 on a couch from the set of Keeping Up With the Kardashians for his daughter.
– 70 guitars.
– 200 pieces of art, including Basquiats and Warhols.
– 45 luxury vehicles.
– $200,000 a month on private air travel. (In an email from Mandel asking Depp to curtail his holiday spending, this is what Depp had to say about his air travel options: "I don't have all that many options at the moment. A commercial flight with paparazzis in tow would be a fucking nightmare of monumental proportions. . . . What else can I do??? You want me to sell some art??? I will. You want me to sell something else??? Sure . . . what???").
– A sound engineer on the payroll so he could feed him lines through an earpiece while filming.
– 12 storage facilities for his Hollywood memorabilia, largely of Marlon Brando and Marilyn Monroe.
– $1.2 million to keep a doctor on call.
– $1.8 million a year on round-the-clock security.
– $30,000 a month Mandel claimed he spent on wine. ("It's insulting to say that I spent $30,000 on wine," says Depp. "Because it was far more.")
– An island in the Bahamas.
– A French villa for his ex Vanessa Paradis and their kids.
– His family farm in Kentucky.
– A $30,000-a-month L.A. rental house for his mom before she died, which continued to run up charges because "according to Depp, the Mandels forgot to cancel the lease."
– A Hollywood Hills compound, "where Depp had purchased five homes that he had knitted together into an urban estate."
– An undisclosed amount of money on houseplants.
– A wedding, and rent and mortgage payments for his sister Christi.
– $1 million on his wedding to his ex Amber Heard, held on his Bahamian island.
– A $7 million payment to Heard after she sued him for domestic abuse.