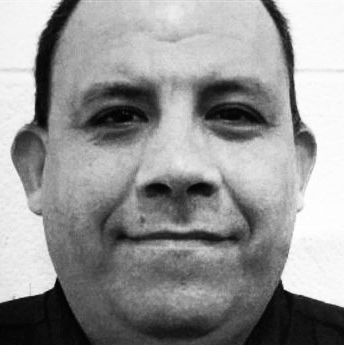 Officer Jose Nunez.
Photo: Bexar County Sheriff's Office
In Texas, Bexar County Sheriff's Deputy Jose Nunez, 47, was arrested Sunday night on charges of sexually abusing an undocumented woman's 4-year-old daughter. He is also accused of threatening the woman with deportation if she reported him.
Nunes, a detention officer who has served with the sheriff's department for ten years, is being held on "super-aggravated sexual assault," a charge applied when the victim is under 6 years old. If he is convicted, he faces a minimum 25-year sentence.
According to Bexar County Sheriff Javier Salazar, the girl's mother brought her to the fire station on Saturday night after she cried out in pain. Investigators soon got involved, and Nunez, who was on administrative leave at the time pending an internal investigation, was arrested at 3 a.m. on Sunday. Salazar says Nunez "touched the girl's genitals and caused her pain," and that it's possible the abuse went on for months, if not years.
"This suspect utilized to his advantage to place the mother in fear that she would be deported if she did report it," Salazar said. He added:
"I don't know that he was purposely targeting the undocumented community. Certainly what was appealing was the vulnerability of that community because they are less apt to report things."
The sheriff also said there could be more victims in Nunez's case, and urged undocumented immigrants to come forward if they have been the victim of a crime.
"Victim of a crime or a witness to a crime to please come forward and report it. Just like we're doing in this case, we're filling out paperwork with this witness in question to make sure that she's given protected status pending the outcome of this case," Salazar said.
And yet immigrants' hesitation to reach out to law enforcement is understandable. As immigrant-rights groups have pointed out, Texas's SB4, a law passed earlier this year that has been called one of the harshest anti-immigrant bills in the country, has created a chilling effect among immigrant communities in the state. Under SB4, police are allowed to question the immigration status of anyone they detain or arrest; they can also ask victims and witnesses about their immigration status "if necessary."
In addition, there have been increasingly disturbing reports about the treatment of migrants along the U.S.-Mexico border, and the Trump administration's new "zero tolerance" family separation policy has resulted in more than 1,300 children being ripped from their parents and guardians.
On Sunday, Texas's Refugee and Immigrant Center for Education and Legal Services (RAICES) tweeteed Nunez's story at Texas governor Greg Abbott, saying, "Congrats … SB4 and your violent, racist rhetoric has terrified people into not seeking help when they need it."