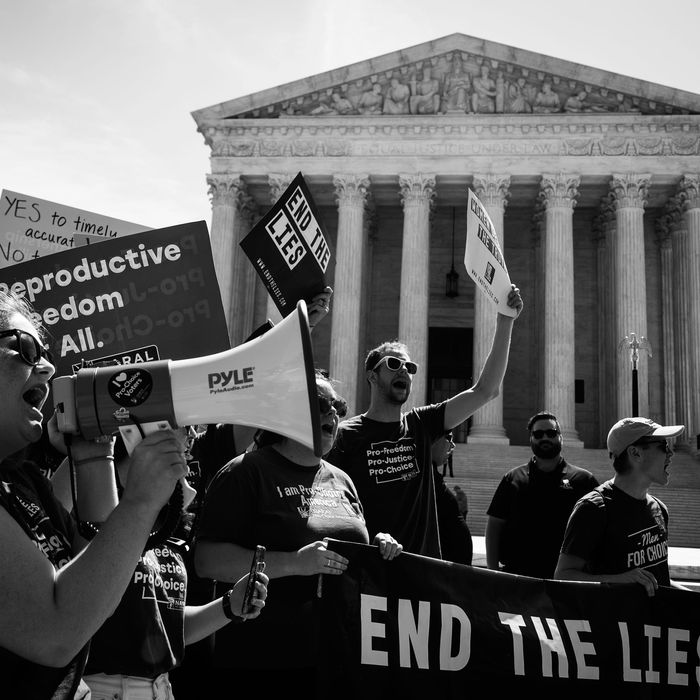 Photo: Congressional Quarterly/CQ-Roll Call,Inc.
Justice Anthony Kennedy announced on Wednesday that he will be retiring from the Supreme Court at the end of July. His retirement poses a dangerous threat to reproductive rights, as President Donald Trump has vowed to fill his vacant spot with a judge who will work to overturn Roe v. Wade, the landmark 1973 case that legalized abortion in the country.
"The stakes are incredibly high," Julie Rikelman, senior director of U.S. litigation at the Center for Reproductive Rights told the Cut. "Kennedy had been the decisive vote in several cases preserving the rights to abortion, and as a result his retirement means the court could shift against the constitutional right to abortion and access to abortion."
So, what happens next? And what does this mean for reproductive rights? Here, we break it down for you.
Several Pending Cases Could Raise the Question of Abortion in the Supreme Court
In the 1980s, former president Ronald Reagan appointed three justices to the Supreme Court: Sandra Day O'Connor in 1981, Antonin Scalia in 1986, and Anthony Kennedy in 1987. Reagan believed that his conservative picks would vote to overturn Roe v. Wade; however, Kennedy proved to be an unexpected swing vote (alongside O'Connor, but hers wasn't as surprising). In 1992, Kennedy voted to affirm Roe in Planned Parenthood v. Casey. Later, in June 2016, he once again served as the swing vote to protect abortion in Whole Woman's Health v. Hellerstedt, which overturned Texas' extreme abortion restrictions.
As the court currently stands, four justices are vehemently pro-choice — Ruth Bader Ginsburg, Sonia Sotomayor, Elena Kagan, and Stephen Breyer — while four are more anti-abortion — Neil Gorsuch (who has not yet explicitly ruled on abortion but was nominated by Trump, so he presumably fits the "anti-abortion" profile, according to the Center for Reproductive Rights), Clarence Thomas, Samuel Alito, and John Roberts. With Kennedy's departure from the bench, the reproductive-rights movement loses its swing vote.
"Justice Kennedy's legacy is grounded in recognizing that the U.S. Constitution, at its core, protects our dignity, autonomy, bodily integrity, and personal decision-making," Nancy Northup, president and CEO of the Center for Reproductive Rights, said in a statement. "He was the critical vote in two landmark decisions. … The stakes of the coming nomination fight are extraordinary. The future of reproductive rights is on the line."
Julie Rikelman of the Center for Reproductive Rights told the Cut that there are several cases pending in lower federal courts at the moment that could raise the question of whether abortion should be legal to the Supreme Court. One such lawsuit is the Jackson Women's Health v. Currier, which challenges Mississippi's 15-week abortion ban. If that case makes its way up to the Supreme Court, the justices may have to again rule on the legality of Roe.
However, Rikelman notes that what would happen if Roe were overturned would be dependent on how the justices vote and what they write in the opinion. If the justices were to return the issue to the states, she explains, "it would be up to each of the states to decide if they want to protect the right to abortion or not." If this were to happen, there are only 19 states in which the right to abortion would be secure, according to the Center for Reproductive Rights.
All of Trump's Picks Are Conservative
Justice Kennedy has said that his final day on the Supreme Court bench will be July 31. That means President Donald Trump will soon be nominating someone to fill the vacancy; in fact, the same day Kennedy made his announcement, Trump also made an announcement of his own: He plans to "immediately" begin the search for Kennedy's replacement, and the selection will be made from the list of 25 candidates he previously released.
Each candidate on the president's nomination list is extremely conservative (and that should come as no surprise, as Trump has long said that he would appoint "pro-life" judges to the bench). "The idea of Trump having his choice to fill another vacancy is terrifying for not only abortion rights, but for our ability to live free from discrimination in this country," Planned Parenthood Federation of America's executive vice-president Dawn Laguens said in a statement.
… But Senate Democrats Are Ready for a Fight
Unfortunately, it's quite possible that Trump's nominee will be confirmed. Although Republicans held hostage the vacancy left by Justice Antonin Scalia in February 2016 — they refused to act on President Barack Obama's nominee Merrick Garland until after the election, thereby allowing Trump to later nominate Gorsuch instead — Senate Majority Leader Mitch McConnell said on Wednesday that the Senate would vote to confirm Trump's nominee this fall. "It's imperative that the president's nominee be considered fairly and not subjected to personal attacks," McConnell said.
However, in the hours after Kennedy's announcement, several Senate Democrats — including senators Kirsten Gillibrand, Chris Murphy, and Dianne Feinstein — have said they would block hearings for Trump's nominee until after the election, just as McConnell and his party did with Obama's candidate.
As the Center for Reproductive Rights's Nancy Northup said, "It's up to the Senate to ensure that Anthony Kennedy be replaced with a justice who will affirm the fundamental rights of all."